From March 10, 2020, the day prior to the World Health Organization's declaration of COVID-19 as a pandemic, to February 28, 2022, a total of 122,823 movement restrictions were put in place globally. As a result, in 2020, the unemployment rates among migrants surged significantly in over 75% of all OECD member countries1.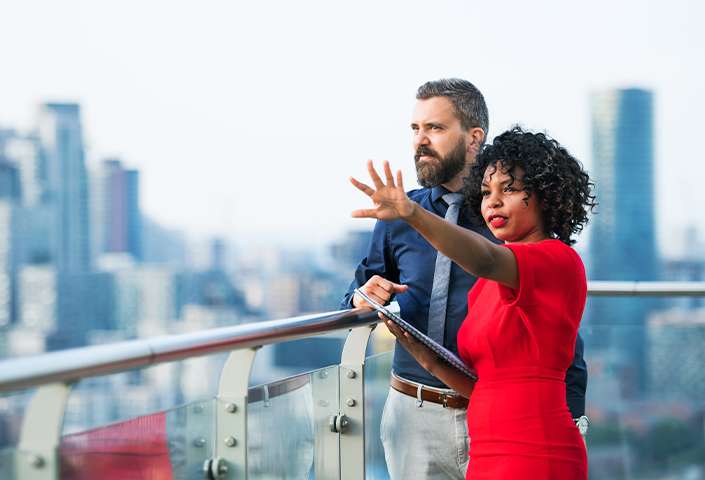 These pandemic response measures resulted in many temporary workers returning to their homes in an effort to safeguard the public and limit worker mobility. Although this approach played a significant role in effectively controlling the spread of COVID-19, its effects are currently being felt by the recruitment industry globally.
The pandemic was responsible for the emergence of workplace trends, many of which promoted changes in working styles, such as 'The Great Resignation', 'The Great Reshuffle', and 'The Great Re-evaluation'.
The difficulty of obtaining and retaining skilled workers is also on the rise, with a growing trend of candidates failing to show up for interviews or respond to job offers. In Australia alone, as per the recent release from the Australian Bureau of Statistics, there are 480,100 open job positions in Australia, representing a 111.1% rise since February 20202. According to SEEK's March 2022 employment dashboard, the number of job applications per advertisement has decreased by 42.5% from February 2021 to February 20223.
Businesses are facing retention challenges primarily due to competition from other employers and inadequate pay or working conditions4. This has led to pressure on companies to enhance salary and benefits packages to retain skilled workers or to incur high recruitment expenses. It's worth noting that the cost of hiring a single employee has risen significantly, from an average of $10,500 to $23,860 per candidate in just one year5.
What are the effects of labor shortages?
A lack of skilled workers can impede a business's expansion, as there is not enough expertise, knowledge, or personnel to support scaling opportunities. Training costs may increase as businesses are compelled to hire unqualified candidates to meet production or project deadlines.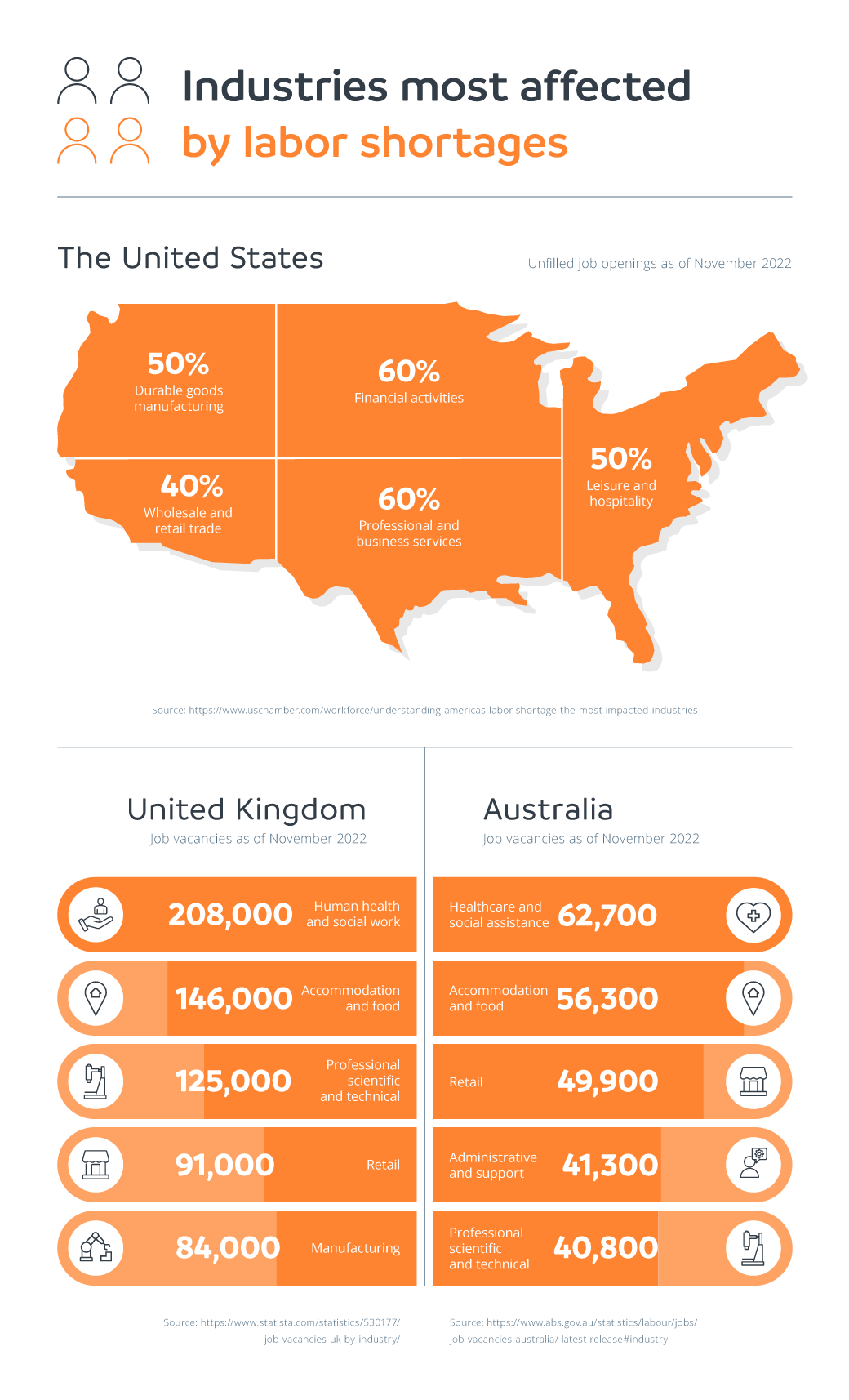 What are the most in-demand jobs for 2023?
According to Hays6, the top 10 in-demand jobs for 2023 are:
Project managers
Service desk analysts
Engineers
Cyber security specialists
Office support
Business analysts
Payroll officers
Accounts receivable officers
Lawyers
Contact center workers.
2023 skills in demand

Knowing the skills that are in demand is important for several reasons - from both an employer and employee-candidate perspective:
Career development: Understanding which skills are in demand can help individuals identify areas of opportunity for career growth and advancement
Job market: Knowing the skills that employers are looking for can help job seekers tailor their resumes and applications to increase their chances of getting hired.
Business growth: Business owners and managers can use this information to identify areas where they need to invest in employee training and development to stay competitive and support the growth of their business.
Future workforce planning: Knowing the skills that are in demand can help educators and policymakers plan for the future workforce and design training programs that will meet the needs of employers and the economy.
The in-demand skills of 2023 can be broadly categorized into three categories: technical, soft, and industry-specific.
Technical skills in demand 2023
Data analysis and management
Cloud computing
Artificial intelligence and machine learning
Cybersecurity
Programming languages such as Python, Java, and C++
Internet of Things (IoT)
Blockchain
Virtual and augmented reality
5G networks
Robotics and automation.
Soft skills in demand 2023
Leadership and management
Communication and collaboration
Problem-solving and critical thinking
Adaptability and flexibility
Emotional intelligence
Project management
Creativity and innovation
Interpersonal skills
Digital literacy
Time management and productivity.
Industry-specific skills in demand 2023
Healthcare: telemedicine and remote patient monitoring
Finance: financial technology (FinTech)
Retail: eCommerce and digital marketing

Manufacturing

: industry 4.0 and smart factory technologies
Energy: renewable energy and energy efficiency
Agriculture: precision agriculture and sustainable farming practices
Education: online teaching and learning
Transportation: electric and autonomous vehicles
Construction: building information modeling and 3D printing
Customer service: digital customer service and experience management
The future of labor
The future of labor is expected to be shaped by a number of factors, including advances in technology, changing demographics and shifting economic conditions. Some of the key trends that are likely to impact the labor market include:
Automation and artificial intelligence: automation and AI are expected to continue to transform the way work is done, leading to increased productivity and efficiency, but also potentially displacing some jobs.
Remote and hybrid work: with the shift towards remote work, there will be a greater need for digital collaboration tools and technologies, as well as for professionals with expertise in virtual meeting platforms and online communication. The future of work is expected to be a mix of remote, hybrid and in-office work models, and employers will have to adapt to the changing conditions to meet the needs and expectations of their employees.
The gig economy: the gig economy is expected to continue to grow, leading to an increase in the number of people working in non-traditional, flexible roles.
Outsourcing: many companies are expected to outsource more non-core functions to other countries, to lower labor costs and to access specialized skills, which can lead to both opportunities and challenges for workers and businesses.
The labor market is constantly evolving and it is important for businesses, workers, and policymakers to stay informed and adapt to the changes. With technology advancing rapidly, the demand for skilled professionals in technical fields such as artificial intelligence, robotics and cybersecurity is expected to grow.
The shift towards remote and hybrid work models will also change the way we work and will require new skills and tools to be used. Furthermore, the trend of outsourcing and offshoring is also expected to continue, which will have both opportunities and challenges for workers and businesses.
To stay competitive, it is important for individuals to invest in their own professional development and for businesses to provide opportunities for employee training and development. Overall, with the right skills and knowledge, workers and businesses can navigate the ever-changing landscape of the labor market and capitalize on new opportunities for growth and success.
Reference:
[1] https://www.migrationdataportal.org/themes/migration-data-relevant-covid-19-pandemic
[2] https://www.abs.gov.au/statistics/labour/jobs/job-vacancies-australia/latest-release#industry
[3] https://www.seek.com.au/about/news/seek-employment-dashboard-march-2022
[4] https://www.nationalskillscommission.gov.au/sites/default/files/2022-08/Recruitment%20Insights%20Report%20%20-%20July%202022.pdf
[5] https://elmosoftware.com.au/resources/research-reports/2022-hr-industry-benchmark-report/
[6] https://www.hays.com.au/it/career-advice/in-demand-it-skills-australia