There comes a time in the evolution of many organizations when someone finally broaches a delicate subject. For some, it is because business is booming and the team is struggling to keep up with demand. For others, it is when there is pressure on the bottom line and cost savings need to be found. Then there are those firms that are simply curious to know if there is a better way of doing things.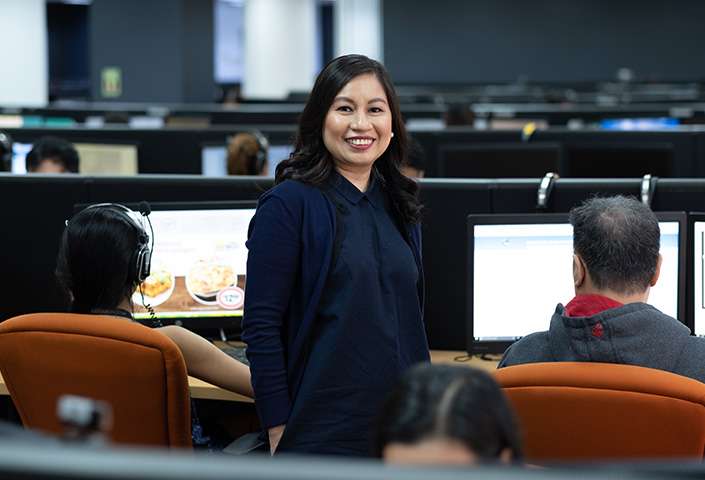 The question – should we consider outsourcing?
While some executives dismiss such talk out of hand and persist with doing what they have always done, countless others take a more measured approach and find out as much as they can about a resourcing strategy that has been described as "a very powerful tool to leverage talent, improve productivity and reduce work cycles." Or, as former Singapore prime minister Lee Kuan Yew once warned: "If you deprive yourself of outsourcing and your competitors do not, you're putting yourself out of business."
This guide is for those business leaders keen to explore how different life could be if they looked outside their own four walls. They are the people who want to know the benefits of outsourcing and how to identify if they should even be considering it. They are interested in the staff augmentation versus offshoring debate and what to include in an employee outsourcing agreement.
This is the place they will find all that information and, depending on what they learn, there is every chance they will soon join the almost 80% of global businesses that have reported feeling positive about their relationship with their outsourcing partners.
What is outsourcing?
In its simplest form, outsourcing is the practice of assigning tasks that would normally be completed in-house by one's own employees to a third-party vendor outside of an organization. Be it a specific project, multiple activities or an entire business function, handing such tasks to a quality outsourcing provider is an excellent way to reduce labor costs while maintaining a significant amount of control over staffing and processes.
From humble beginnings in the 1980s, outsourcing has become an increasingly popular resource for businesses looking to thrive in the modern world. For proof look no further than Grand View Research's finding that the global business process outsourcing market is set to more than double this decade, rising from $246 billion in 2021 to an incredible $525 billion by 2030. That kind of growth does not happen by chance and is due to the wide array of benefits on offer.
Benefits of hiring outsourced employees
Amid the uncertainty of a global pandemic, labor shortages, supply chain issues and rising inflation, it is no surprise businesses are looking for cost-effective and flexible ways to manage staff resourcing. The good news is outsourcing ticks those boxes and so many more.
Reduce costs: without a shadow of a doubt, saving money is the number one reason most companies outsource. The lower cost of living in nations such as the Philippines means businesses can save up to 70% on labor and operational costs, with the likes of salaries, taxes, training and office infrastructure much cheaper in such locations. Outsourcing is far more cost-effective than hiring in-house, with 70% of respondents to a Deloitte survey saying their prime motivation for outsourcing was to save money.
24/7 support: the world is moving faster than ever and one way to keep pace is to adopt a blended system of in-house staff with outsourced support in another time zone. Whether offering consumers around-the-clock customer support or maintaining productivity at all times of the day, outsourcing is a cost-effective way to increase one's capacity to meet targets and improve service.
Access to a larger talent pool: the words 'global labor shortage' has appeared in a lot of headlines of late and the impact is starting to take its toll on employers. Almost 70% of businesses are struggling to source and retain quality talent, while an extensive report has found that more than 85 million jobs could go unfilled by 2030 because there are not enough skilled people to take them. Fortunately, outsourcing hotspots such as the Philippines have developed a huge workforce of highly trained people who boast an excellent command of English, an unrivaled work ethic and the ability to fill roles from junior to senior levels.
Scalability: one of the reasons so many businesses fail to grow with demand is the upfront investment needed to do so, with thousands of dollars needing to be spent on the likes of infrastructure, software, office space, recruitment and IT support. Instead, they simply keep putting more pressure on existing staff and risk missing deadlines and deliverables. Outsourcing removes those worries by making it easier and cheaper to increase staff numbers – and scale back down – as circumstances require.
When to consider outsourcing
Joining the outsourcing revolution is a big decision, be it choosing to assign a few tasks to an external provider or outsourcing entire teams or functions. Here are a few key clues that will help you know if now is the right time.
Failing to meet demand: sales are building. Orders are rolling in. Demand has never been greater. Great news, right? Not if your team is struggling to deliver. Rather than upset customers by failing to meet their expectations, it could be time to look at partnering with a quality outsourcing provider that can facilitate the people and productivity needed to keep heading on an upward trajectory.
Staff needing to multi-task: many businesses ask employees to wear multiple hats but there is a difference between doing what needs to be done and wearing them down. Overworked staff are more likely to make mistakes, suffer low morale and, worst of all, end up walking out the door. Adopting a cost-effective outsourcing strategy can give in-house team members the chance to focus on what you want them to do rather than what you need them to do.
Budgets are getting tighter: it is no secret many businesses are feeling the financial pinch in the current environment and everyone knows labor is the greatest expense for most organizations. Saving considerably by hiring outsourced employees can go a long way to easing the pressure and organization leaders to invest those funds in other areas of the business.
Repetitive tasks are taking too much time: the outsourcing sector has evolved to a stage where the most complex of roles can be filled by a quality offshore recruit. That said, the area in which it truly shines is taking care of repetitive and time-consuming tasks that so often stop businesses from focusing on what they do best. From back office administration to data entry, outsourcing non-core tasks to specialist providers gives you and your team more time to focus on innovation and delivery of our core product.
Staff augmentation vs outsourcing
Recent years have seen the rise of a new resourcing trend. As opposed to assigning tasks to an external provider, staff augmentation sees companies fill skill gaps by hiring professionals to be based in-house on a short-term basis. While boasting many of the advantages of outsourcing such as scalability and minimizing payroll and HR formalities, there are various factors to be mindful of before rushing to sign up.
Cost-effectiveness: because most augmented staff are employed on a project basis and therefore paid more per hour, there is a risk of cost blowouts when projects take longer than expected. Outsourcing agreements often provide a greater level of certainty for budgeting purposes, along with representing better value in the long term.
Training: one of the joys of outsourcing is knowing your offshore partner provides the training and education recruits need to perform their role. Augmented staff, on the other hand, are your responsibility as they are employed in-house and need to spend time learning company systems, procedures and technology – all of which takes time and costs money.
Long-term relationships: temporary, augmented staff are just that – temporary – and may justifiably have one eye on their next roles given the short-term nature of their contracts. Compare this to a dedicated outsourced team that has a vested interest in providing long-term value, being motivated to innovate and creating a close relationship with their in-house colleagues.
Ultimately, it is important to remember the benefits of staff augmentation tend to diminish in relation to a project's length, along with the fact outsourcing providers consider themselves partners rather than temporary service providers.
Employee outsourcing agreements
Outsourcing agreements are the legal documents that outline the formal relationship between businesses and the offshore providers they have partnered with. Compared to some commercial contracts, they can be long and complex but there are a few non-negotiables every employee outsourcing agreement should feature, including:
Scope and performance of services – a detailed description of the outsourced services to be provided and details of how they will be performed (eg: systems to be used, locations, software)
Dates of agreement – commencement and conclusion dates; details for possible extensions
Variation and termination – how changes in service requests will be conducted (eg: pricing model, processes, services)
Provisions for termination – conditions for doing so in both normal circumstances and other cases (eg: non-performance); responsibilities of both parties upon termination
Pricing and fee structure – details of initial fees, deposits, employee costs and entitlements, surcharges, foreign exchange considerations and overseas tax obligations
Communications – the process for managing the relationship; measures to monitor and review performance; escalation procedures
Data retention – ownership of documents and records; how data is to be exchanged or accessed
Confidentiality, privacy and intellectual property – ongoing management; procedures for contacting third parties; compliance with local privacy legislation
Security and data protection – commitment to ensuring transmitted data is free from malicious software threats; access restrictions; details of where data is stored
The benefits are clear, but how does it work?
It should now be clear there are many factors to consider when setting out along an outsourcing journey. It also goes without saying that it is a journey well worth making. Most executives would rush at the chance to reduce costs OR increase efficiencies OR boost productivity so little wonder that so many are thrilled to discover there is a resourcing strategy that provides them with the opportunity to do all three … and so much more.
There are many traditional models of outsourcing but innovative providers are going the extra mile to create unique solutions for their clients. Discover how outsourcing allows businesses to have full visibility and control of their offshore teams without having to worry about facilities, operations and regulations.