There is a reason they call it 'the art of conversation'.
While most people would like to believe they can have a discussion without much effort, those same people have surely experienced the positive vibes that come when walking away from a truly great interaction. From feeling respected and fully engaged to being given the chance to share one's concerns, there are various characteristics that make up a quality conversation. They do not happen by chance.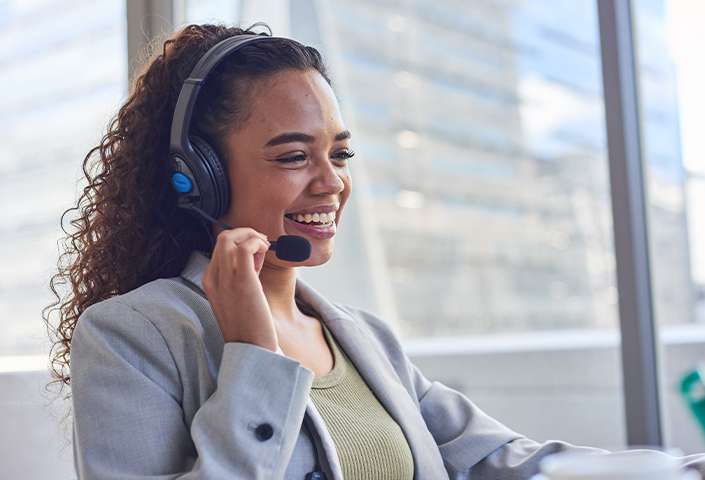 So it is for call center encounters. When a customer reaches out to a business, they do so hoping for a meaningful interaction. They want accurate and consistent information. They yearn for a prompt and hassle-free resolution. They want to feel engaged and leave the conversation feeling better than when they entered it. In their ongoing pursuit of customer experience excellence, the businesses taking the calls should be aiming for the same targets.
Of course, not every call center agent lives up to customer expectations. Be it a lack of product knowledge, an inability to understand the subtleties of conversation or a failure to appreciate the importance of quality engagement, too many call center interactions result in poor experiences for customers and, in turn, brand damage for the organizations they have called.
There is a solution though and it involves arming call center agents with a tool designed to guide them through various encounters and help identify solutions that will leave customers smiling rather than grimacing.
The tool? Call center scripts.
What is a call center script?
Call center scripts are written prompts used by agents to help them communicate with customers across support channels and scenarios. Designed as ready-to-use templates, they can be used for phone, email and social media conversations and ultimately aim to ensure customer issues or questions are acknowledged, addressed and resolved as quickly as possible.
Along with reducing common errors, positive scripting in customer service allows agents to feel more confident in interactions, navigate different situations more seamlessly and deliver a better customer experience. They are also an excellent training resource for new team members.
What are the benefits of call center scripts?
When you consider the advantages of utilizing call center templates, it is little wonder they are considered such a valuable resource. They include:
Ensure consistent communication: in an environment where every conversation is 'unique' in its own way, call center scripts ensure customer interactions share a common theme or approach and align with brand values.
Enable a prompt response: instead of debating how to respond to certain situations, agents are able to tap into suggested answers that can keep conversations on track.
Help to boost staff motivation: confident staff are motivated staff and call center scripts help create them. Providing agents with guidelines and advice on how to respond to different scenarios gives them the confidence to deal with even the most difficult of conversations.
A value training resource: customer support is too important to be left to chance and call center scripts lessen the risk of rookie agents saying the wrong thing at the wrong time. Scripts and frameworks are excellent tools for newcomers wanting to shine from day one.
What is the difference between scripting and frameworks?
While call center scripts are just that – scripts that include specific lines agents can use as prompts – frameworks are a general guide for facilitating quality conversations. They feature step-by-step advice for navigating interactions, from initial connection to identifying needs and presenting solutions before the final wrap-up. An example can be found here and features tips such as:
Connect with a genuine welcome: ensure to create a positive first impression that makes the customer know they're valued and is speaking with an expert who is able and willing to help.
Ask questions and discover: demonstrate curiosity by asking questions and listening, and show that we're genuinely interested.
Wrap up with a friendly farewell: conclude the conversation by ensuring the customer feels valued and acknowledged.
Call center script ideas
It goes without saying that call center teams that use scripts enjoy better customer service call flow and are better prepared to manage interactions faster and more effectively than those that operate off the cuff. While every conversation is unique, there are many familiar and recurring scenarios and situations where agents can benefit from being able to turn to a script for guidance.
Greetings
First impressions count and that is why customers should always be greeted and welcomed with a friendly message. Along with showing the respect they deserve, a positive greeting sets the tone for an engaging conversation to follow.
Greeting callers



"Good morning and welcome to [company name]. My name is [name]. How are you today?"
"Great to hear. I'm also doing well. Now how can I help you today?"

Dealing with a negative response



"That's not good to hear. Let's see what I can do to help."
"We never like to hear customers are unhappy. Why don't you start by giving me your full name and order number so I can try to address this issue for you?"
Greeting repeat visitors
Call centers should make every effort to acknowledge returning customers as it shows they are invested in an ongoing relationship. Customer service platforms that provide details about past interactions are an excellent way to add more layers of personal service.
"Welcome back, [customer name]. It's great to hear from you again. How can I help you today?"
"Great to hear from you again, [customer name]. Would you like me to introduce you to some different products this time?"
"Good morning, [customer name]. Do you want to continue where we left off last time?"
"Hello, [customer name]. Did you have success addressing [insert previous concern]?"
Thanking customers
A simple but highly effective way to win favor with customers is to thank them for raising concerns or bringing issues to the company's attention. It not only shows that their feedback is valued but can also ease any possible tensions. Taking the chance to thank customers is considered one of the conversational practices every agent should follow.
"We really appreciate you for bringing this to our attention. Now let me look into the situation."
"Thank you so much for taking the time to let us know your concerns and I can assure you that we want to resolve the matter as quickly as possible."
Apologies
Mistakes happen in business but one that should never be made is failing to apologize and convey empathy when a customer makes a complaint. Along with aiming to resolve an issue as quickly as possible, agents should ensure the customer knows their concerns have been heard and understood. There are a variety of options for addressing the likes of price errors, misplaced orders and other concerns.
Incorrect shipping address



"It seems that your order has been shipped to the wrong address. I sincerely apologize and will immediately organize for another [product name] to be sent to the correct address."

Undelivered product



"I'm so sorry to hear it has not arrived, [customer name]. I'm calling up the order now to see what has happened and can assure you that another [product name] will be sent to you."

Damaged delivery



"I appreciate your frustration. Please accept my apology and if you send me a photo of the damaged [product name], I'll organize for a replacement to be sent to you. Alternatively, you are more than welcome to request a refund – the choice is yours."

Further guidance required



"I'm sorry that you have been put in this situation. I will need to talk to my manager to see what we can do to resolve the issue but will be in touch within 24 hours. Would you prefer that I phone, text or email you once I know more?"
Transferring a call
No one enjoys being told their inquiry needs to be passed to another agent but with the right communication skills and messaging, an agent can make it a smoother process.
"I wish I could help but your call needs to be directed to another department. Let me transfer you to the best person to help with your inquiry."
"That sounds like a very reasonable request but unfortunately I am not the right person to assist. In a moment, you will be speaking with a colleague who specializes in such matters."
"A concern as important as this requires input from my manager. If you are happy for me to transfer your call, I'd love to immediately connect you with them."
Requesting a follow-up call
Not every concern or issue can be resolved in the course of one conversation, which may not be welcome news for a caller. Rather than stumbling through a request to organize another call, the following call center scripts can act as a helpful guide.
"I need further information from my colleagues to ensure I can replace your [product name] as quickly as possible. Would it be OK if I call you back on this number within the next hour?"
"I've just been told we are having a few technical issues that are impacting our ability to process orders. The good news is our team is working hard to resolve the issue but rather than keep you on hold, can I call you back once the order has gone through?"
Saying 'no'
As difficult as it is, there are times when an agent needs to deny a request. Not all customer demands are reasonable but it is important when saying no, that the denial is handled politely and with empathy.
"We understand this must be frustrating for you but we are unable to meet your request at this point in time."
"I have previously found myself in a similar situation to you and that is why I'm sorry to say that our returns policy does not allow for a case such as this."
"I'm sorry to say we won't be able to help you on this occasion but can assure you that we value your feedback and you are always welcome to contact us in situations such as this."
Handling several calls at once
The nature of busy call centers means agents often need to engage more than one call at the same time but the last thing they should do is let this be known to the various customers. It is all about using the right language when moving between calls.
"That shouldn't be a problem but I will need to double-check the information with my supervisor. I'll just pop you on hold and be right back."
"To ensure there are no further issues, I'll just confirm everything is in order with my senior manager. One moment, please."
Farewells … and upselling
Saying goodbye is not only a chance to leave a positive lasting impression but also an opportunity to entice a customer to consider another purchase or service.
"It's been a pleasure helping you and let me just check if you have any other questions or concerns … you're all good. That's great and please don't hesitate to reach out if you need anything else."
"I'm sure you're going to love the [product name] and I should point out that many of our customers love to pair it with the [other product]. Would you like me to share a few details as I think it may interest you?"
"Once again, I'm so sorry you had to contact us about this issue. We really do value you as a customer and will be doing all we can to ensure it doesn't happen again. Thanks for calling and have a great day."
Summary
Whether training new recruits or boosting the communication skills of existing staff, call center scripts are a fast track to better agents and more satisfied customers. As the saying goes, prior preparation prevents poor performance and there is no better way to be prepared for quality conversations than laying a foundation before they occur.
Did you know 93% of consumers are more likely to be repeat customers at companies that deliver remarkable service? Discover why great customer experience is so important in the modern world and the strategies businesses are implementing to achieve it.