Why businesses outsource
Deloitte's 2021 Global Shared Services and Outsourcing Survey Report involved over 600 respondents from outsourcing and shared services leaders in 45 countries. What they discovered was that in order to keep up with client expectations, outsourcing providers are starting to change the way they look at qualifying 'talent'. Outsourcing providers who are deemed 'successful', according to Deloitte, in meeting client demands are:
Focusing more on diversity within their leadership teams, with more than 80% having about a third of their leadership team composed of minorities and women
Adopting new approaches to talent, with 67% building continuous improvement and innovation into talent programs, and focusing on work/life balance and flexible practices as key strategies for retaining talent
Embracing digital transformation as a strategic agenda with 72% of them having already implemented robotic process automation, 55% having a single-instance ERP and 53% possessing cloud or AWS functions.
What remains clear, as it did back in Deloitte's 2020 Global Outsourcing Survey, is that outsourcing providers continue to evolve and adapt to rapidly changing geopolitical conditions as they seek to provide value-added services and high-impact business outcomes for their clients.
From these key findings, Deloitte was able to identify what key benefits organizations were receiving from engaging successful outsourcing providers. While reducing costs is still a very big reason organizations outsource, a new contender has been unveiled for 2022. Respondents considered standardization and efficiency of processes as the top factor, compared with reducing costs and driving business value, although they remain immediate and tangible benefits.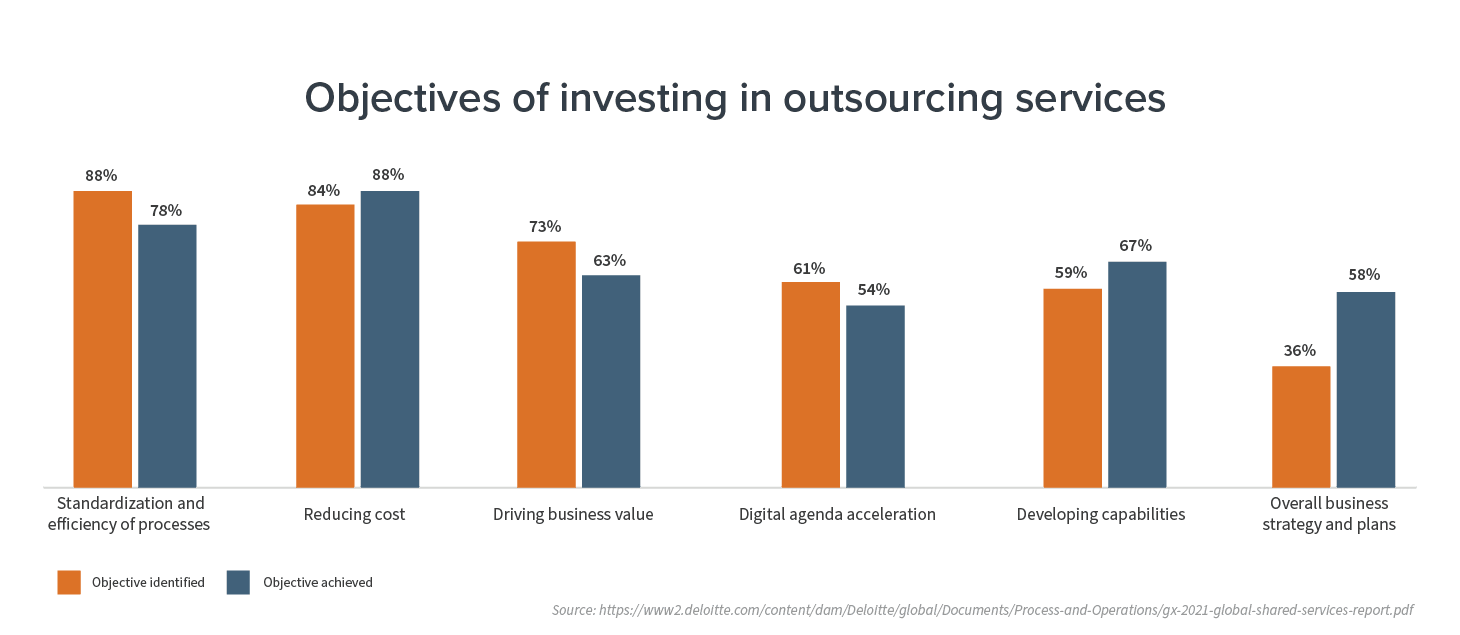 In 2021, Clutch surveyed 500 organizations in the U.S. and discovered that the reason 80% of survey respondents planned to outsource was to realize a host of benefits, including improved efficiency, business growth, and the chance to work with experts. The reasons behind their decision to outsource varied:
27% outsource to improve their efficiency and save time
19% outsource to support business growth and scalability
33% outsource to access flexible resources
26% outsource to work with an offshore expert.
The conclusion is that by outsourcing, businesses are rewarded with extra efficiency gains and greater staff support. This allows them to scale, remain competitive, and (potentially) improve their services and offerings. That's good news for consumers.
Discover how 12 organizations from varying industries invested in offshore teams in the Phillipines to meet independent business needs.
Why offshoring has become popular
According to Fact.MR, the global business process outsourcing (BPO) industry is expected to grow at a compound annual growth rate (CAGR) of 8.5%, reaching a total market value of US $620 billion by 2032. The research firm attributed this growth to organizations who have developed an increased reliance on the convenience of outsourcing services.
Businesses are feeling positive about their outsourcing relationships, especially those who are pursuing robotic process automation (RPA) and cloud integration within their outsourcing solutions. RPA and cloud integration go hand in hand with the cost savings objectives companies had in 2019.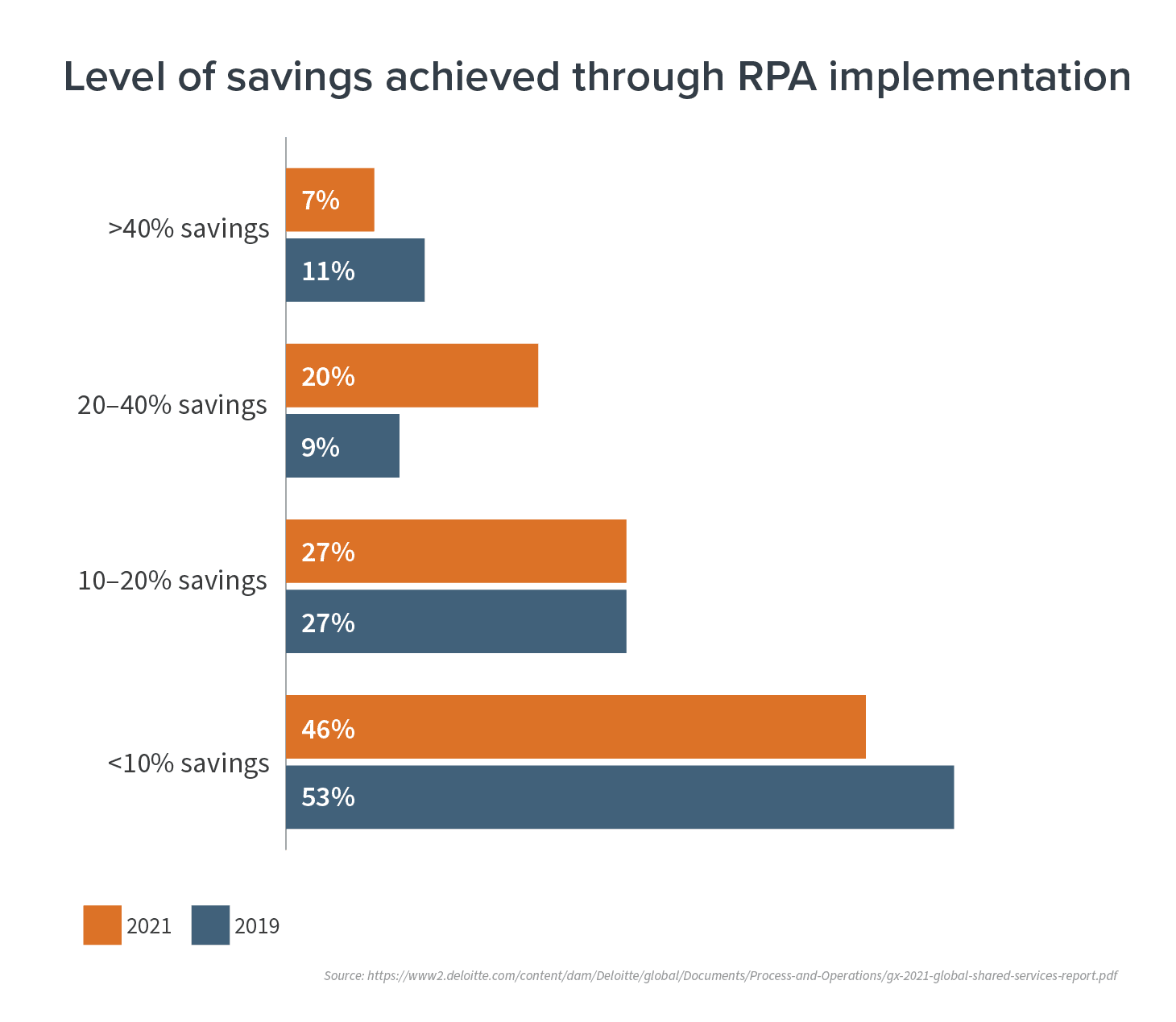 Questions organizations ask before choosing to outsource
The effects of disruptive automation and cloud working
When it comes to outsourcing, technology is key. The key transformation enablers employed by global BPO organizations involve robotic process automation (RPA), single-instance ERP, cloud-to-cloud (AWS) and virtual assistants or chatbots to name a few.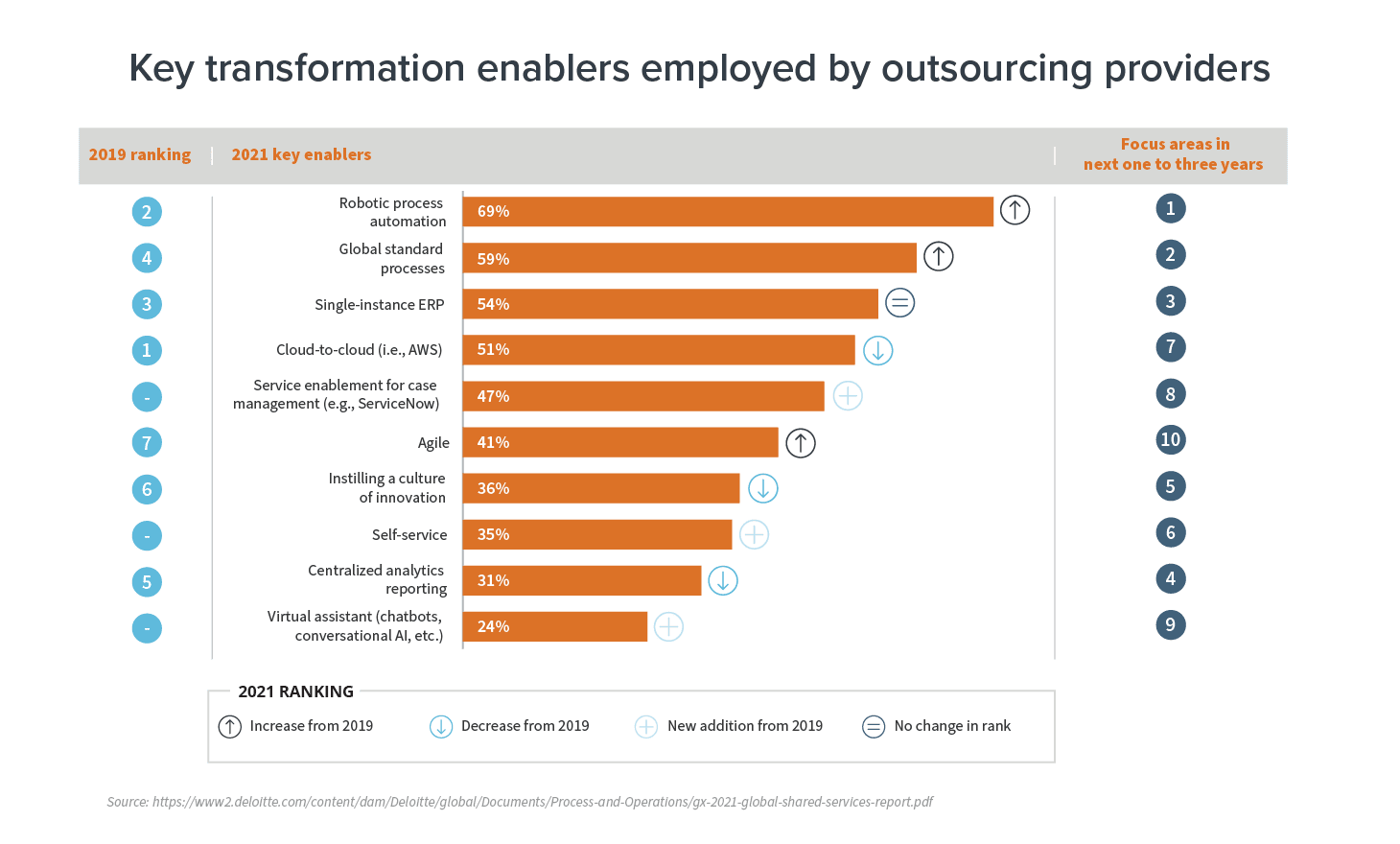 RPA is expected to be the most desirable digital enabler for outsourcing for the next few years. While cloud systems were number one back in Deloitte's 2019 report, they've moved down to fourth as 47% of respondents already have implemented cloud based systems.
However, there are challenges that BPO providers face when deploying the latest automation software, like RPA.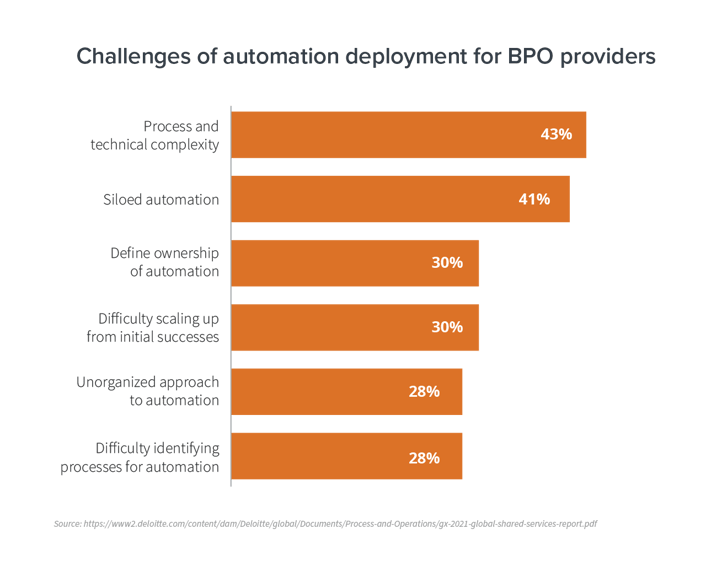 As the popularity of RPA matures for logical rule-based processes, the use of advanced technologies like artificial intelligence (AI) is also becoming widespread. According to Deloitte's, "Automation with Intelligence" survey, 58% of respondents had already started implementing AI. There was higher acceptance and increasing adoption of AI in companies that were using RPA. As maturity increases, this trend is unstoppable as more and more organizations experience these benefits.
While it may appear cheaper, automation still needs setting up and monitoring: cue the human workforce. Plus, some jobs simply can't be automated. Healthcare, HR, telecommunications and customer service aren't as robot-friendly, so offshoring continues to rise, despite increases in automation in other areas. This means businesses can outsource high-level roles to stay lean in a competitive environment.
This ultimate list of outsourcing statistics shows how popular offshoring continues to be. As technologies and infrastructure continue to evolve, particularly in the Philippines, companies needing to grow and remain competitive in the global market, can't afford to overlook the cost savings and functional benefits of outsourcing.
The proof is in the pudding
Outsourcing has been a key to success for countless organizations that have benefited from its potential to reduce employment costs by up to 70%, improve efficiencies and provide the support needed to overcome unexpected hurdles and pursue business growth.
To summarise, let's recap the key outsourcing statistics outlined in this blog:
Our 'Case Study Portfolio - Real Challenges, Our Solutions' showcases 12 in-depth, real-life examples of how offshoring in the Philippines has reaped rewards for organizations in industries as diverse as healthcare, eCommerce, insurance and tourism.