Global markets and improvements in technology have changed the way businesses work. For many, staying competitive means capitalizing on the world being a smaller, more tech-savvy place and enjoying the benefits of outsourcing.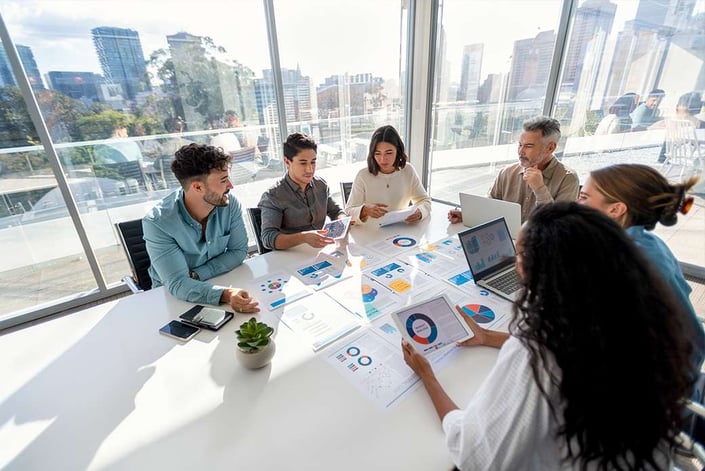 Hiring an overseas workforce to outsource certain business functions can lead to lower overheads, increased growth and greater focus and service quality. Combined, these benefits mean a happier-looking bottom line. On paper, it all sounds great but for a business sitting on the fence about whether to offshore, promises and benefits that "sound great" aren't enough.
You need evidence and you've come to the right place - our ultimate list of outsourcing statistics for 2023.
The state of play
For more than 20 years, renowned professional services firm Deloitte has been conducting surveys to understand the evolution of outsourcing and provide insight into the issues and trends affecting both providers and clients. In the latest incarnation of the survey report – Navigating Talent, Technology and New Ways to Outsource1 – the company revealed that the battle for talent has reached an unprecedented intensity and the rules of outsourcing are changing as third-party models evolve to enhance business and IT processes with AI and data insights.
Key findings included:
50% of executives identify talent acquisition as the top internal challenge in meeting their organizations' strategic priorities – despite more than half reporting an increase in staff across the past year to support growth
62% of executives say they are ill-prepared to address the causes and impacts of poor employee retention
32% of executives indicate a budget increase for traditional outsourcing, with growing demand for access to hard-to-source talent and expertise on technology and transformation
Executives chose cybersecurity as the number one external challenge they face in achieving their strategic objectives, with 81% turning to third-party vendors to provide such capabilities
96% of executives cited outsourcing providers as the source for the development of data and analytic capabilities.
What remains clear, as it did back in Deloitte's 2021 Global Shared Services and Outsourcing Survey Report2, is that outsourcing providers need to continue to evolve and adapt to rapidly changing conditions as they seek to provide value-added services and high-impact business outcomes for their clients.
Why businesses outsource
In December 2022, Clutch asked 517 small business leaders in the U.S. to reflect on their top business objectives for the following year and the role outsourcing would play in filling any gaps3. Despite talk of a looming recession, the survey found a sense of optimism continues to prevail and the majority of small businesses consider outsourcing providers an effective strategy to remain agile and fill critical skills gaps.
Key findings included:
62% of small businesses may be concerned about a potential recession but the top objectives for small businesses in 2023 are to grow revenue, build their teams and acquire new customers
83% of small businesses will maintain or increase their spending on outsourced business services in 2023
The primary motivation for outsourcing tasks was a near-tie between reducing expenses and bringing industry experience onto the team
52% of small businesses regularly use a professional firm or agency when outsourcing
64% of small businesses have an idea of actions they would take to combat a recession
56% of small businesses expect revenue increases in 2023.
The survey also confirmed what many observers already know. When it comes to reasons for outsourcing, money continues to talk.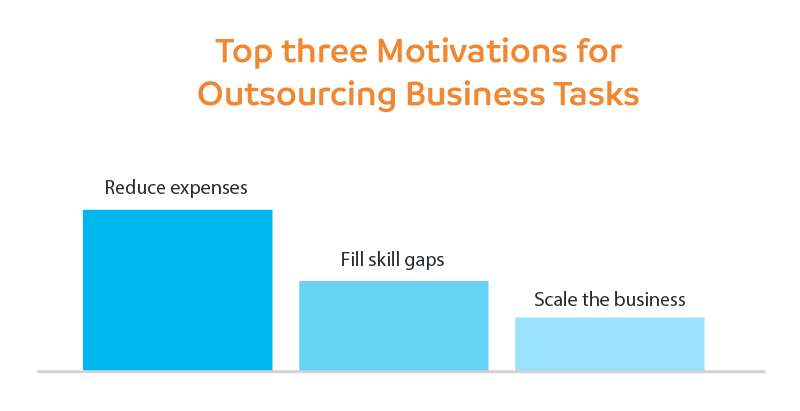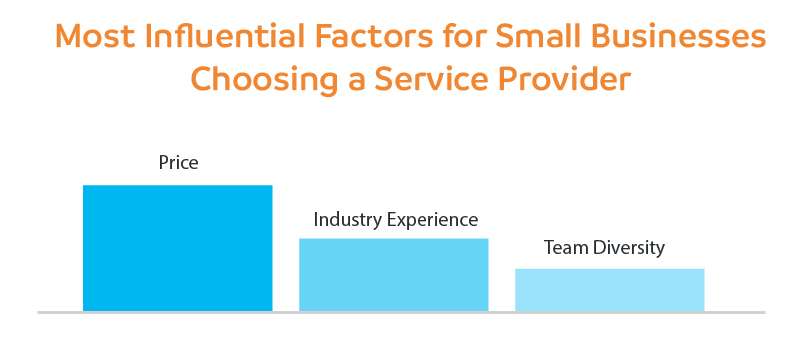 With businesses able to save up to 70% on labor costs by using an offshore provider, it is little wonder reducing expenses remains the top motivation for outsourcing business tasks. In the words of one survey respondent who has collaborated with an outsourced copywriting agency for four years: "Outsourced providers chip in with expertise that helps to plug in what is lacking in-house, ensuring that small businesses can still compete even with a limited budget3."
The survey also revealed that despite talk of a boom in the gig economy, most small businesses still prefer to use professional outsourcing providers. 52% of respondents regularly use services provided by a professional firm or agency, preferring the structure and safety that comes with partnering with a known entity.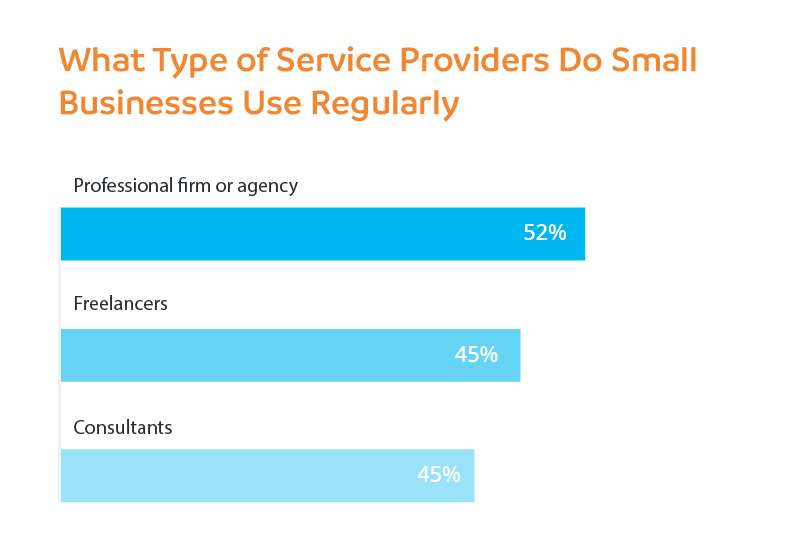 "Freelancers need more management and often don't have systems in place that fit all or most companies so the business owners end up having to manage the freelancers," one eCommerce shop owner told Clutch. "Agencies typically have an organizational structure that allows feedback to a manager who then manages the specialist actually performing the work for the business."
A financial juggernaut
Outsourcing has grown from a smart idea a few decades to a multibillion-dollar industry that shows no signs of slowing down. In a world where businesses need more flexibility than ever in accessing talent, outsourcing is becoming a more powerful sector by the year.
Global spending on outsourcing could hit $731 billion in 20234
IT outsourcing spending is projected to reach $519 billion in 2023 (an increase of 22% on 2019) and BPO spending is tipped to hit $212 billion (a 19% jump on 2019)
The global BPO market is expected to be worth $525 billion by 20235
IT services make up 72% of all global outsourcing contract values6
About 300,000 jobs are outsourced in the US each year7
92% of G2000 companies use IT outsourcing.8
Spotlight on services
Some business functions and industry sectors lend themselves better to outsourcing than others. This boils down to practical issues around setup and management, with Clutch finding that small businesses in 2023 are looking for new outsourced providers in marketing (27%), IT services (22%), and design (21%)9.
Other statistical insights include:
Across the globe
When it comes to outsourcing, the world has never been smaller. Technology means businesses can now partner with offshore providers wherever there is strong connectivity, while the remote work trend has instilled a new sense of confidence in businesses looking for support outside their four walls.
Consider these statistics when debating where to direct your outsourcing budgets.
The Philippines factor
As highlighted above, the Global Services Location Index has ranked the Philippines an industry leader in outsourcing. With excellent communication skills in both oral and written English, the nation offers a balanced package of excellent customer service with reduced labor costs. More importantly, the government is very supportive of the offshoring industry, with a nationwide focus on infrastructure and telecommunications investments, especially in the main cities.
Statistically speaking, there is a lot to like about the Philippines:
English is an official language in the Philippines, with about 60 million English speakers
The nation has a 97.5% literacy rate and more than 680,000 people graduate from university each year
As a former US colony with a 90% Christian population, the Philippines has a 'Westernized' culture
The country has one of the fastest-growing economies in Asia22
In 2022, the BPO industry in the Philippines recorded $29.1 billion in revenue and 1.44 million FTEs.23
Are you ready to start your outsourcing journey?
In an ever-changing environment, it is essential that businesses stay abreast of any opportunities to reduce costs, increase efficiencies and improve productivity. Outsourcing ticks all those boxes, hence why the industry continues to grow at an exceptional rate. Statistics and numbers only tell part of the story though. Take the time to review individual case studies, seek insights from businesses that have used outsourcing and reach out to providers to find out how they can improve your organization for the better.
Take the next step on your outsourcing journey by exploring our 'Case Study Portfolio - Real Challenges, Our Solutions', which showcases 12 in-depth, real-life examples of how offshoring in the Philippines has reaped rewards for organizations in industries as diverse as healthcare, eCommerce, insurance and tourism.
Updated March 2023
References:
[1] Global Outsourcing Survey 2022 | Deloitte US
[2] 2021 Global Shared Services and Outsourcing Survey Report (deloitte.com)
[3] Small Business Outsourcing Primed to Boom in 2023 | Clutch.co
[4] outsourcing-outlook.com/assets/pdf/Deloitte-DOC-Whitepaper_outsourcing-and-shared-services2019-2023.pdf
[5] Business Process Outsourcing Market Worth $525.2 Billion By 2030 (grandviewresearch.com)
[6] PowerPoint Presentation (isg-one.com)
[7] What You Need to Know About Outsourcing: Which Outsource Service is Right for You? - Aptude, LLC. A New Era Technology Company
[8] ISG Research - View (isg-one.com)
[9] Small Business Outsourcing Primed to Boom in 2023 | Clutch.co
[10] Syntax IT Trends Benchmark Report (2021): Report
[11] Computer Economics Avasant Research - Computer Economics by Avasant
[12] https://www.napeo.org/docs/default-source/member-resources/white-paper-7-the-roi-of-using-a-peo.pdf
[13] Content writing | Exploding Topics
[14] https://www2.deloitte.com/content/dam/Deloitte/us/Documents/process-and-operations/us-how-much-disruption.pdf
[15] https://upcity.com/experts/small-business-outsourcing-statistics-survey/
[16] The 2021 Kearney Global Services Location Index - Kearney
[17] Outsourcing to the Philippines - the state of play (matchboard.com.au)
[18] Outsourcing Statistics 2022: In the US and Globally | TeamStage
[19] China: new employees number in service outsourcing industry | Statista
[20] Seven in ten British businesses outsource to third parties | YouGov
[22] Doing business in the Philippines 2019 | Deloitte Philippines | Financial Advisory
[23] IT and Business Process Association of the Philippines (ibpap.org)