Global markets and improvements in technology have changed the way businesses work. For many, staying competitive means capitalizing on the world being a smaller, more tech-savvy place, and enjoying the benefits of outsourcing.
Hiring an overseas workforce to outsource certain business functions can lead to:
Combined, these benefits mean a happier looking bottom line.
On paper, it all sounds great. But for a business sitting on the fence about whether to offshore, promises and benefits that "sound great" aren't enough.
You need evidence.
Well, the good news is you've come to the right place. The ultimate list of outsourcing statistics puts the proof in the pudding. Using current data from trusted sources, here's why your small business might outsource roles to a managed operations provider or a business process outsourcing (BPO) provider.
Why businesses outsource
As previously mentioned, outsourcing allows companies to lower their overheads. In fact, according to Deloitte's 2016 Global Outsourcing Survey, it's the main reason businesses hire overseas teams.
59% of businesses surveyed said outsourcing was used as a cost-cutting tool. But investing in outsourcing is more than just a money-saving exercise. If we look at all of the responses they suggest outsourcing improves business performance and, therefore, results in better user experience.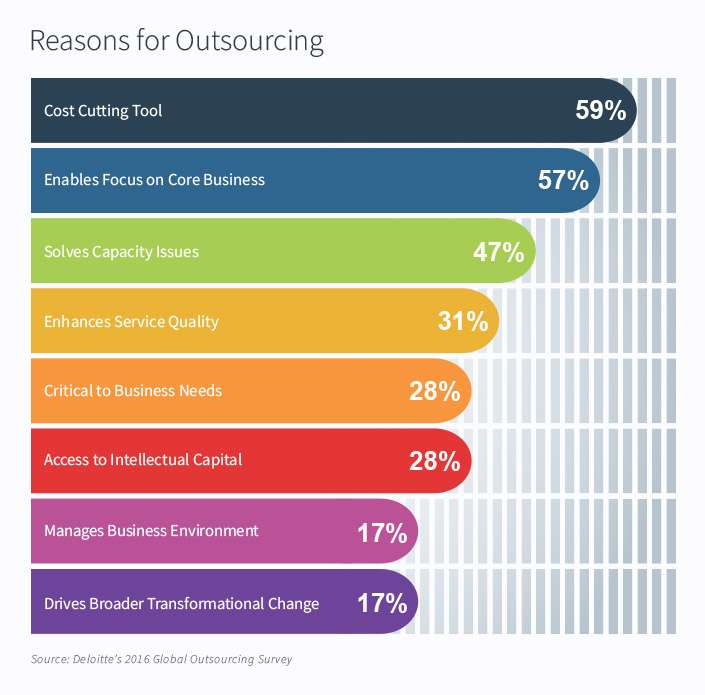 Interestingly, 57% of respondents said outsourcing meant they could focus on their core business. 31% outsourced specifically to enhance service quality, while 17% used outsourcing as a way to drive change and disrupt their business norm.
The conclusion is that by outsourcing, businesses are rewarded with extra time and greater staff support. This allows them to scale, remain competitive, and (potentially) improve their services and offerings. That's good news for consumers.
Deloitte's 2016 study of why businesses outsource remains the most relevant and reliable list. But delve deeper into the statistics and it's clear the outsourcing market is far from static.
Offshore popularity is rising
Spending on outsourced services in the global market has grown in the last two decades, from US$45.6 billion in 2000 to US$86.6 billion in 2018. Almost double! And it's not slowing down.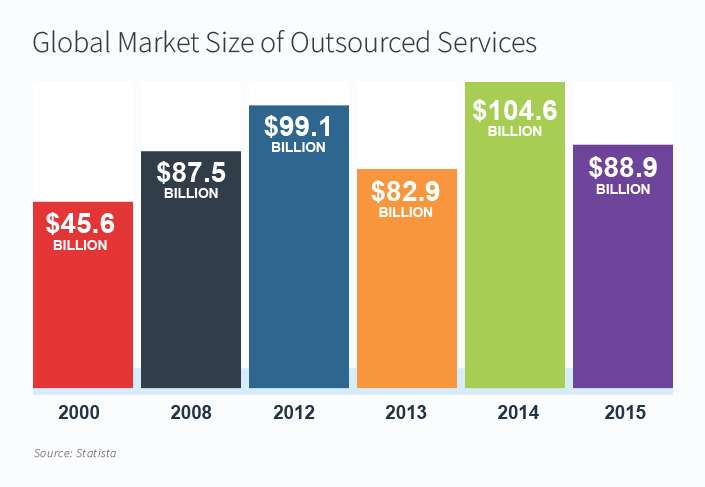 Businesses are feeling positive about their outsourcing relationships. As a result, 57% of US companies increased their use of outsourcing.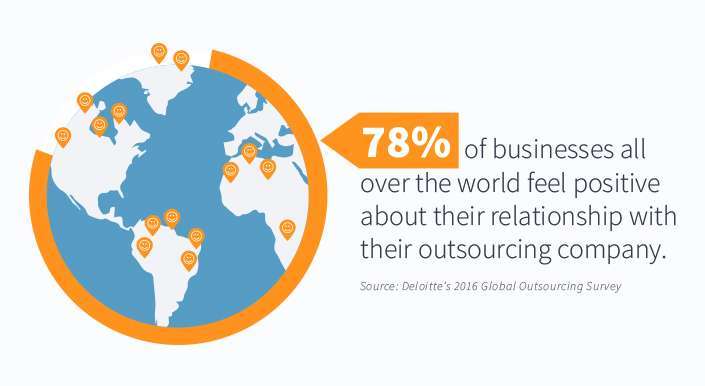 Which sectors and functions are outsourced the most?
Some business functions and industry sectors lend themselves better to outsourcing than others. This boils down to practical issues around setup and management.
According to Statista and KPMG's 2017 Global IT-BPO Outsourcing Deal Analysis, IT, defense and government, media, health and pharmaceuticals, and retail are among the most popular outsourcing sectors.
Although all of these sectors make strong contributions to the financial growth of the outsourcing market, telecommunications remains one of the top contributors.
ITO deals — which within the context of the KPMG report includes telecommunications — contributed to 65% of the outsourcing deals sealed in 2017.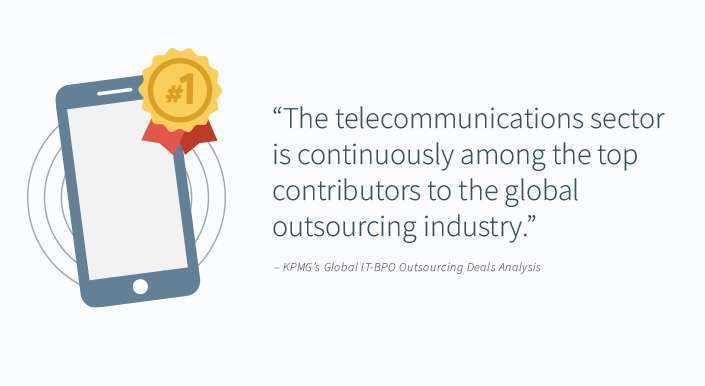 Why does the telecommunications sector fair so well?
Constant evolution.
Advancements in technologies, more companies moving to the cloud (which we'll discuss in more detail shortly), and increased global mobile usage, all boost the telecommunications sector and offshoring countries that can support its rapid development.
As it stands, American businesses most commonly outsource IT functions. But they outsource a lot of other functions too. When asked about current and future outsourcing levels, respondents revealed they planned to increase the amount of tax, HR and procurement tasks handed to offshore teams.
Finance shows the biggest difference. Currently, US businesses outsource around 39% of finance functions, but wish to push this up to 89%.
Clearly, these statistics prove how successful outsourcing continues to be for modern American businesses. And the rest of the world seems keen to capitalize on the benefits of outsourcing, too.
Adoption and revenue beyond the Americas
America is a major outsourcing region. When professional services company KPMG analyzed outsourcing deals closed in Q1 2017, the US contributed 41.5% of the total deal value.
But Asia Pacific regions and Europe, the Middle East and Africa (EMA), aren't far behind.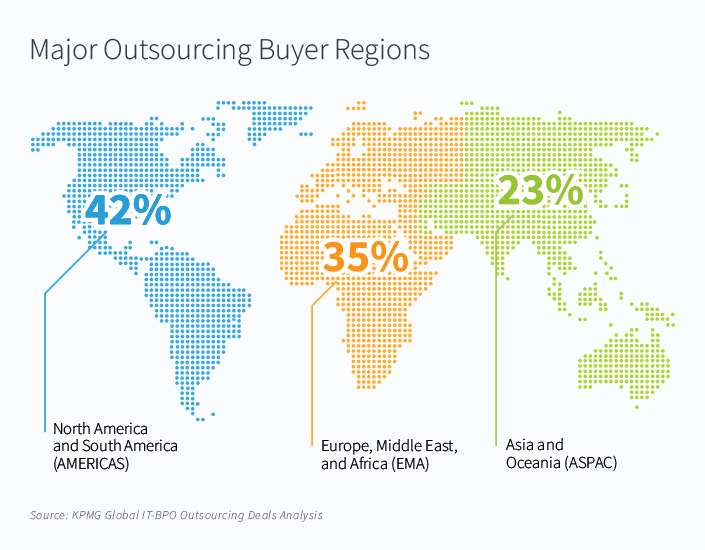 An increased willingness to adopt outsourcing in the EMA and Asia Pacific has sent figures upwards.
In the first quarter of 2017, the EMA's contribution to the global outsourcing deal value was a healthy 35% (with 22.07% of deals coming from the United Kingdom). This was up on the last quarter of 2016, when it sat at 27%.
Likewise, Asia Pacific's contribution to global outsourcing deals rose from a mere 16% in the last quarter of 2016, to 23% in Q1 of 2017.
In the same KPMG report, Australia and India were identified as key contributors to the global outsourcing market.
Effects of disruptive automation and cloud working
When it comes to outsourcing, technology brings pros and cons.
A huge pro is the use of cloud-based working. Although there are concerns around data security and implementation, increased connectivity makes offshoring much easier.
The con is technology's impact on jobs. According to Deloitte, more businesses are hoping to adopt Robotic Process Automation (RPA), leading to improvements in speed, precision and quality of the information used to make critical business decisions.
A.T. Kearney's 2017 study titled The Widening Impact of Automation, shows more than 1 million BPO jobs are at risk in the US, India and the Philippines because of the rise of automation technology. It's thought a single automated service replaces four people.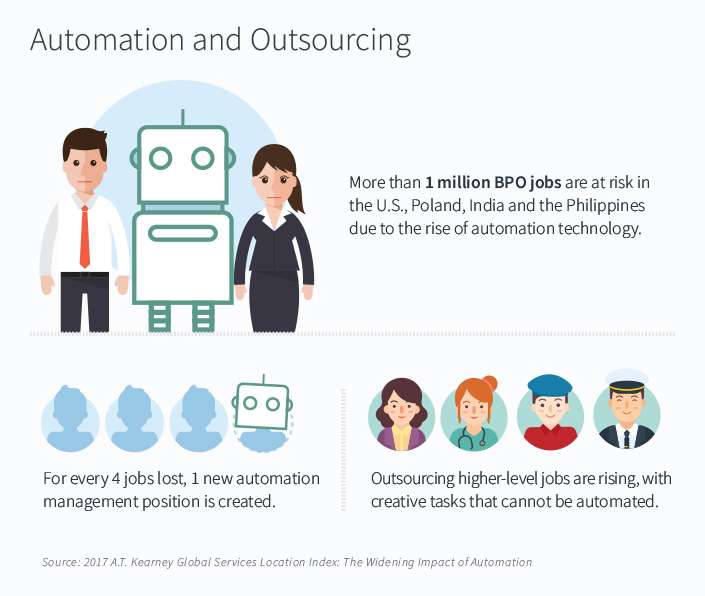 But it's not all doom and gloom. While it may appear cheaper, automation still needs setting up and monitoring: cue the human workforce.
Plus, some jobs simply can't be automated. Healthcare, HR, telecommunications and customer service aren't as robot-friendly, so offshoring continues to rise, despite increases in automation in other areas.
This means businesses can outsource high-level roles to stay lean in a competitive environment.
The Philippines — a top 10 offshoring destination
When it comes to offshoring, the Philippines is one of the top countries in the world.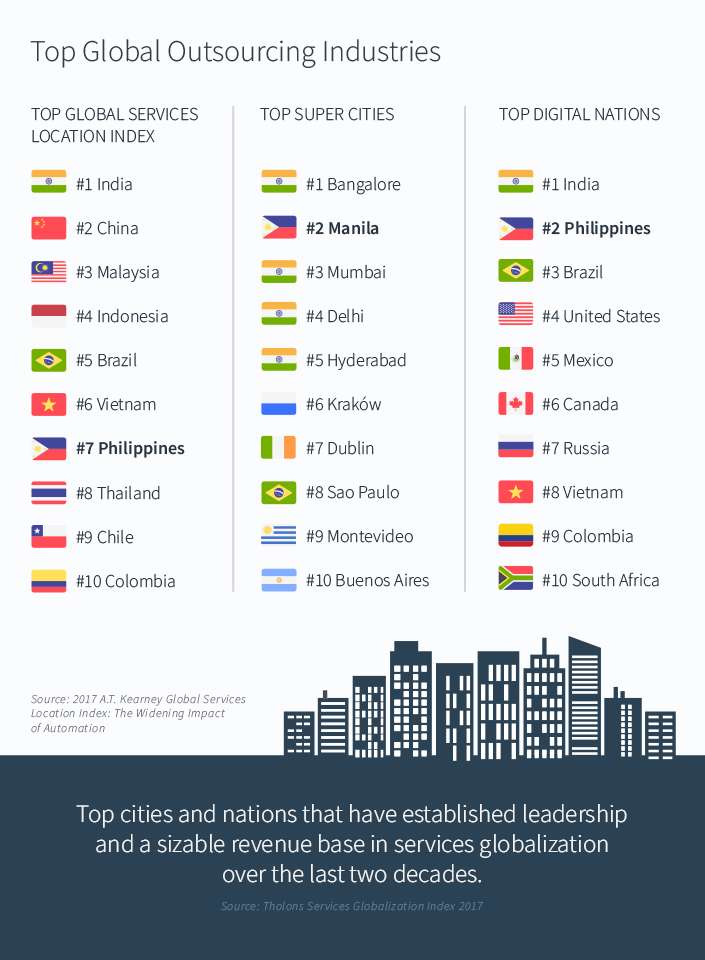 How a country is ranked has changed. And the criteria plays to the Philippines' strengths. For example, A.T. Kearney took digital competence in consideration to identify the top outsourcing destinations in its Global Services Location Index (GSLI), while the Tholons Services Globalization Index added digital innovation.
The rankings confirm the Philippines is an industry leader in outsourcing.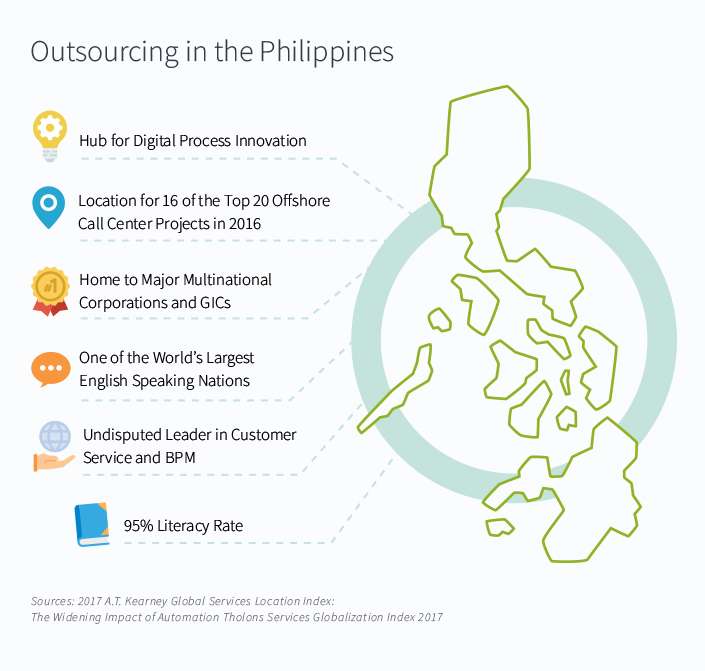 So what do the statistics suggest it has going for it?
Great education, with a 97.5% literacy rate and more than 680,000 uni graduates per year (for perspective, Australia has approx 300,000)

It's the third-largest English speaking country in the world

It offers approx 70% lower labor costs than Australia

The economy has grown around 6% each year since 2013

Manila, in the Philippines, is a top five Digital Nation Super City, according to 2018 Tholones Services Globalization Index.
With excellent communication skills in both oral and written English, the Philippines offers a balanced package of excellent customer service with reduced labor costs. More importantly, the government is very supportive of the offshoring industry, with a nationwide focus on infrastructure and telecommunications investments, especially in the main cities.
The future of outsourcing
This ultimate list of outsourcing statistics shows how popular offshoring continues to be. As technologies and infrastructure continue to evolve, particularly in the Philippines, companies needing to grow and remain competitive in the global market, can't afford to overlook the cost savings and functional benefits of outsourcing.
The Philippines as a top outsourcing destination
There are many reasons why the Philippines is the ideal outsourcing location. To find out more, read this blog.