Not so long ago, a corporate lawyer from London painted a picture of the post-COVID world that every business would be wise to take heed of. Actually, David is no longer from London – and that's the point.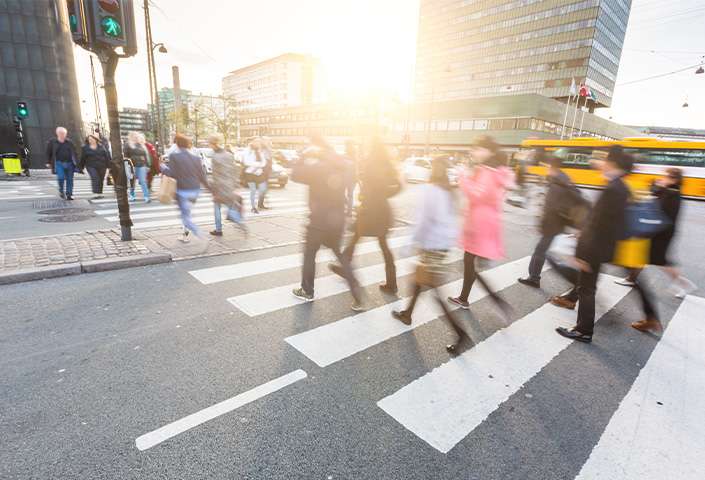 "Lockdown forced me to stop," he told the BBC. "I spent time with my wife, rediscovered healthy living and slept well. It took this halt to realize just how destructive life at one of the world's largest law firms was – always on call and under pressure to deliver, regularly working 60-plus-hour weeks. So I quit."
That's right – he quit, packed up his life and moved to a smaller law firm in the north of England where he may get paid much less but his work-life balance has never been better. "I've been able to reclaim a degree of autonomy," he explained.
David is but one example of the millions of people across the globe driving a phenomenon that has been dubbed 'The Great Reshuffle' and is forcing businesses to re-evaluate and, in many cases, reinvent their approach to recruitment and employee care. While more than 4.4 million Americans quit their jobs in February 2022, research has found that more than half of job 'quitters' are not leaving the labor force completely but simply switching their occupations or field of work.
Having coined the phrase 'The Great Resignation' during the early months of the global pandemic, Organizational Psychologist Dr Anthony Klotz is among the many experts who have witnessed the trend evolve from people simply walking away from work to large numbers of employees moving around the job market - more of a 'Great Reshuffle' than a 'Great Resignation'.
"People are finding jobs that give them the right pay, benefits and work arrangement in the longer term," Dr Klotz said. "There's now a greater ability for people to fit work into their lives instead of having lives that squeeze into their work."
In Dr Klotz's words, these are people who have experienced 'pandemic epiphanies' and want to get more of what they want out of work. Which leads to an obvious question for many organizations – how can they attract the right people and make them stay?
What is 'The Great Reshuffle'?
The numbers present a confronting scenario for employers. According to the U.S. Bureau of Labor Statistics, nearly 3% of the American workforce resigned in one month late in 2021, which followed a record-high the previous month. The Wall Street Journal has revealed the number of self-employed workers in the U.S. has risen by 500,000 since the pandemic. While, in a classic case of supply and demand, the country had 10.4 million job openings in August 2021 and only 7.4 million unemployed people.
Given such a tight labor market, it's little wonder people that once resigned to the fact that they should remain in the same job no matter how unhappy they were are now increasingly open to the idea of a 'reshuffle'. While the 'Great Resignation' implied people were quitting the workforce, it is now clear many of them are actually reconfiguring what their careers – and lives – look like.
Be it transitioning to new industries or roles that offer better wages or aligning with companies that better represent their values, people are not just quitting. They are reshuffling and if any executives need further evidence of how the COVID pandemic has fundamentally changed the recruitment landscape, they need only look at a Microsoft research study that examined why frontline workers are leaving their jobs in record numbers.
Among many facts, the 2022 Microsoft Work Trend Index revealed:
47% of people are more likely to put family and personal life over work than they were before the pandemic
53% of people (including 55% of parents and 56% of women) are more likely to prioritize their health and wellbeing over work than before the pandemic.
Of course, there have been significant shifts in the job market before. Post-war economic booms created job opportunities. 'The Great Depression' and 'Global Financial Crisis' saw swathes of jobs evaporate. 'The Great Reshuffle' is a different beast though.
"What's unique here is people in professional work now have a choice," explains London School of Economics Associate Professor Grace Lordan. "Previously, with the likes of the Industrial Revolution, most people weren't skilled enough to get the high-income jobs. Now knowledge workers are in such high demand that there's a skill shortage."
That demand also means jobseekers and existing employees are in the driver's seat, with the power to request or even demand conditions that best suit their wants and needs. One example is remote or hybrid work opportunities, which began as a temporary necessity during the pandemic but has become a must-have for many employees in 'The Great Reshuffle'. According to a Microsoft study, 70% of employees want to continue working from home and two-thirds of businesses are planning to redesign their offices to suit hybrid work.
Meanwhile, many workers are demanding their employers better address work-life balance. One of the reasons 'The Great Reshuffle' has gathered momentum is people are no longer willing to blindly accept that unrelenting stress is a fact of work-life and that means businesses must do more to invest in mental health initiatives that help workers avoid burnout and start looking toward the exit door.
Tips for navigating The Great Reshuffle
Now 'The Great Resignation' has morphed into 'The Great Reshuffle', much of the power is with the workers and it has never been more important for organizations to be proactive with their recruitment and business strategies if they want to remain competitive.
Identify flight risks
Before a business sets its sights on potential recruits, its focus should be on doing all it can to not lose the staff it most wants to keep. From payout packages to recruitment fees, there is a significant cost each time an employee walks out the door, let alone factoring in the loss of knowledge. One's best employees are always the most likely to have attractive options elsewhere and that's why it is essential to strive to keep them happy. Another risk group are team members with carer responsibilities (e.g. parents) who may be on the lookout for employers that better support their needs. This is particularly so off the back of the pandemic, hence the need to develop or maintain flexible workplace conditions.
Offer flexibility
Any managers clinging to a return to the pre-pandemic days when everyone worked in the same office on a full-time basis needs a reality check. Social distancing and lockdowns gave many employees a taste of remote work – less commuting, more flexibility - and they liked it so much they are not about to accept demands to go back to the way things used to be. You don't have to look far to find surveys that highlight the need for employers to prioritize work-life balance moving forward, with at least one showing 42% of US and UK workers want flexible working to continue. This may mean fully remote-jobs, hybrid schedules or four-day work weeks and 'The Great Reshuffle' has shown that if such options are not offered in their current jobs, workers are more than happy to look for them elsewhere.
Enhance workplace culture
The pandemic has inspired people to increasingly reflect on what truly matters to them and that extends to the type of organization they work for. More than ever, employees and jobseekers are putting an emphasis on company culture when deciding where to work, with businesses that promote an employee-led environment more likely to attract talent in a competitive job market. Celebrating staff achievements is highly valued internally, while it is also beneficial to promote one's positive culture to an external audience (eg: use online platforms to highlight 'flexible work' and 'staff wellbeing' initiatives).
Create more predictable schedules
A recent research study found 85% of employees believe unpredictable work scheduling affects their overall wellbeing, with nearly 40% feeling burned out due to the chaotic nature of their rosters. Such statistics should be sobering reading for employers battling to retain and recruit talent in the current reshuffling environment. Executives and managers should embrace technology tools that track employee schedules and, when concerns arise, strive to quickly address them so staff have more surety in their lives. Likewise, employee exit interviews are an excellent opportunity to learn if staff turnover is being impacted by negative work scheduling.
Be a place of learning
Few of the workers joining 'The Great Reshuffle' want to simply step into the same role for a different employer. Many of them actually feel their career progression grinded to a halt or went backwards during the lockdowns of the pandemic and are now desperate to get things moving again, so much so they are looking elsewhere to achieve that. A key to boosting retention is to have genuine conversations with staff about their career goals and provide training and mentorship opportunities necessary to achieve them. The more an employee feels the future is bright within their own organization, the less likely they will be to jump ship to another one.
Facilitate more meaningful work
Nothing kills the spirit of an employee faster than constantly handing them repetitive and time-consuming tasks, all the more so when they have the skills or potential to deliver so much more. Of course, every business has boxes that need to be ticked or routine processes that need to be actioned but the truly successful organizations are those that proactively find ways to complete them without handing them to team members whose time can be better spent elsewhere. Outsourcing providers have dedicated teams and highly qualified staff that revel in handling such work offshore, which not only allows in-house employees to focus on higher-value and more meaningful work but can save up to 70% on labor and infrastructure due to lower costs of living in the likes of the Philippines.
Care
There are times to adopt a softer management style and now is one of them. Every leader should take the time to reflect on how the pandemic has impacted not only their staff but the wider workforce and will realize it is organizations that better empathize and connect with their people that will thrive during 'The Great Reshuffle'. That notion is supported by an ADP Research Institute study that found workers who feel connected to their employers are 75 times more likely to be engaged in their work and, as every employee knows, the more engaged they are in their work, the less likely they will log on to jobseekers websites.
The new working world
The working world looks a lot different from what it did in the early months of 2020. The COVID-19 pandemic has inspired monumental changes and seen the rise of a host of concepts that were barely on the radar then, from social distancing and lockdowns to work from home and Zoom. One thing that hasn't changed is businesses want to employ good workers and people want to work for good employers. That will always be the case and the best way for organizations to thrive during 'The Great Reshuffle' is by showing their staff they want to work with them in the new world.
With remote work here to stay, the 'hybrid workplace' is now a strategic imperative for companies that appreciate the need to offer employees the flexibility they desire. Discover a range of the most popular models, the benefits of adopting them and five ways to create a healthy hybrid workplace.