What's included?
Your training will be delivered by one of our offshoring specialists, all of whom have extensive experience creating operational excellence and building dynamic teams offshore for organizations across the world to optimize wage costs and help businesses sustain a competitive advantage.
By the end of this eCourse, you will have a clear understanding of:
The who, what, where, why and how of offshoring

The many different offshore models, the differences between them and an idea on which might be right for your business

How to choose the right offshoring provider that fits your business needs

Why the Philippines is one of the most recognized offshoring locations

What roles you can easily outsource when initially setting up your offshore team

Examples of standard offshoring costs and potential business savings

What systems, processes and strategies do you need to know to kick-start your offshoring journey successfully.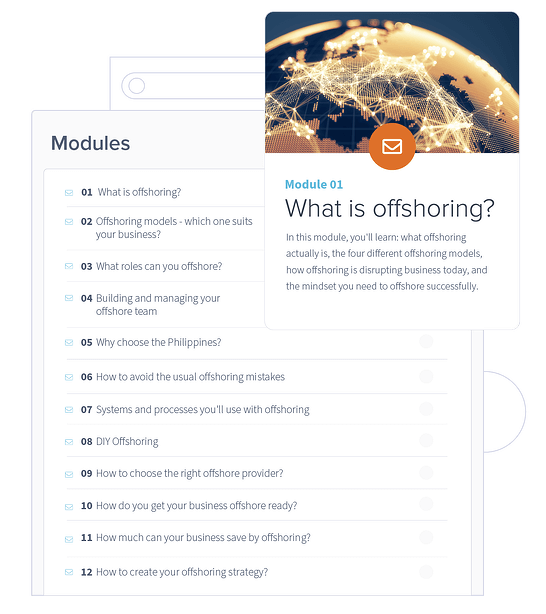 What to expect?
You'll learn how offshoring can offer the support you might need to start achieving business goals, whether that be scaling your operations, staying ahead of the competition or increasing profits.
You'll learn whether offshoring is right for your business. In fact, the first two modules are all about identifying whether offshoring is the right move for your business. Some business models are better suited to offshoring than others and we will assist you to identify if yours is one of them.
The 12 modules are broken down as follows:
Module 1: What is offshoring?
Module 2: Offshoring models - which one suits your business?
Module 3: What roles can you offshore?
Module 4: Building and managing your offshore team
Module 5: Why choose the Philippines?
Module 6: How to avoid usual offshoring mistakes
Module 7: Systems and processes you'll need and use when offshoring
Module 8: DIY Offshoring
Module 9: How to choose the right offshoring provider?
Module 10: How do you get your business offshore ready?
Module 11: How much can your business save by offshoring?
Module 12: How to create your offshoring strategy?
By the end of this free eCourse, you'll not only be an offshoring expert, but you'll have all of the resources, information and connections required to start implementing and planning offshoring solutions for your business.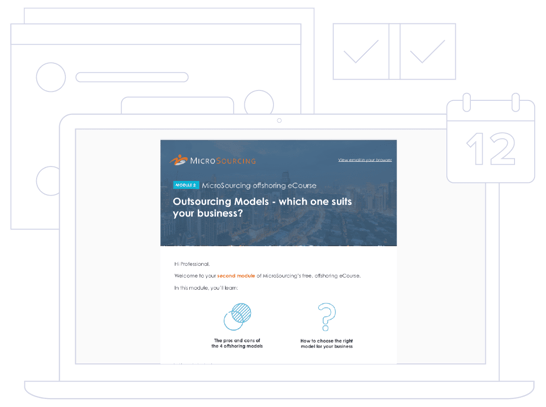 How is this eCourse delivered?
Register below and over the next 12 days, you'll get daily training modules sent directly to your inbox. Each module will offer information around the concept of offshoring in a quick and easy to understand format.
At the end of your last module, you'll be offered a FREE, private consultation with one of our offshoring experts to answer any questions you may still have. They can even help provide guidance on your offshoring strategy.
Register now
In a fortnight's time, you'll know, without a shadow of a doubt, whether offshoring could help your business cut costs, improve efficiency and enhance service quality.
If it can, you'll know how best to go about it. And if it can't… well at least you'll know, so you can focus on other, more appropriate business changes.