If the business community needed reminding that 2023 is a time to tread carefully when it comes to fiscal management, the headline of the International Monetary Fund's World Economic Outlook in April made for stark reading.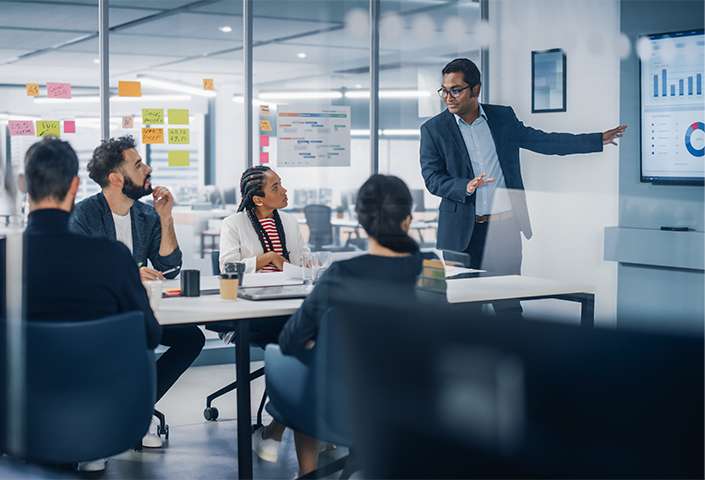 "A ROCKY RECOVERY," the IMF declared in capped letters before listing why so many business owners and managers are looking to tighten their belts1. "The outlook is uncertain again amid financial sector turmoil, high inflation, ongoing effects of Russia's invasion of Ukraine and three years of COVID."
Growth is tipped to fall from 3.4% in 2022 to 2.8% in 2023. Advanced economies are seeing an especially pronounced growth slowdown. Inflation is unlikely to return to target before 2025 in most cases.
It made for grim reading and reinforced why more businesses are turning to outsourcing to reduce labor costs without sacrificing quality. Rarely is this strategy more effective than in finance and accounting departments, which perfectly lend themselves to tapping into the expertise of external providers that are highly proficient at finding the right people and employing the right systems to deliver results at the right price.

What is finance and accounting outsourcing?
Outsourcing is a tried and tested resourcing strategy that typically sees businesses identify repetitive and time-consuming tasks and assign them to third-party team members in another location. With many aspects of finance and accounting fitting the bill as transactional and/or rules-based, such jobs lend themselves to outsourcing and, in turn, ease the pressure on small and medium-sized businesses.
By the numbers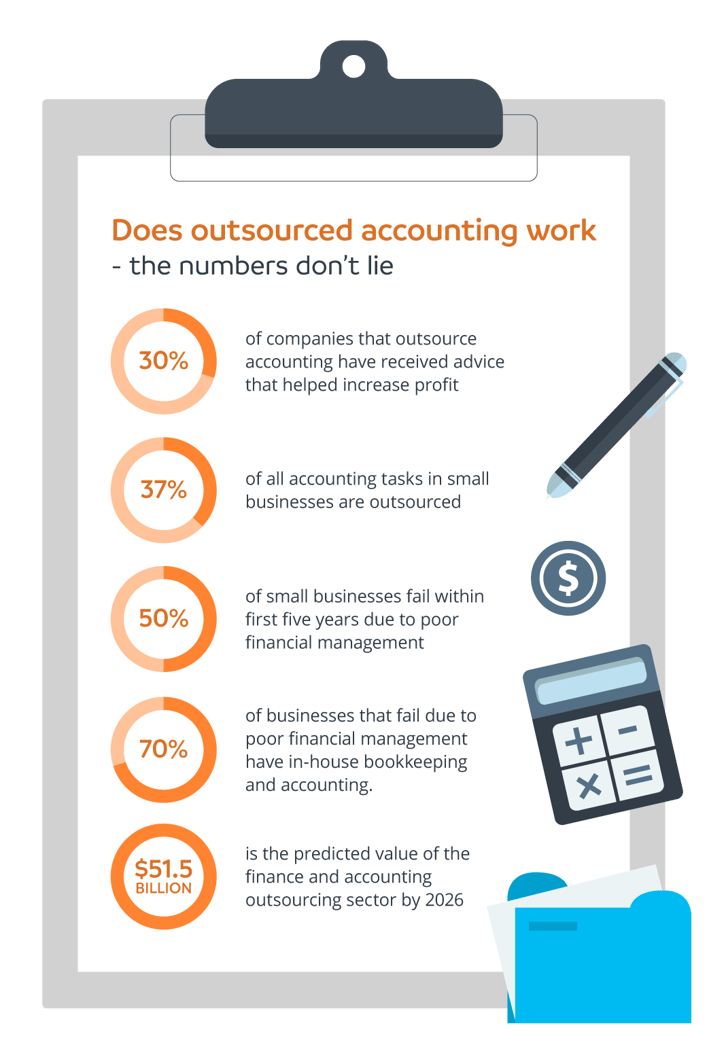 What are the benefits of outsourcing finance and accounting?
What financial and accounting roles can be outsourced?
There is an abundance of finance and accounting roles that can be outsourced including:
Administrative assistants
Broker support officers
Financial advisors
Financial analysts
Loan processors
Procurement officers
Tax advisors.
How do you choose a quality outsourcing provider?
Outsourcing is an excellent way to reduce costs and increase efficiencies but it is essential to partner with a provider that is right for your business and that starts by ticking a few key boxes.
Determine your needs: when it comes to outsourcing, one size does not fit all so it is imperative to seriously consider your needs before entering the market. Different providers offer different services and you will want to find one that provides exactly what you are looking for. Are you looking for help with rudimentary tasks such as bookkeeping, tax preparation or payroll processing? Maybe you require more in-depth assistance such as financial analysis or forecasting. Is it a case of all the above? Identifying what you need will help streamline your list of potential providers.
Look for experience: never underestimate the value of partnering with an experienced provider. The digital boom means effectively anyone can promote their wares but great comfort can be found in teaming with a provider that has expertise working with businesses such as your own and, more importantly, the specific accounting services you want. Do your research, seek testimonials, ask questions – and sleep a little easier at night.
Check accreditations: finance and accounting is a specialist field that is rightly governed by strict standards and guidelines. Before signing an outsourcing partnership, ensure that your chosen provider has met the standards of excellence and professionalism required of them. From Certified Public Accountant (CPA) to The Chartered Institute of Management Accountants (CAMA), there are plenty of professional organizations that provide such accreditation. It is also essential to link with a provider that places the highest emphasis on data security and compliance given the sensitive information being shared.
Demand tech excellence: the very nature of outsourcing means best-practice technology is non-negotiable for offshore providers. Modern accounting has benefited from an infinite range of digital tools and solutions, which is why your provider should have access to and expertise in the latest cloud-based accounting software and platforms. Similarly, ensure their systems are compatible with your own and that data security is of the highest priority for them.
Focus on communication: an outsourcing provider can assign you the world's best bookkeeper but if the organization or team member is a poor communicator, the relationship is bound to fail. Customer service is key so aim to find a provider that communicates clearly and goes the extra mile when answering your questions and concerns. They should also have established processes for providing a dedicated point of contact that will provide you with support as it is needed.
Study the fine print: the best outsourcing relationships are those built on trust. Seek out a finance and accounting outsourcing provider that is transparent about their pricing structure. Many businesses have been caught out by finding a 'great deal', only to learn the hard way that hidden costs or fees quickly create a sizable bill. If a provider is truly invested in forming a long-term partnership, they will do their best to provide you with an honest and fair pricing structure.
Summary
There is no doubt that outsourcing finance and accounting functions has been a game-changer for many small and medium-sized organizations. Modern business life is difficult enough without trying to do everything on your own, which is why so many owners and managers have felt the weight lift from their shoulders after finding the perfect offshore provider. Following the steps outlined above will help you achieve that same feeling and create an environment for yourself and your team to spend more time focusing on your core product.
The pressure on businesses for improved performance is unrelenting. Discover how an award-winning brokerage firm has used outsourcing in the Philippines to meet client demand while reducing costs.