There are many challenges faced by startup organizations looking to scale quickly. These include grappling with competitors and facilitating rapid business growth, all while meeting consumer and customer demands. Organizations that are able to scale and grow quickly understand that driving efficiencies from the get-go is a must. What better area to do this in than your customer service department? Getting your customer service strategy right is a key growth driver and can make or break any organization.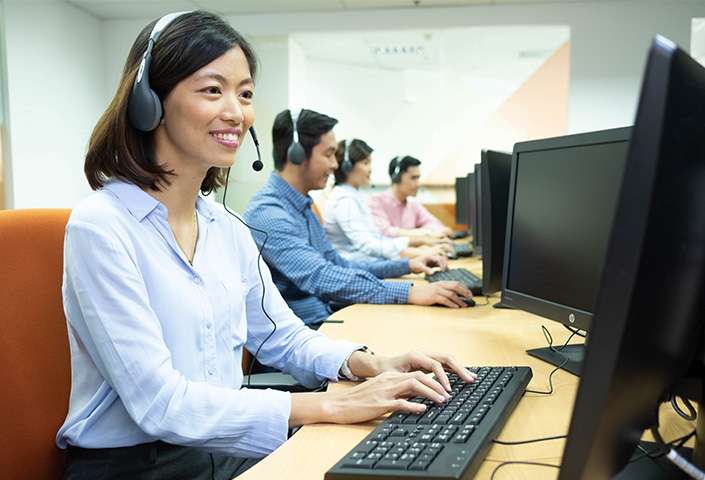 The facts speak for themselves, with 14% of start-up businesses failing due to not paying key attention to their customers' needs. 90% of Americans consider customer service when deciding to do business with an organization and a further 58% are likely to switch companies because of poor customer service. For any start-up, this level of risk needs to be managed without adding additional pressure. Not investing in your customer service function from the outset could impact the potential for exponential growth. So, how can new organizations invest wisely in the development of a sustainable customer service function?
A solution: offshoring.
In this blog, we will discuss customer service offshoring, the benefits of customer service offshoring for new businesses and how you can set up an offshore customer service team from scratch.
What is customer service offshoring?
Customer service offshoring, also referred to as call-center offshoring, is the process of hiring team members overseas to complete customer service or contact center-related tasks. Customer service essentially has the power to make or break your business - it's key to business success. By delivering top-notch customer service, your business can increase customer retention and acquisition rates, ultimately leading to improved margins and profitability.
Customer service tasks and roles that can offshored include, but are not limited to:
Chat managers
Contact center agents
IT support specialists.
Providing good customer service is challenging for organizations at any stage or size. But start ups can find it especially hard to deliver the service quality their clients and customers expect. The most common reasons are:
Onshore staff are expensive - statistically speaking, labor costs are the second-biggest expense for most businesses
You need a lot of people
You need to invest in them (and their training).
No doubt, most start-ups are well aware of these difficulties and the challenges they present when trying to grow rapidly. Start-up organizations are better off focusing their funds and resources on creating go-to- market strategies to facilitate business growth. But, the catch is, how can you scale quickly to meet demand easily to support this growth? Let third-party experts, such as outsourcing providers, add value to your organization by looking after your customer service functions.
What are the benefits of customer service offshoring?
Customer service lends itself well to the offshore model. It's usually a high-volume activity - quite repetitive and process-driven. Plus, customer service roles can often be hard to fill onshore.
For start-ups, all of the following factors mean offshoring your customer service is a smart choice:
Lower labor costs: access to enough support staff on hand to manage the volume, respond quickly and cover all your platforms at once. Depending on where you decide to hire an offshore customer service team, outsourcing providers in low-cost economies, like the Philippines, can help you

save up to 70% on employment costs

alone. The added cost savings will allow you to invest more in scaling up your offshore or onshore team to help support a high growth business model.
Increased flexibility: you never can truly predict what level of growth a new organization can expect from one day to the next. How do you combat this? With customer service offshoring, you can better manage unexpected change by seamlessly tapping into customer service staff as you require. Most offshore providers understand that business growth can at times be unpredictable and help you adjust your customer service team requirements to match volumes at any one given time.

Better customer experience

: poor customer service = a poor customer experience. As many as

84% of Millennials and Gen Zers

would go to a competitor if offered a better customer experience. Offshore providers are experts in the trade of customer service. The Philippines, for example, are one of the largest English speaking countries in the world. This means that language barriers aren't an issue when offshoring to this particular country. On top of that, they have the tendency of being loyal, hard-working and honest - three characteristics that make for an excellent customer service representative.

Faciliates 24/7 support: since the rise of the pandemic, technology and digitization has increased 10-fold. 24/7 customer support is now considered a must, not a luxury for organizations with big enough budgets to afford it. Research has shown that 73% of customers consider the value of their time the key to satisfactory customer service. That is where the efficiencies of offshore providers can play a pivotal role by delivering against key customer service metrics like shorter hold times, instant online chat and around-the-clock management of social media and DM queries.
How to set up an offshore customer service team sustainably?
Being prepared is a key component that will ensure your outsourcing journey is 'done right'. Here are a few key tips to consider when deciding to offshore your customer service:
Research offshore providers carefully: it's important to note that every offshore partner is different: different policies, different outsourcing models and different standards. So, before you begin a long-term relationship with one, it's important that you

know exactly what they offer

and whether they're an ideal match for your business and customer service ideals. Consider factors like location, costs, fee structure, recruitment process, facilities, technology and data security and then compare your top providers before making the final decision.
Ensure you have the right tech in place: your internal tech needs to be able to support an offshore customer service team and be functional in helping them achieve your business goals. This means that the tech you use needs to be easily transferable to someone outside of your organization to use. This then requires employing strict security protocols for your offshore customer service team to ensure data security and confidentiality policies are adhered to and critical information is communicated in a safe and secure way.
Cultivate a great team culture: this is about more than just providing a competitive salary, bonuses, commissions and incentives (although these are important). Treat your customer service team as your employees and communicate with them regularly. Take the time to plan team-building activities, invest in their training, hire internally and provide opportunities for promotion. Your team will reward you with increased productivity, greater loyalty and ownership of their role - important factors for any team to succeed, but especially a 24/7 customer service team.
To support a startup organization's goal of exponential business growth, establishing a robust and sustainable customer service strategy is a key pillar and outsourcing can be the added investment to making it work. Finding an offshore provider who can increase customer service efficiencies will do wonders for your bottom line. They are experienced and provide highly qualified candidates, especially given the current global talent shortage. Financially, keeping things in-house can seem ideal for new businesses, but looking long-term, offshoring your customer service is an investment many don't seem to regret.
See the results for yourself
For any successful start-up, having the operational support to balance increasing demand and rising costs becomes a priority. Discover how a high-tech IT start-up used offshoring to aggressively expand their operations and produce more than ten times the output by downloading this case study.