Building a startup is one of the most challenging and rewarding experiences imaginable. But it's not for the faint-hearted.
In the age of viral trends and 24-hour online marketplaces, the most pressing challenge for a startup after launching is customer service. And there's no room for mistakes. As American entrepreneur and investor Sam Altman says in his Startup Playbook, "Great customer service makes for passionate early users".
But poor customer service can be remorselessly reported throughout your target market thanks to social media, Google Reviews and other publicly-visible Customer Satisfaction Rating ratings. And if you're not careful, it can kneecap your passion project in its first few weeks.
Why risk all your hard work?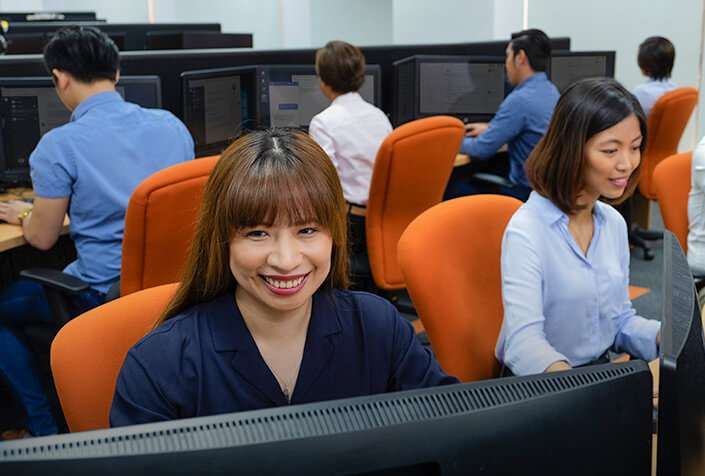 Live chat outsourcing can prevent a customer service fail
Unfortunately, it's often when you've run out of seed capital and haven't had a chance to earn much of it back after your initial outlays that you need flawless customer service the most. You also need to avoid the energy dissipation and split focus that can result from spreading your business too thin too early.
That's why a lot of new companies are attracted to the advantages of outsourcing customer service - along with their accounting or network development. And outsourcing live chat support (which is increasingly becoming an indispensable tool in the customer service box) is a good place to start.
Outsourcing live chat customer support to overseas locations such as the Philippines is no longer considered a compromise. By using established offshoring companies with well-resourced, high-tech business hubs and large, highly educated talent pools, you can build a far more efficient and professional live chat support team offshore than you could at home — even when your business is running on the fumes of your angel capital.
Spending around $150,000- 200,000 a year hiring enough staff to cover a single-body 24-hour live chat roster is probably out of the question. But co-opting staff from other roles in your startup isn't a good idea either.
What exactly is live chat?
Live chat is a SaaS facility that lets website visitors contact staff directly and in real time.
If you've ever seen a little window pop up in the bottom right of a company's website (possibly with someone's name and photo), chances are it was a live chat window. It can also appear as a small icon with a voice bubble.
Live chat is rapidly gaining popularity among customers, with its use growing 400% between 2015 and 2018. And according to Comm100's Live Chat Benchmark Report 2019, average customer satisfaction exceeded 80% in 2018.
Why is live chat so appealing?
Live chat lets those suffering from phone menu PTSD skip the prompt cascades but still get an immediate response. While it's worth retaining call support, live chat bridges the preference divide for many of the older generation who are used to calling directly, but are time poor and tired of long wait times and complicated menus.
Why outsourced live chat is so good for startups
Live chat has numerous benefits. And many of them are particularly useful for startups under considerable time and money constraints. Here are some to help you decide whether outsourcing live chat support could work for you:
Reducing response time
Lowering response times has always been a factor of improving customer service. But it's so important these days that it's now at the top of the list.
And live chat can dramatically lower those response times.
The average response time for live chat is two minutes, compared to 12 hours for email and 10 hours for social media. Enough said.
Cutting costs by outsourcing
Setting up live chat in your business will save you money. It's the most efficient way to provide direct customer service in real time. Many customers won't shop at businesses that don't have it. And as a startup, you can't afford to lose that growing section of the audience.
But outsourcing live chat support for your startup can save you as much as 70% depending on your choice of platform. And the benefits of setting up live chat are boosted even further when you can put together a large, experienced team and have someone else take care of software, training and hiring.
Increasing customer satisfaction
As we mentioned earlier, live chat lowers response times and lets customers talk directly to a person at any time of the day or night. According to Kayako, 41% of customers prefer live chat to other forms of customer support, partly because they can multitask during the exchange.
Zendesk research showed that despite the rise of AI support technologies, 70% of consumers prefer human agents to AI technologies, with Forrester going so far as to predict a backlash against AI and non-human customer service methods.
Improving efficiency
Seasoned live chat agents can handle 3–6 chat conversations at the same time, thanks to the judicious use of personalized responses and quick links — a great improvement over traditional phone customer service.
Accessing a larger pool of chat-friendly talent
The skills required for top-rate live chat aren't easy to come by. The role requires:
excellent spelling and grammar (not to mention strong typing skills)

strong, idiomatic English

a warm, intelligent manner

the ability to hold several conversations at once.
The Philippines is one of the best locations to source live chat agents. Its highly educated, largely bilingual population is renowned for being friendly, polite and conscientious.
Quickly identifying repeat problems
Because live chat is written rather than spoken, it creates a record that both the customer and the business can archive and refer to in future interactions, and use as a base for business evolution. And the performance tracking capabilities of CRM software makes data analysis to identify recurring issues almost effortless.
Expanding market reach
Offering round-the-clock live chat will also logically expand your market reach — even to other time zones both within your own country and globally. (Make sure you update your shipping policies to accommodate this.) Twenty-four hour rosters are one of the biggest advantages of outsourcing customer service for a start-up - or any business.
Customers are also likely to tell their friends about positive live chat experiences, which boosts your potential sales through word of mouth and social media.
Proactive outreach
To make your customer service proactive rather than reactive, you need to learn about your customers so you can anticipate their needs.
An empowered live chat agent can track a visitor's activity on the website and offer advice and suggestions based on their purchase history. This strategic intervention can create an impression of intuitive, intelligent customer care and reduce customer 'bounce'.
Generating data and feedback for analytics
One of the biggest benefits of outsourcing your live chat is the data that can be gleaned from every contact. You can then analyse this data, measure it against performance metrics, and mine it for ideas to improve your product.
Last but not least — increasing sales
Offering outsourced live chat support not only increases sales by addressing customer questions and concerns at the point of purchase, but also seems to increase sales volume.
Forrester reported an average 10% increase in the average order value from customers who used live chat before their transactions. And Kayako's Live Chat statistics show that 53% of people say they're more likely to make a purchase when live chat is available.
Bad chat — what not to do
Like any other business tool, live chat can be done badly. And that can damage both your brand and your reputation. Of those interviewed by Forrester in its seminal report Raising The Bar: How Gen Z Expectations Are Reshaping Brand Experiences, 20% of the Gen Z contingent said that slow response to a chat request could drive them away from a company forever. And that generation will soon constitute most of the online market.
Here's a quick list of what people don't want in a live chat experience.
A live chat window popping up with no-one at the other end. It's misleading, unprofessional and disrespectful.

Long wait times. People expect live chat to be fast, and so frustration builds even more quickly when it's not.

When live chat agents don't have adequate information about the product or the customer's history, or enough power to help clients effectively.

Poor communications skills, with outsourced live chat staff struggling to understand problems or explain solutions due to poor English skills.

When you have to fill out forms or repeatedly enter personal data before you can start chatting.

Overly scripted responses. You can tell, and it's irritating.
These problems can be put down to either under-resourcing or under-preparing. And they're often compounded by the person putting the system together not knowing enough about the sector - a common issue for startups with bare-bones staff.
Fortunately, you can address this simply by choosing a reputable customer service outsourcing company that will advise you on systems structures, software tools, and who to employ.
Take the plunge
The high-level and personal support offered by skilled, outsourced live chat agents can:
increase customer satisfaction for your startup

bolster brand loyalty

improve your startup's chances of converting contacts.
And remember, you can use live chat in conjunction with other contact platforms to provide your new customers with extra touches such as:
sending follow up emails after a chat

offering them a transcript of the conversation

giving them the chance to provide feedback.
Which can all add immeasurable value in terms of customer satisfaction and usable data. For more reasons why a startup business should consider outsourcing for fast growth and which tasks are most suitable, check out this blog.