Make no mistake – the workplace revolution that has swept the world during the past couple of years is not a temporary measure. While the COVID-19 pandemic may have been the impetus for many executives to finally roll out work-from-home and remote work initiatives, the enthusiasm with which employees have embraced them means there is no turning back. While some managers cling to the hope that everyone will be back in the office soon, several studies would suggest that is wishful thinking.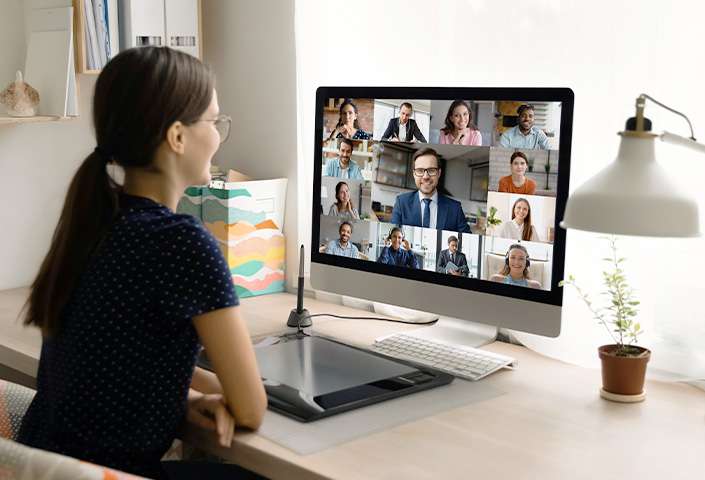 According to a Deloitte survey of almost 50 clients from various industries and different company sizes, more than half said their employees do not want to return to the office and prefer working from home. That is supported by studies showing that only 9% of the global workforce expect to ever fully return to the office and 53% of large organizations are planning to reduce their office footprints. From a theoretical term only a few years ago, the 'hybrid workplace' is now a strategic focus for companies who appreciate the need to offer employees the flexibility they desire.
For proof of the need to meet those wants, consider a survey of 1,000 workers that showed almost half will likely look for a new job if their employers do not adopt a flexible working model. Hybrid workplaces are clearly the way of the future but it is no longer enough to simply offer flexibility. The past couple of years have provided employers and employees with plenty of opportunities to discover what works and what doesn't when it comes to the new way of working and that is why they are now not only committed to offering hybrid options but fostering healthy hybrid workplaces.
Types of hybrid workplace models
While the global pandemic may have initially seen a rush towards people working from home, hybrid workplaces of the future will predominantly see organizations combining a mix of people working from the office and remote spaces such as home environments. This offers managers and staff the potential to leverage the benefits of both, including higher productivity and increased employee satisfaction. Hybrid workplace models include:
At-will model: employees are provided with the flexibility to come to the office at their own convenience.
Split-week model: work weeks are divided into work-from-office days and work-from-home days (eg: two days at home, three days in the office).
Shift-work model: organizations operate rosters where some employees work a morning shift and the rest work afternoon or evening shifts.
Week-by-week model: allows employees to alternate weeks working remotely and in the office. This is a popular option for employees located considerable distances from the office as it allows them to consolidate their travel and take alternating weeks off from their commute.
Six benefits of a hybrid workplace model
The best organizations thrive on collaboration and creativity, as opposed to measuring productivity by who sits where and for how long. The pandemic proved workforces are capable of remaining productive regardless of whether their managers can see them at all times, with companies now keen to tap into the various benefits offered by the move towards hybrid workplace models.
Maximize productivity: one of the great revelations of the move towards remote working was the capacity for people to work when and how they were at their most productive. Rather than being locked into a 9am-5pm regime, staff had the flexibility to get their work done at times that best suited them. For example, some chose to rise early and attack their workload, while others preferred the quiet time that came with late-night work. The hybrid work model is also allowing people to choose whether their daily needs are best served by working with colleagues on-site or having a laser-focus to work solo from a remote location.
Improved work-life balance: it is no surprise the global pandemic has inspired countless people to reassess how they want to live their lives, especially when it comes to how much time their work should consume them. The removal of tedious commutes alone was an eye-opener for many, while the ability to better juggle work deadlines with other daily commitments reinforced why so many people felt stressed spending 40 hours a week in offices. With hybrid work, employees can use at-home days to schedule breaks to tick off personal needs such as appointments or school drop-offs and pick-ups. Easing such stresses can go a long way to fostering happier and more productive team members.
More collaboration and creativity: where heading to the office used to be a daily chore, hybrid workplace models mean a number of employees are increasingly viewing it as a welcome change of scenery. Days at the office are turning into something to look forward to as they offer a chance to work collaboratively with colleagues and feel an injection of creativity in a team environment. Smart managers are also seeing the benefits of creating a buzz around meetings, brainstorming sessions and other collaborative activities that increase social interaction and camaraderie. The move to hybrid workplace models has seen many companies reimagining how the office looks and feels through the addition of group workspaces and more creative use of space.
Reduced exposure to illness: hindsight is a wonderful thing but the pandemic has highlighted just how much traditional offices exposed workers to illness. With the 'only' way to work requiring someone to sit at their desk, countless people would soldier on and keep turning up to the office when they should have kept away. Remote work options now allow those same people to log in from home, while managers are also more understanding of the importance of encouraging ill staff members to take the time they need to recover. Fewer people in the workplace lowers the spread of infection and increases the chances of staff being well enough to keep delivering.
Reduced real estate costs: hybrid work set-ups not only mean less people need to work in an office at a given time but their managers need to supply less space and infrastructure. McKinsey & Company has reported that rethinking a workplace strategy can

lower real estate costs by 30%

, with the opportunity to develop fit-for-purpose space designs leading to smaller physical footprints.
Attract and retain the best global talent: with factors such as The Great Resignation making it ever tougher to recruit and retain talent, it has never been more important to offer potential and existing employees attractive reasons to be part of one's team. Having one office in one location that everyone must report to significantly narrows the talent pool, with more and more people demanding positions that provide them with the flexibility that comes with hybrid workplace models. Remote work options also mean the search for talent can be expanded to interstate and even global markets.
Five ways to create a healthy hybrid workplace
It is one thing to roll out a hybrid workplace. It is another to facilitate a healthy environment when employees are divided between multiple offices, sites and homes. Let's look at what you can do to identify issues and ensure your team and people are prioritizing their mental health in the new hybrid world.
Show understanding: empathy is crucial for any manager and that starts with communication. Ask yourself if your employees have everything they need to be happy and productive in their hybrid workplace. Better still, ask if they need increased levels of support. Juggling remote work and office visits can be a challenge, especially if employees based in separate locations feel segregated or less valued than other colleagues. Nurture a relationship so they feel comfortable to approach you for support.
Build trust: few things matter more in business than trust and this is especially so when teams are facing new and evolving circumstances such as working in a hybrid team. Too many managers have made the mistake when rolling out remote work options to micro-manage their off-site employees. Give them the trust they need to have true flexibility and they will more than likely repay you with increased productivity as they are able to work around other commitments. The value of a team member should not be measured by their location but by their performance.
Bring hybrid teams together: a feeling of inclusion is pivotal for any organization and all the more so when teams are separated by geography. It is not enough to simply organize an online meeting and expect everyone to feel kinship. Monitor when and how people are participating in such group settings and take the time to explore and understand why some people may not feel as involved in the process. Out of sight should never mean out of mind and that is why both formal and informal gatherings are essential to help avoid the divide between those in the office and those in the home.
Facilitate purposeful meetings: meeting fatigue is one of the greatest risks of the hybrid workplace model. The pressure to host meetings to accentuate that colleagues across locations are working effectively is not just counterproductive but frustrating and potentially demoralizing. Business leaders need to build a positive meeting culture by demanding both they and their staff answer one simple question before booking one – is this meeting truly necessary? If it is, only invite those who need to attend, create and share an agenda in advance and take detailed minutes to be shared with those not invited or unable to make it.
Provide quality tools: few things can make an off-site employee feel more disengaged than not having the tools they need to do their job. Hybrid workplaces can operate seamlessly but only if companies invest in the technologies that enable it, such as communication tools and on-site video conference equipment. Inter-office communication should also not be left to chance. Work with staff to develop company-wide practices that set clear expectations on how on-site and external employees will communicate across locations and time zones.
The hybrid workplace is undoubtedly here to stay and the various models are only going to get more refined on the back of learnings such as the above. Every revolution presents challenges and unique hurdles but when it comes to the modern workplace, identifying what they are and how to clear them is the key to ensuring a happy, engaged and productive workforce.
With 4.3 million people in the U.S. leaving their jobs in one month alone last year, the Great Resignation is a great, big headache for employers. Learn how the likes of targeted retention strategies and tapping into the support of HR and recruitment outsourcing is helping stem the flow.