When COVID-19 quickly evolved from an emerging disease in China in late 2019 to a full-blown global pandemic a few months later, the banking and finance industry could have been forgiven for thinking: "Here we go again." Having not long recovered from the fiscal nightmare of the Global Financial Crisis (GFC) of 2008-10, executives were bracing for another economic tsunami as borders closed, communities went into lockdown and the term 'social distancing' was added to the dictionary. The only certainty was just how uncertain the future looked.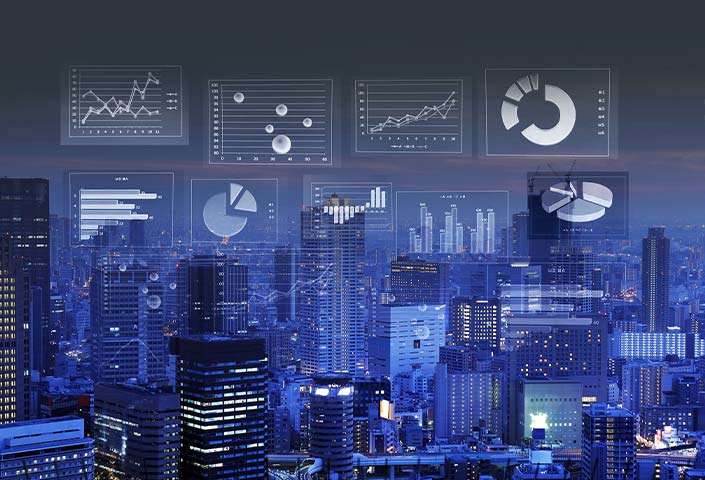 About 18 months on and it is evident the economic fallout of the pandemic has not been on the same scale as the GFC. Despite massive challenges, banks have deployed technology and displayed impressive agility to continue to serve customers, maintain productivity and reassure regulators. Indeed, global professional services network Deloitte has credited the banking sector with playing "a crucial part in stabilizing the economy and transmitting government stimulus and relief programs" in many Western nations.
For all the positives though, the banking and finance industry faces a rocky road as COVID-19 continues to impact economies, stifles growth in traditional product areas, takes a toll on brick-and-mortar branches and accelerates the need for digitization across almost all areas. The International Monetary Fund had already tipped global GDP to decline by 4.4% in 2020. Even with a possible rebound in 2021, it could still be $9.3 trillion lower than expected before the pandemic. Financial hardship is a certainty for many, with the Deloitte Center for Financial Services estimating the U.S. banking industry may have to provision for up to $318 billion in net loan losses from 2020 to 2022, representing 3.2% of loans.
Another challenge for traditional banks is the rise of fintech companies, which are heaping even more pressure on the sector by offering real-time, 24/7 solutions that appeal to many consumers, particularly digitally savvy younger generations. The popularity of online-only or 'neobanks' that operate solely online has helped make fintech one of the fastest-growing industries globally. That growth shows no signs of slowing down. Indeed, PWC has reported 88% of incumbent financial institutions believe that part of their business will be lost to standalone fintech companies in the next five years.
Key industry trends
Given such an outlook, it is no surprise banks and finance companies are committed to finding ways to reduce overheads, enhance efficiencies and improve their services. From embracing digital innovation to reinventing processes to meet the needs of an ever-changing and crowded market, it has never been more important for banks and finance companies to be ahead of the curve when it comes to the following industry trends.
Customer self-service: the days of mobile banking applications being a bonus offering are over. Banks that fail to offer their customers the ability to access their bank's resources from mobile devices when they want are not so much behind the game as not even on the playing field. Fortunately, these apps are relatively easy to develop through low-code development platforms or teaming with a vendor. The key is to harvest the massive amount of data that mobile apps can collect and leverage it to develop new products, improve existing systems and give customers even better service.
AI-powered chatbots: with customers becoming less likely to accept being put on hold when calling a bank's customer service line, AI-enabled chatbots are helping financial institution call centers meet the challenge. By pulling and processing information from key sources, chatbots can respond to incoming customer service inquiries. If a request exceeds their capabilities, it escalates them to a live service representative. Studies have shown that chatbots are forecasted to save companies

$8 billion per year by 2022

. The banking sector is leading the charge with embracing the technology so much so that Gartner research has found

70% of customer interactions

are expected to involve the likes of machine learning applications, chatbots and mobile messaging by 2022.
Omnichannel strategies: the need for 'seamless'

customer experiences

is more than just a buzzword. It is a modern imperative. Offering different channels is all well and good, but today's customers want to move from one to the next without hurdles - start a journey in one channel, press pause and move to another to complete the process later. Banks that adopt

omnichannel strategies

that deliver interactive, personalized experiences through multiple channels will be better placed to not only retain customers but access the data needed to better understand and predict their behavior.
The rise of outsourcing in banking and finance
As the pressure builds on banks and financial institutions to reduce costs and drive efficiencies, smart executives are partnering with respected outsourcing providers that have the experience, technologies and workforce talent to deliver results. Valued at $85 billion in 2020, the global BFSI (Banking, Financial Services and Insurance) outsourcing market is projected to reach almost $175 billion by 2028 as more institutions join the almost 80% of retail banks that already outsource at least one part of their business operations.
There are numerous benefits for outsourcing in the banking industry, including:
Cost savings: employing staff is one of the greatest costs carried by any business and outsourcing select roles and teams to nations such as the Philippines is a sure way to ease the load. The lower cost of living means salaries are heavily reduced, with businesses paying 70% less for highly qualified talent than they would onshore. Then there are the savings that come from not investing in infrastructure for staff, such as additional offices and furniture.
Access to a global talent pool: many happy banks and financial institutions have learned that outsourcing hotspots are home to a large and ever-developing talent pool of skilled and committed workers. Renowned for their tech competency and attention to detail, the Philippines workforce operates in a fiscal and financial system almost identical to conditions in Western countries and is supported by dynamic financial tracking and reporting tools.
Increased productivity: one of the great benefits of outsourcing in banking is it allows in-house staff to focus on higher-value tasks. Be it mortgage servicing, loan processing or back-end administration, outsourcing firms are experts at handling high volumes of repetitive, time-consuming work. This means the organizations that employ them have more time to dedicate to strategic priorities such as delivering better customer experiences, creating new products or managing compliance risk.
Banking services to outsource
Once seen as the domain of call centers and data entry specialists, many banks and financial services institutions are looking to outsource more complex or technical teams to help boost their capabilities, including:
Back Office Support: the financial sector is renowned for processes but many organizations find themselves overwhelmed by the number of labor-intensive nature jobs to be completed. The ability to outsource back-office functions such as HR, Workforce Management, Personal Assistance, Payroll and Data Analysis is liberating for stressed managers as it ensures their onshore staff can focus on high-value projects that help deliver long-term goals.
IT/Digital

:

the complex and fast-changing nature of IT means banks and financial institutions face an increasingly difficult battle to stay on top of their evolving systems. Fortunately, countries such as the Philippines boast a huge talent of IT specialists who are ready to either deliver or oversee the digital systems that are so crucial to the success of the modern venture. Best of all, they come at a wage cost up to 70% less than the limited number of recruits on home soil.
Operations

:

an increasing number of banks and financial institutions are reaping the benefits of outsourcing entire Operations teams to hubs such as the Philippines. Normally highly specialized and differing according to the needs of an organization, Ops teams streamline processes, identify issues and opportunities, and respond to specific business needs. The best part is they are built to be responsive, so once an outsourced Operations team is established, they can proactively adapt and evolve to meet the needs of the changing landscape.
The need for banking and financial executives to be more agile, innovative and open to new ways of doing business is growing by the day. Learn more about why developing an innovative, cost-effective customer acquisition strategy can help cement your organization as the bank of the future.