Skip straight to the candidate experience statistics.
It's no longer a "recruiters market" but instead a "job seekers market". What does this mean? Gone are the days where recruiters and hiring managers had the upper hand in placing job advertisements and having pools of applicants to choose from, eagerly looking for any available work on offer. Instead, job seekers have become more aware and conscious of the businesses they are applying to, looking more for what an organization can offer them instead of just a secure, salaried position.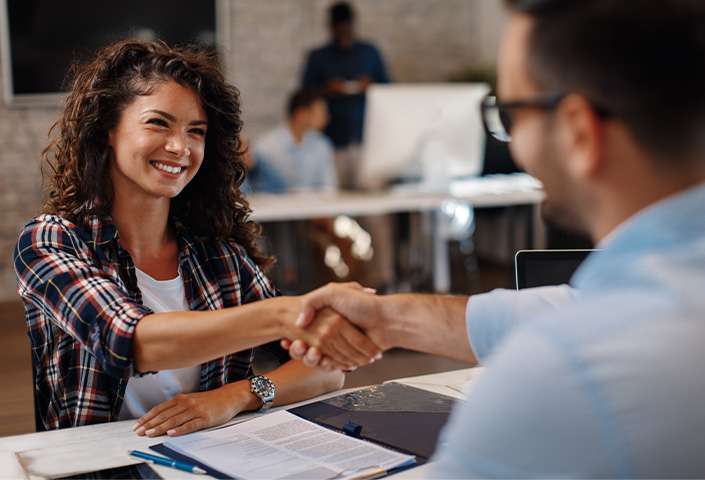 So, how does an organization keep up with these new job seeker expectations? They need to review their overall candidate experience. While employee experience focuses on your existing staff, candidate experience focuses on your future team.
This blog discusses what candidate experience is, why it is important to deliver a positive candidate experience and 10 ways your business can provide a positive candidate experience.
What is the candidate experience?
Candidate experience is all about how job seekers "perceive and react to a company's recruitment cycle" from attracting, sourcing and recruiting to interviewing, hiring and onboarding.
It's all about the interaction between a job seeker and your organization - primarily during the recruitment stage. Candidate experience improvement strategies involve the re-evaluation of every single touchpoint a job seeker would have with a prospective employer to essentially make the organization appear as an "employer of choice" to said job seeker.
A majority of candidate experience touchpoints occur during the recruitment stage. Here is a list of the components that make up these touchpoints:
The job search: this can be through a social media post advertising the position on LinkedIn, a job advertisement on job search platforms such as Monster, Glassdoor and Indeed, or even through your own careers page via your website.
The job application: the instructions telling job seekers how to apply for the position or the process of supplying their details for a potential interview.
The pre-interview process: this includes the first call or method of communication to introduce yourself as the hiring manager or recruiter for the role they applied for.
The interview process: this includes the structure of the interview process, whether there are multiple people to interview the candidate, what they need to bring, where it is held, how long it goes for and the questions you ask.
The post-interview process: how you let candidates know if they have made it through to the next stage of the interview process or how you inform candidates they are unsuccessful. This part includes completing reference checks and negotiating contract changes with successful applicants.
Onboarding: how you train new employees, setting them up with the necessary resources and systems they need to get their job done and introducing them to the team.
Although most candidate experience touchpoints occur during the active recruitment stage, it does exist in passive forms, with 48% of the job seekers basing their candidate experience off previous interactions or relationships with the hiring organization before they applied for a job.
Why is it important to deliver a positive candidate experience?
Candidate experiences can make or break the chance to hire quality employees. Each of the individual candidate experience touchpoints addressed above can significantly impact job seeker attraction rates if not done correctly. The facts speak for themselves and illustrate how each stage of the recruitment process is as important as the next to facilitate an overall positive candidate experience.
Here are some key statistics that showcase the importance of a good candidate experience and the repercussions of a poor one:
CareerPlug's 2021 Candidate Experience Report shared why job seekers declined a job offer and a majority of the reasons came down to their overall candidate experience.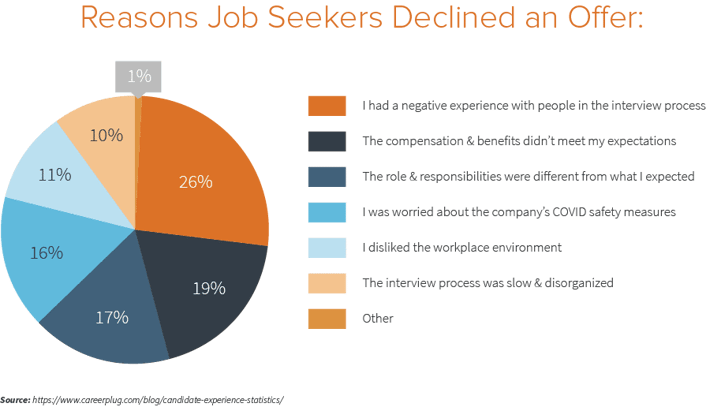 The organization then went on to ask job seekers how important the recruitment process is to their overall candidate experience on a scale of 1 to 10: with 10 being very important. The overwhelming response was a rating between 8 and 10.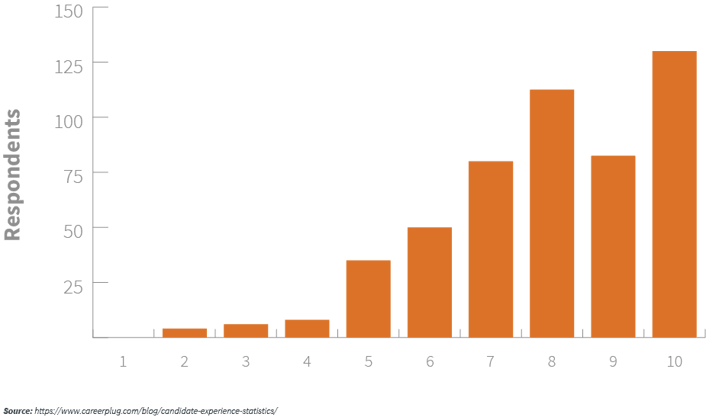 If anything, these statistics about fostering a positive candidate experience should spark a desire to revise your existing recruitment strategies to ensure that you are meeting these expectations.
10 ways to improve your candidate experience
So how can you put your best foot forward and attract the best candidates for your organization? Here are 10 ways you can facilitate a better candidate experience.
1. Clear job descriptions
Candidates want clear and accurate descriptions of the position they are applying for, along with the relevant role responsibilities. Some organizations pay too much attention to listing what they need and desire in an ideal candidate and don't spend enough time describing the salary range, potential benefits for the candidate themselves and illustrating company values. Be mindful. They will want this in an easy-to-read format, so don't overwhelm them.
2. Stay transparent
Explain each step of the recruitment process in detail, ideally during the first point of communication to the potential candidate. Let them know how many interview stages there are, how many references they will need to provide and if any pre-screening candidate checks will be required. 83% of job seekers state that clear recruitment process expectations would improve their overall candidate experience.
3. Invest in dedicated careers pages
Whether a careers page on your website or your social media careers-dedicated profile, these platforms are the most visited recruiting assets, so make sure information is easy to find, user-friendly and engaging. Make these candidate touchpoints a one-stop-shop for answers to potential candidates' questions on your company and the position they are applying for. For example, consider creating dedicated web pages for each job role you are currently recruiting for.
4. Facilitate a seamless application process
Applicants spend about three to four hours submitting just one job application. Take a step back and put yourself in their shoes. Go through your entire application process and be brutal. Do you find it easy for you to apply for your own roles? Is the application process too long or is your application form overly complicated? Is the application process optimized for all types of devices? Really simplify your process just to get the key information you need communicated and leave the hard-hitting questions for the interview or screening calls.
5. Be respectful
It takes time for a candidate to submit their application to your job advertisements. From researching the company, tailoring their resume, cover letter or selection criteria to your requirements and then taking time out of their current job to attend interviews. Make sure not to waste their time by making the entire application process quick and efficient. This will also avoid opportunities for the candidate to receive more competitive offers from other organizations looking for talent.
6. Don't stop communicating
One of the number one frustrations of job seekers is poor communication. Try to provide as many status updates as possible throughout the application process. If there is a delay in getting to the next stage due to internal reasons, let them know. If they have moved to the reference check stage, let them know. If they are unsuccessful, let them know and provide feedback on why.
7. Revise your interview techniques
Your interview is often the first formal interaction between hiring managers and candidates and can hugely affect their experience. If you get it right, you will have potential employees eager to join your organization. Make sure to ask relevant interview questions, keeping them short and offer candidates a chance to ask you questions too. Invite candidates to do an office tour or take them for lunch. Allow candidates to see your culture up close, not just some values written on the job description.
8. Ask and give feedback
Even if you don't hire them, make sure to give candidates constructive feedback as to why. This can improve their experience, help them develop themselves professionally, and then come back and apply in the future when they are ready. You'll find candidates will greatly appreciate this and be more inclined to provide you with feedback on how to improve their overall candidate experience based on their individual experience with the process.
9. Keep in touch
Even if you don't hire a particular candidate, you have invested your time to provide constructive feedback to them. This might make them a perfect fit for future roles. Keep in touch with unsuccessful candidates through social media platforms such as LinkedIn. Create candidate pools to send messages every few months to see how they are going and notify them when a role is made available again. They will feel valued that you've considered them again for a future position.
10. Consider recruitment marketing initiatives
Consider inbound marketing initiatives around recruitment that proactively attract candidates with the goal of them choosing your organization as their next employer. Essentially, inbound recruitment marketing strategies can allow your business to connect with active and passive job seekers, create a memorable candidate experience through employer branded content and keep you at the forefront of job seekers' minds. Try promoting employee testimonials on social media accounts, provide career advancement tips or even host professional development courses.
How can recruitment process outsourcing help improve the candidate experience?
An increasing number of organizations are turning to professional recruiters to meet their hiring needs. Recruitment Process Outsourcing (RPO) is a business model where a third party manages all or part of the recruitment function. Investing in a clear and concise strategy is pivotal to success. Engaging an RPO provider to assist with hiring needs is a smart investment. They can help your business create job descriptions, effectively manage and respond to candidate applications, and streamline recruitment.