Skip straight to the statistics summary
A study conducted by Sprout Social found that around 68% of consumers1 already purchase directly from social media sources and a staggering 98% of them plan to make at least one purchase through social commerce channels sometime in 2022. A report by Accenture estimates that social commerce will represent around 17% of all eCommerce spending2 by 2025 and there is research emerging that showcases the growing need for brands to capitalize on social commerce opportunities.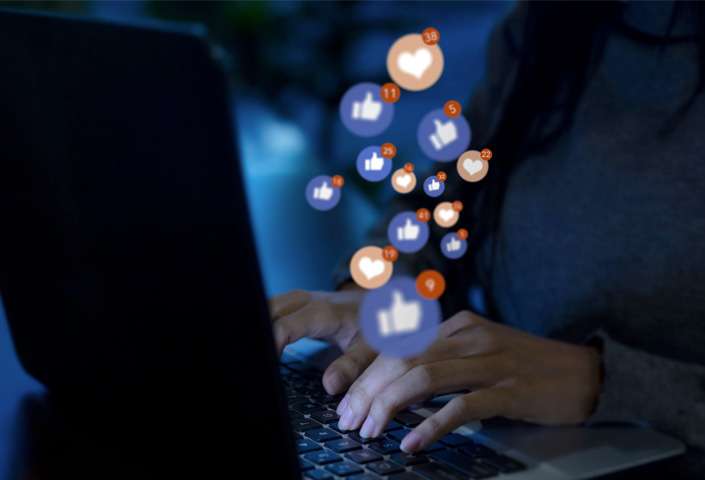 In this blog, we take you through the key statistics around social commerce and the trends your organization should embrace to maintain a competitive advantage in the social commerce market.
The rise of social commerce
In Accenture's aforementioned report, it was found that the global social commerce market, valued at U.S. $492 billion, is forecasted to grow three times faster than traditional eCommerce markets. This expected growth will see the social commerce industry hit U.S. $1.2 trillion as early as 2025.
What is driving this growth? It's driven predominantly by Gen Z and Millennial social media users; an influential factor that will account for 62% of global social eCommerce spending by the year 2025.
So what is social commerce?
Social commerce encompasses a consumer's entire shopping experience - the entire customer journey - that is completed on a social media application. Now, is there a difference between social commerce and eCommerce? The answer isn't black or white. Just as offshoring is a form of outsourcing, with the latter being more 'all-encompassing' of the two, social commerce is a form of eCommerce. Think of it as eCommerce usually relating to websites and online storefronts, while social commerce is more focused on social media platforms.
This interpretation though is fluid; social commerce by definition could expand to include all sales that are facilitated by social media. So say a link on a social media post on Instagram takes you to the website storefront; is that eCommerce or social media? The strict definition doesn't particularly stand. As long as you are aware that these two terms are pretty similar and interlinked, then you've got the general understanding to move forward with your social commerce plans.
The influence of the social commerce market on consumerism
Robin Murdoch, the global Software & Platforms Industry Lead at Accenture states that "the steady rise in time spent on social media reflects how essential these platforms are in our daily life3. They're reshaping how people buy and sell, which provides platforms and brands with new opportunities for user experiences and revenue streams."
So how do we get social commerce right?
Organizations will require their brands, resellers and creators to bring their offerings to the customer; working with platforms, social media, marketplaces and influencers to share capabilities, insights or data that drives the right incentives and customer experience across the digital marketplace.
Stepping back to Sprout Social's survey, Gen Z consumers are more likely to use social platforms that are visually appealing or focus on visual stimulation like Instagram, TikTok or Snapchat to make purchases. On the other hand, Gen X and Baby Boomers are more interested in purchasing via platforms such as Pinterest or Facebook.
Other noteworthy findings from Sprout Social's study include:
85% of customers who actively use virtual reality or augmented reality in some form are starting to transition its use into social commerce purposes
60% of consumers are more likely to buy from organizations that actively highlight the concept of inclusivity in content they produce
73% of Gen Z consumers and 72% of Millennial consumers find inclusivity to be a major purchasing factor
Recommendations by a trusted friend or someone the consumer respects have become the primary source of influence for purchasing; more so than influencers.
So how are consumers using social commerce to find the 'perfect purchase'?
Just as you would search Google reviews or ask a friend what their opinion or recommendations are, consumers use social media as a sort of 'trusted advisor'. Whether it be reviews of a product or service, a previous customer's experience purchasing from a certain brand or just general information about an organization, social commerce can provide all this and more.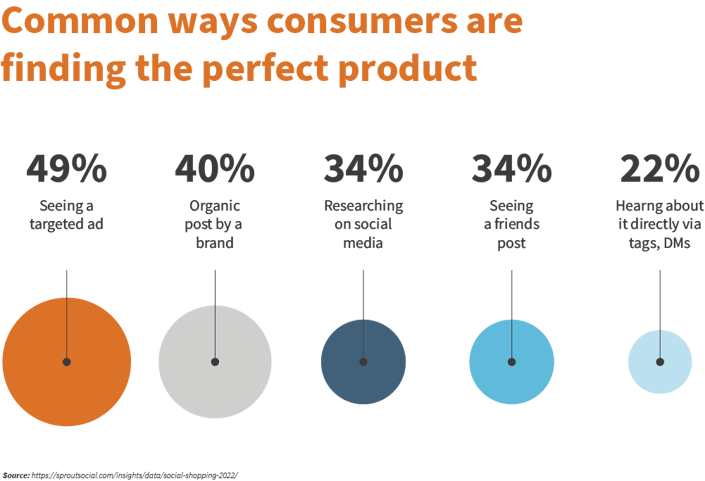 But what happens after the customer has found the ideal service or product? What actually influences them to make a purchase via social commerce? In Sprout Social's study, a friend's recommendation is still the number one deciding factor, followed by comments or product reviews, familiarity with the brand, or a significant other's recommendation.
So taking all this into consideration, what are the social commerce features that customers are anticipating using more of so organizations can start to create efficient social commerce action plans?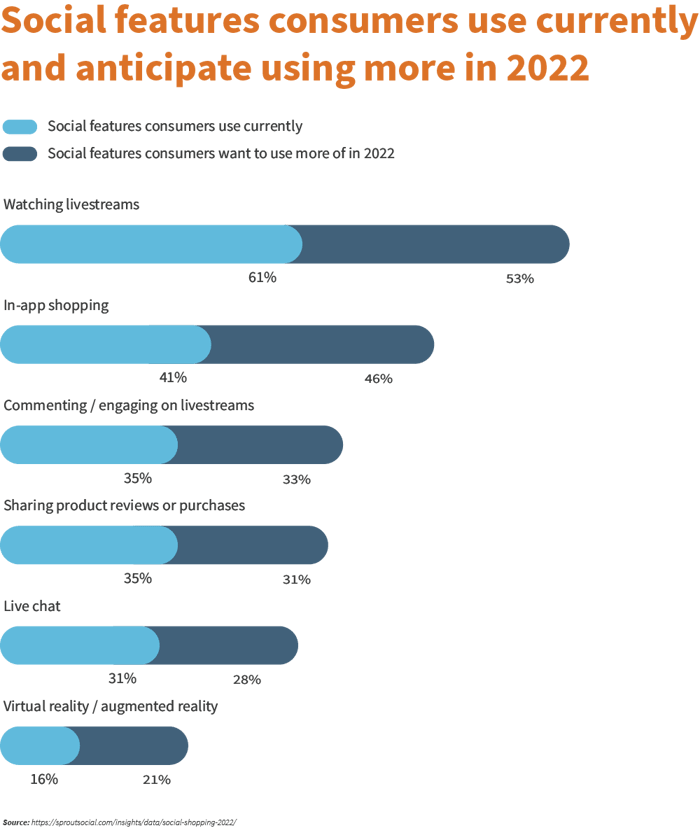 Social commerce has become the key to an effective omnichannel strategy. Customer preferences are constantly changing and the opportunity to sell and connect through consumers' digital preference platforms is non-negotiable. Organizations that embrace social commerce will be able to outpace the competition in 2022 and beyond.
The social commerce trends you need to know
Now that you've seen the impact social commerce has had on consumer markets, what are the trends and how can you start incorporating them into your organization's eCommerce or social media planning?
Invest in a visual shopfront on Instagram
Instagram statistics state that around 70% of consumers use the platform to help discover new products or services4. Their storefront options allow customers to shop from a range of pictures or videos while allowing organizations customization options to curate their storefronts in a way that represents them as a brand.
This in turn enhances brand discoverability by creating tags for their products within the descriptions of posts. From creating a catalog to posting a "24-hour story" option, organizations can showcase their brand in a multitude of ways that allow users to learn more about the product or service.
Not to mention the compelling visuals of Instagram being a predominantly creative platform, users can leave reviews, show how others are using the product and give "live" feedback as well.
Conversational chatbot selling
By upgrading connectivity platforms to incorporate artificial intelligence capabilities, like chatbots, organizations can facilitate conversations without the need for human capital. Chatbots provide the opportunity to utilize high-tech automation that can lead to quicker solutions and answers for customers.
Chatbots can make suggestions based on previous customer preferences or purchases, share service or product visuals and pass on to a human for further assistance if required. This personalized experience can help consumers feel more connected with a brand as chatbot responses are usually quite quick, efficient and precise if thought is put into proper set up.
Extended reality experiences
The ever-growing deployment of 5G wireless connectivity will enhance social commerce. Extended reality encapsulates augmented reality, virtual reality and all-real virtual environments generated through computer programming. 5G will heighten these experiences by enabling the seamless incorporation of its capabilities into a variety of devices.
Connecting with micro-influencers to increase brand outreach
Although the concept of connecting with influencers who have a following similar to a brand's target audience isn't a new trend, it is still relevant and important to maintain. Especially when it comes down to lower advertising costs while still achieving a broad audience reach.
When deciding on micro-influencers to partner with, make sure to choose those that post content relative to your industry and customer profiles. Look for personalization in their posts and the tone in which they address their followers; is it superficial or do they have a loyal following that would trust their recommendation and ultimately drive conversion for your products or services?
A frictionless customer experience
Customers today do not have the time or patience to deal with digital inconveniences or delays. Organizations that have lengthy buyer journeys or complicated social media business models will not survive long term. Frictionless and seamless customer experiences are starting to see better customer retention rates.
Take time to consider your customer journey and spot any bottlenecks. Are there any unnecessary steps that may make a customer think twice about their purchase? Could you rethink your social media purchasing process? These questions will help you provide the digital purchasing convenience and experience that customers today are looking for.
Outsourcing can support social commerce growth
Social commerce is clearly here to stay and while the upside of the industry is clear, so too are the potential headaches for organizations wanting to keep pace or simply get a foot in the door. To assist companies on that journey, we've outlined how social commerce or eCommerce outsourcing can play a vital role in easing such burdens.
Reference:
1 https://sproutsocial.com/insights/data/social-shopping-2022/
2 https://www.accenture.com/us-en/insights/software-platforms/why-shopping-set-social-revolution
3 https://www.businesswire.com/news/home/20220103005434/en/Shopping%C2%A0on-Social-Media-Platforms-Expected%C2%A0to%C2%A0Reach%C2%A01.2%C2%A0Trillion%C2%A0Globally%C2%A0by-2025-New-Accenture-Study-Finds
4 https://business.instagram.com/blog/browsing-and-buying-on-instagram?locale=en_GB