The writing has been on the wall for several years but recent months have confirmed what many have long feared – the accounting skills shortage is a genuine concern for businesses.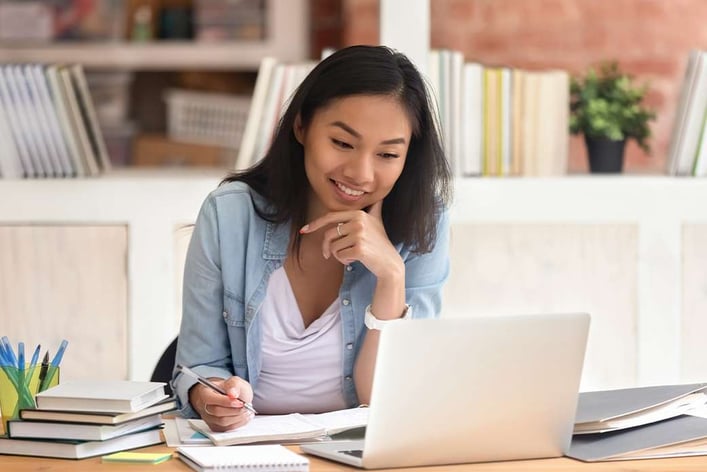 Business news website Insider reported that the American Institute of Certified Public Accountants says the number of people taking and passing the CPA exam is dropping1. A Deloitte poll found talent retention is a challenge for 82% of hiring managers for accounting and financial roles at public companies and 69% at private companies2. Meanwhile, The Washington Post revealed the number of accountants and auditors employed fell by 17% between 2019 and 2021 – just as university enrolment in accounting courses fell by 4%3.
Amid such pressures, it is little wonder that renowned accounting network BDO USA, which employs about 12,000 staff, is planning to double the size of its offshore workforce to 5,000 people within five years4. Businesses of all shapes and sizes and across various sectors are likely to pursue a similar path and when they do, they will find at least one innovative firm going the extra mile to meet their needs.
As one of the largest and most experienced offshoring providers in the Philippines, MicroSourcing has a proud history of helping businesses from across the world cut labor costs, scale faster, find specialist skills and improve efficiencies. Much of our success stems from our ability to nurture quality talent pools and as the accounting skills shortage continues to take its toll, we have launched an initiative to ensure more of our candidates have the skills and certifications to meet the needs of our clients.
Why? Because we want to see them get HIRED.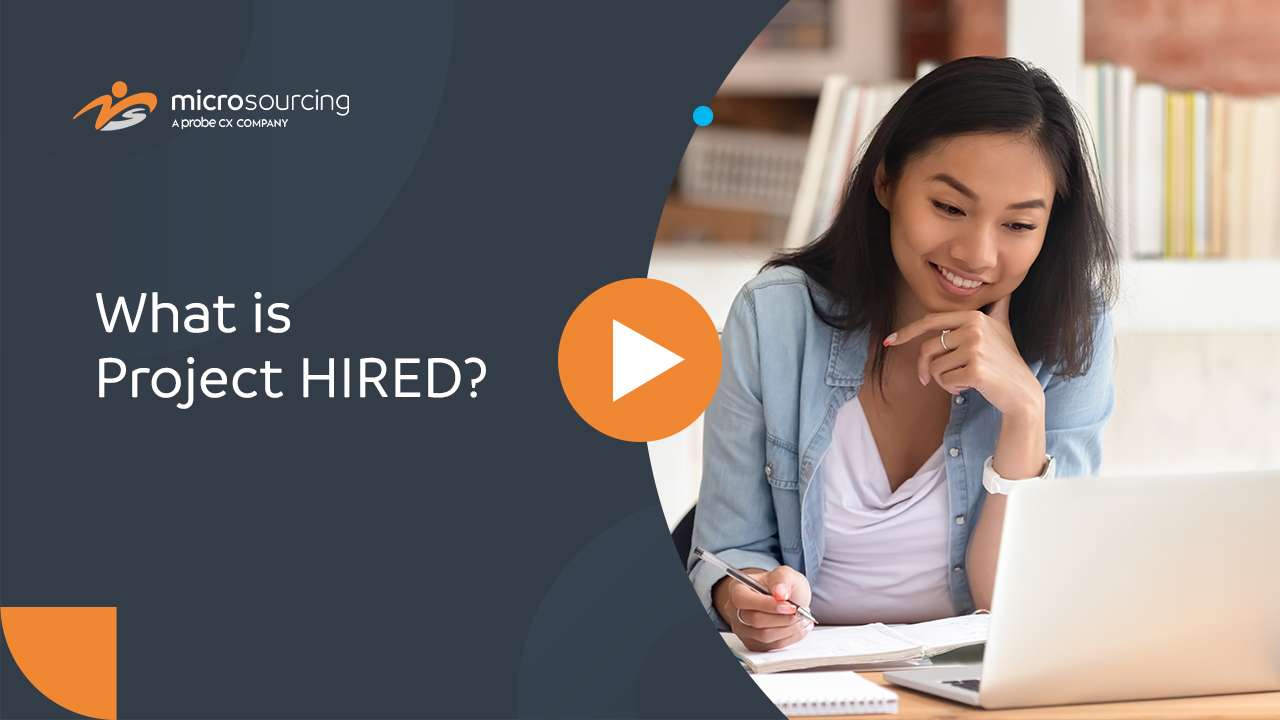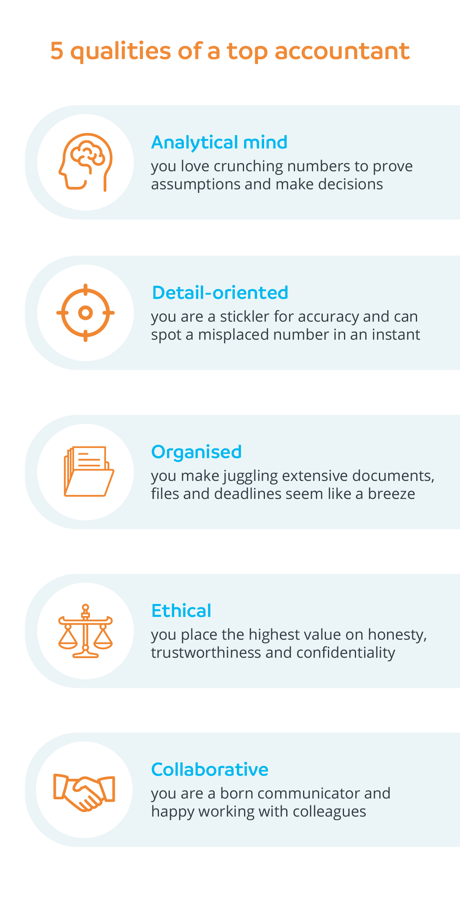 What is Project HIRED?
Project HIRED is a tailor-made training program that provides pre-qualified candidates with the skills they need to perform in specific accounting environments. With specialist areas including Xero Payroll, Introduction to GST and software such as MYOB and QuickBooks, the three-week course is overseen by a respected training institute and culminates with successful participants graduating with certification for accounting, bookkeeping and taxation.
How was Project HIRED born?
One of the keys to success for any outsourcing provider is the capability to foster a quality talent pool. It is no different at MicroSourcing where we spend endless hours selecting our candidates and ensuring they are ready to support onshore teams. As part of our efforts to introduce professional, qualified Filipino staff to clients, we have now decided to go the extra mile by not only sourcing quality accounting and finance candidates but facilitating the skills they need to produce exceptional work as soon as they start with a business.
In late 2022 we began the hunt for a training institution that would partner with us to produce a specialist curriculum and were thrilled to identify a respected team that shares our belief in the project. We then turned our attention to enrolling the inaugural group of trainees to experience the initiative.
Who can participate in Project HIRED?
Project HIRED is all about quality so we have the highest standards when sourcing participants. Trainee qualifications include:
A Bachelor's degree in a finance-related course (eg: BS in Accountancy, BSBA major in Financial Management)
At least one year's local work experience in general accounting
Extensive experience in the Philippines tax system
A willingness to work in Manilla, where our MicroSourcing HQ is located.
Our commitment to both our people and clients is further reflected by the fact MicroSourcing is subsidizing the cost of the training program for participants.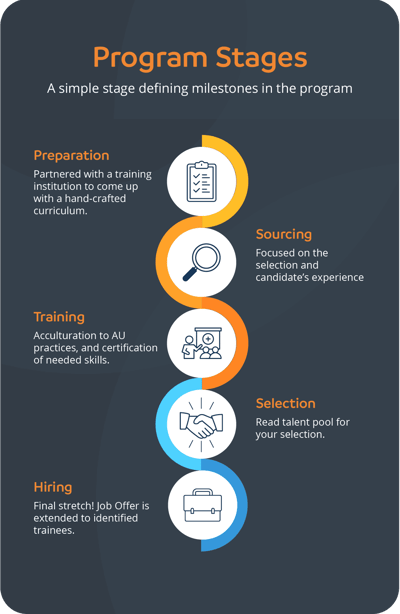 Source: How Project HIRED is helping ease the accounting skills shortage (beepo.com.au)
How does Project HIRED unfold?
The first training course started in mid-February, with attendees logging on to online classes from 7-10pm, Monday to Friday. Hosting the course in a virtual environment allows a more diverse range of candidates to participate, while evening classes mean people already in the workforce can join the program alongside those searching for jobs. After two weeks of training in accounting practices, the focus then turns to a week-long certification process.
How successful was the inaugural course?
The inaugural training course resulted in an online ceremony where 44 proud 'students' were celebrated as graduates, 32 of whom are now XERO-certified and another five who have already been hired by firms. Crucially, the remainder have strengthened our talent pool and are ready to deliver for clients that require hard-working and highly qualified accounting staff.
This is just the beginning …
As the saying goes: 'From little things big things grow' and so it is with Project HIRED. Our first graduates are continuing to be placed. Our next trainees are being recruited. We are also enhancing the program to achieve even better results. There is no doubt the accounting skills shortage is a concern for many of our clients but another certainty is that their outsourcing partner is committed to doing whatever we can to find and train the people they need to ease the load.
FP&A tools are no longer a 'value-add' but a 'must-have for organizations wanting to achieve their financial goals. Learn how to choose the right software solutions for your needs and discover the five top FP&A tools for 2023.