In today's competitive environment, scaling a tech business can be extremely difficult - and full of uncertainty and risk. In just the first quarter of 2021, the technology sector has seen an above average revenue growth of 24.78% year-on-year.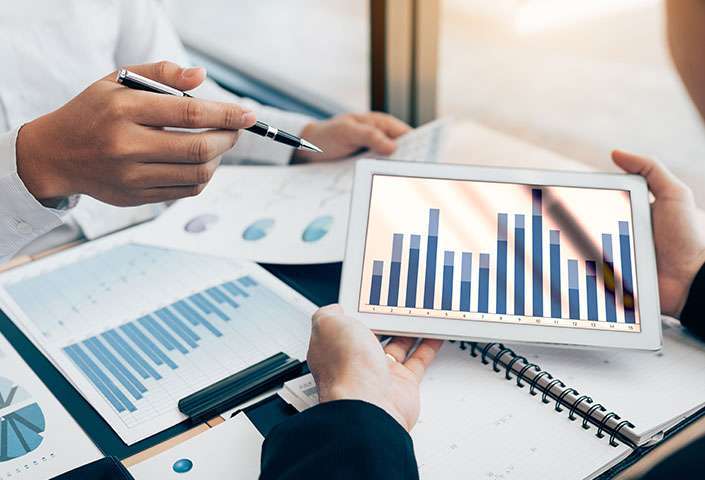 In the current economic landscape, it's important for tech businesses to not get "left behind". Here are 5 tactics that you can implement to ensure you stay ahead of your competitors:
Invest in artificial intelligence (AI)

The number of

businesses adopting artificial intelligence grew by 270%

in just four years. Top tech organizations recognize the potential of AI in their business, with

91.5% of leading tech businesses

maintaining investments in artificial intelligence.

AI software and applications are able to guide tech businesses with synthesized courses of action that can simplify the decision-making process. The growing ability of machines to learn and act "human" can actually help improve business efficiencies and free up time . By introducing AI and it's quick learning capabilities, tech businesses can create super-powered data processing machines that can generate information, extrapolate large amounts of data and even take care of tasks that free up time and budget for organizations to focus on more face-to-face tasks.

Conversational AI is becoming an everyday interface. Take chatbots for example. These applications will soon be able to follow complex conversations and understand the nuances of emotion, all while improving over time.



Secure your online brand

Social selling is starting to replace cold calling sales tactics as social media usage continues to accelerate around the world. With more and more consumers looking to Facebook, LinkedIn, Twitter and Instagram to discover new brands, trends and products, securing your online brand as an expert in your industry is crucial.

A key growth component that can come from building a consistent online presence is lead generation. Social selling is an easy way to generate leads from a sales perspective. These leads then turn into customers and, well, there is your growth.

Social media allows you to plant a concept into your target audience's minds and build awareness or meaningful relationships with potential customers. If you are always available to them, answering their questions and showcasing your expertise online, your business should be top of mind when it comes time for them to buy.

Start small. Start with one social channel. Then once your

social selling strategy

is successful there, branch out and introduce more. If you start too big too soon, you will find that you won't have enough time and/or resources to successfully support your social selling initiatives.



Prioritize customer experience or CX

51% of customers state they will never do business with a company again

if they have had just one negative experience.

From a financial perspective, a totally satisfied customer

contributes 2.6 times as much revenue

as a somewhat satisfied customer and 14 times as much revenue as a somewhat dissatisfied customer.

Customer experience can be improved by:



Leveraging big data

Collect and analyze data with a purpose in mind. Big data provides a qualitative and quantitative view of your business and allows you to identify trends in your market that can be translated into creating better products and services for your consumers, improving their customer experience indirectly.

Mapping the customer journey
Your customer's journey starts at the first point of interaction with your company. That can be anything from seeing an advertisement online, coming across your website or purchasing your products from a third-party vendor.
Adopting an omnichannel approach


An omnichannel approach

means going the extra mile for your customers. Customers are more digitally aware than ever before. This means there are certain expectations regarding communication that you will need to meet. With an omnichannel approach, it means the customer is a priority and your business is equipped to accommodate their interaction needs where, when and how they want.
Fostering employee engagement
The correlation between employee engagement, satisfaction and customer experience is simple. The happier or more satisfied your employees are with your organization, the more likely they are going to believe in the products and services you provide. This in turn, will flow into how your staff provide customer service and they will be more inclined to exceed your customers' expectations

. In fact,

79% of companies with engaged employees had a significantly better customer experience

than companies who didn't.

Implement a content marketing strategy


C

ontent marketing costs 62% less than traditional marketing and

generates about three times as many leads

. With 69% of the most effective marketers having a

documented content strategy

.

So how can you ensure you are creating innovative, engaging and quality content that will allow your tech business to grow?



Establish your goals and KPIs
It's important to understand your 'pain points' for your content marketing strategy to then establish your goals and KPIs. Without them, you may invest in the wrong focus area for business growth and risk wasting valuable resources like time and budget. You need to include goals that are measurable so that you can then collate data to see if what you are creating and amplifying is actually achieving what you set out to achieve.
Generate a target audience profile
If you have an existing customer base, then ask for feedback to help build your target audience profile. Ask them their response to the current content your business is producing, their current needs and what they would like to see more of in the future. This approach can really help your business understand your customer's priorities and tailor content that really resonates.

Make use of the many online tools that can provide you with data quickly based on previous online brand interactions: Google Analytics, Facebook and Twitter analytics to name a few. Check if any of your social platforms have this before doing your own research as this can save you time.
Identify your tone of voice and content channels
The way you write and deliver your content, whether written or verbal, needs to be consistent and stand out. It needs to reach your target audience, pique their interest and make them want to engage with the content you produce. This can all come across in your "tone of voice"; the way consumers will "hear" your brand through the content you create. Your tone of voice is a mix between how your target audience likes to be engaged with, and your business's values.

To decide what content channels to use, perform some market research and take a look where your customers are and also at what channel your competitors are using.
Establish content types and set up a content posting schedule
Deciding on what content types to use comes down to your market research, what your competitors are using and what you can create given the number of resources you have available. Commonly used content types to get started include:



Articles

Podcasts or webinars

Blog posts

Case studies

eBooks
eCourses

Email marketing

Infographics

Newsletters

Photos

Presentations

Promotions

Social campaigns

Videos

Whitepapers.

Once you get a feel for what type of content you create,

start planning it

. Without a plan, you may miss opportune moments to get certain content out to your target audience. A content posting plan can also help you keep on track for deadlines for creating content.

Consider alternative resourcing models


30% of companies are able to fill a role within 30 days

, while others can take one to four months. Alternative resourcing models outside of internal recruitment, can actually help improve these recruitment times, improve business efficiencies and allow for more time to focus on business growth.

One of the many reasons organizations struggle to grow is a lack of funds to invest in additional resources to support growth objectives. When faced with a sudden increase in demand or influx of client requests across different business functions, often tech businesses don't have the time to recruit a new employee to leverage potential growth opportunities. Outsourcing is an alternate resourcing strategy that can take care of recruitment so you can spend more time on what really matters. Efficient outsourcing providers can even have your outsourced team set up in as little as 6 to 8 weeks.

By hiring an offshore team, you can free up funds that can be used to reinvest back into the growth of your business. With the additional support of an offshore team, you can increase the capacity for your organization to take on more work.

What next?
There are business efficiency applications that can help facilitate business growth. Apps have revolutionized the way we function as a society. They have improved simplicity and efficiency in everyday life as well as business processes. With working on-the-go becoming the norm in business today, tech businesses should consider apps that are designed to help them prioritize productivity, efficiency and flexibility.