In late 2022, the Australian Government released a 69-page document that reinforced what many businesses already know – data is a currency all of its own in the modern world. The 'Australian Data Strategy' highlighted how the private sector has a long history of using data to benefit its clients and that the nation has the vision to become "a modern data-driven society" by 2030.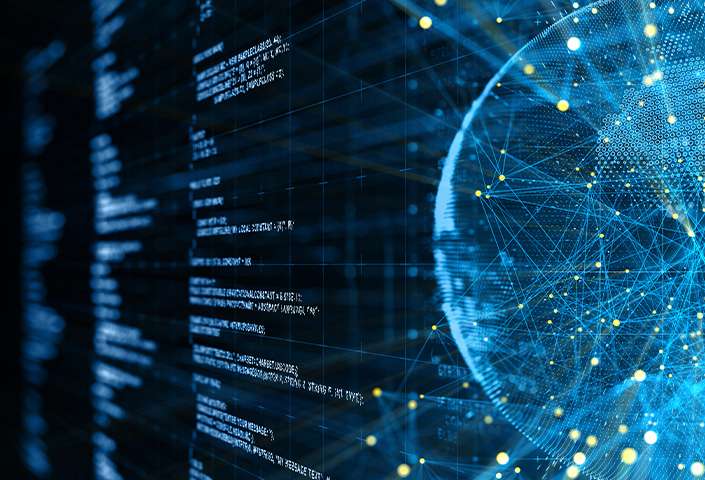 "Data is a valuable national asset that, when leveraged effectively, can bring transformative benefits to its users and to individuals and the economy more broadly," the strategy declared1.
Australia is not alone in recognizing the vital role of data in today's business landscape. From global powers such as the U.S. and the UK to developing nations across Asia, Africa and the Americas, data is increasingly viewed as a corporate asset that can be used to make better-informed decisions, optimize business operations and reduce costs.
This is backed by studies that show data-driven companies are 58% more likely to surpass revenue targets than those that do not prioritize data2. The level of data that companies can access is also soaring, with MIT Technology Review reporting that the amount of data created by consumers is doubling every two years but only 1% of it is ever used, analyzed or transformed3.
Given such facts, this guide will show why quality data management strategies are essential for businesses wanting to thrive in the digital world, list the best software for managing such data and highlight why more businesses are turning to outsourcing providers to support their needs.
What is data management?
Data management is the practice of collecting, keeping and using data securely, efficiently and cost-effectively in a bid to help people optimize decision-making and take actions that benefit their organizations. The growing importance of the practice is highlighted by research that shows the global enterprise data management market size is expected to more than double from $81 billion in 2021 to $165 billion by 20304.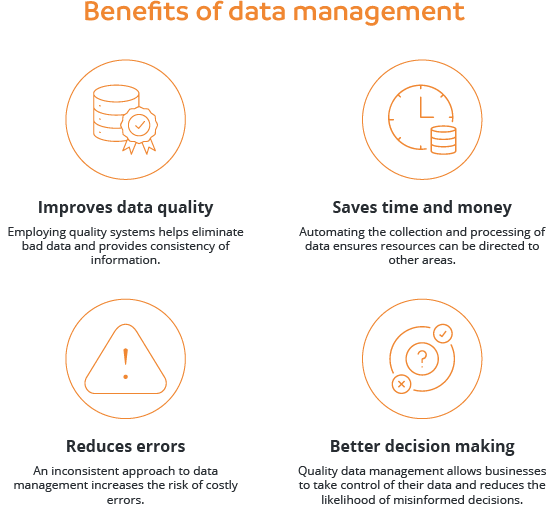 Benefits of data management strategies
As few as 13% of business leaders say their organization's data strategy is a key part of their corporate strategy5, which is a concern given the benefits of quality data management including:
Reduces duplication: with many businesses using multiple systems to store business data, the chances of duplication are immense. Rather than risking inconsistencies and information being stored in different formats, data management systems provide a single and accurate source of data, which can be better utilized for analysis and decision-making.
Improves data sharing: data has long been available but what has changed in recent times is the ability for businesses to seamlessly share that information among their teams and partners. Scalable cloud storage is allowing entire data sets to be shared and used to support analysis. That said, a definitive strategy is essential to ensure effective governance and cataloging processes.
Tightens privacy and security: there are few greater concerns in the data space than failing to adequately secure such information. A robust data management strategy can ensure users know where sensitive data is stored, whether it should be encrypted and who should have access to it. In the event of a data breach, it can also help identify what has been compromised and potentially limit potential fines.
5 leading data management software solutions
With countless tools and solutions on the market, selecting data management software can be a tricky business but this list of winners will help point you in the right direction.
Summary
With data management fast becoming a priority for businesses, it is no surprise that many organizations are not only adopting superior software and tools but seeking external support to bolster their systems. Outsourcing data management to offshore providers is on the rise and allowing businesses to access talented professionals with the technology and knowledge to manage their data securely and effectively. There is a lot to be said for focusing on data strategy rather than the tedium of collection and storage and between cutting-edge software and outsourced expertise, that can easily be the case.
With workforce challenges continuing to cause headaches across the globe, learn what businesses can do to overcome talent shortages, changing expectations and wage pressures in the recruitment market.