Buzzwords are all the rage in the corporate world. From '360 reviews' and 'hyperlocal' to 'synergy' and 'customer-centric', hundreds of business concepts have been distilled into catchy words or phrases and gathered momentum as they swept offices across the world. Some come and go. Others become cliches. Then there are those that so perfectly capture a concept that their importance grows rather than fades.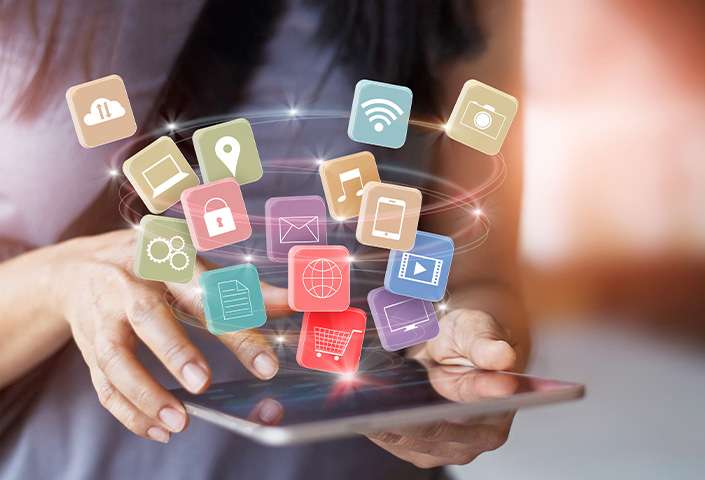 Omnichannel is one such buzzword.
Defined as a multichannel approach to sales that seeks to provide customers with a seamless shopping experience, omnichannel solutions have evolved in recent years to cater for the growing number of ways people interact with retailers. Whether shopping online from a desktop or mobile device, by telephone or in a brick-and-mortar store, it's all about allowing customers to get what they need when and where they want it without disruption.
For example, step inside the world of outdoor wear retailer Timberland and you'll find a company that knows all about the importance of omnichannel marketing. Upon entering one of their physical stores, customers are handed tablets boasting 'near-field communication' technology that allows them to interact with the products they are interested in. Product information and special deals are only a tap of the screen away – reducing the need to interact with sales staff - while personalization software collects and stores information from shoppers' searches to promote related products.
Better still, shoppers can use the tablets to create wish lists to be sent to their email addresses. That's right – browse instore, place orders from home. It's all about creating a personalized shopping experience and increasing the chances that browsers will become buyers.
The COVID effect
While omnichannel eCommerce is nothing new for many retailers, it was only a couple of years ago that the concept tended to refer to a combination of store, website and app but with limited interaction between the channels. A 2019 study showed just 30% of retailers allowed shoppers to reserve an item online and pick it up in-store, while a mere 7% provided customer support through video chat.
Then came the COVID-19 pandemic and retailers were forced to rethink their omnichannel efforts or risk being left behind. With many physical stores forced to close or in-store traffic dramatically reduced, there was a greater need to embrace eCommerce and it was the nimble and progressive organizations that were able to provide unified omnichannel experiences that shone, while less agile operations struggled to keep pace.
Strategies such as 'buy online and pick up in-store' and implementing third-party delivery channels have become the norm and it's not just retailers that are upping the omnichannel ante. Some financial services and banks were forced to temporarily close physical branches and have increasingly pushed for contactless interactions such as online banking and ATMs. Similarly, the healthcare industry is meeting the growing demand for virtual transactions by offering secure online payments and medical appointments via video conferencing.
COVID-19's impact on omnichannel was reinforced in the Voice of the Retail Industry Survey conducted in July 2020 as the pandemic took increasing hold. Despite the uncertain financial outlook, countless respondents said their organizations would accelerate investment in key aspects of omnichannel, with many turning to third parties to drive digital sales. More than half also predicted that a likely effect of COVID-19 would be their business looking to sell through digital channels such as marketplaces or social media sites.
With the lines blurring between online and in-person purchases, it was – and continues to be – increasingly important for retailers to no longer think of customer engagement in silos but as one best practice omnichannel approach.
Optimizing your strategy
A customer journey is as it sounds – the path a person takes from when they first discover a brand or product until they make a purchase. Ideally, they would be predictable journeys and therefore make it simple for retailers to cater for their needs. However, the omnichannel era has ensured that is never going to be the case.
Once customers may have browsed a catalogue or encountered an advertisement before visiting a bricks-and-mortar store to make their purchase, today's consumers are engaging with the likes of search engines, social media, paid ads, email marketing, YouTube videos, influencers, bloggers and brand advocates. Then, when it comes time to purchase, they have a myriad of options – many that do not even see them connect with the actual retailer of choice.
By mapping a customer's journey – be it a specific group, a prospect/target or a customer segment - businesses are better positioned to create an experience where their expectations are met when buying a product. Accenture has found that 68% of customers have changed a provider because of bad service and that is why it is essential businesses do everything they can to bring better value and improve customer satisfaction. Building a customer journey map that, among other things, highlights where customers interact with a brand and defines their intentions at each stage allows organizations to clearly identify what works, what doesn't and what needs to change.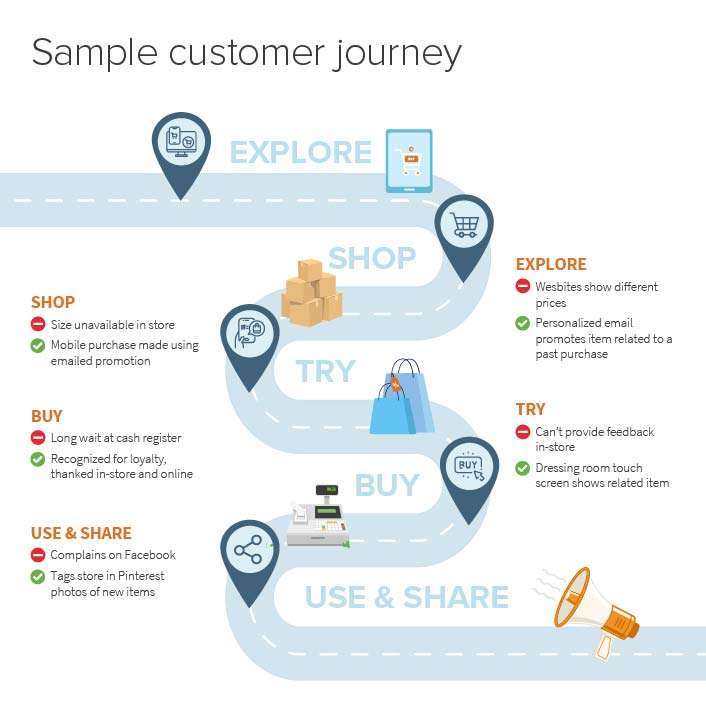 Improving customer experience
With the rise of omnichannel, it has never been more important for businesses to create and roll out plans that facilitate seamless experiences for their customers. When looking for ways to improve in the space, consider the following tips:
Understand preferred channels: An effective omnichannel strategy is nothing without a solid base and that begins by using relevant data to know where one's customers are. Are most active online? Do they base their purchase decisions on customer reviews? How much do they engage pre-sale? In 2021 it is essential to provide customer support across multiple channels and figuring out which channels are most beneficial and used for what purpose will ensure improvements flow more readily.
Improve response times: the modern consumer expects responses to their enquiries faster than most businesses provide them. Be the exception. Social media is undoubtedly a valuable customer service tool but it can quickly become a customer service nightmare if systems are not put in place to adequately engage with consumers. One survey has even shown a slow response is considered more negatively than no response, hence why investing in employees and technology to provide quick and effective feedback can have a hugely positive impact on customer relations.
Harvest data: it has never been important to collect customer data, with collective trends and habits and personal preferences combining to create the chance to craft a unique customer encounter. The digital omnichannel experience allows businesses to legally access information about their customers that they can in turn use to market special deals, offers and promotions. It's all about using insights from purchasing habits, website analytics and other methods to improve the offering to customers.
Provide more self-service: while older generations may prefer the reassuring voice of a customer support representative, a growing number of customers want to solve issues for themselves and that means providing them with channels to do just that. Offering 24/7 self-service support options such as comprehensive FAQs, chatbots and customer hubs is playing a vital role in helping brands increase customer satisfaction, reduce costs and ultimately win greater market share.
Hire the right people: technology can only do so much. The people behind it are just as crucial, especially when they are customer-facing staff with the potential to have a huge impact on the customer experience. Before recruiting any such team members – whether customer support, marketing or chat support - ensure they clearly align with the company's goals, culture and values.
Benefits of outsourcing omnichannel
Establishing omnichannel support teams is too important to be left to chance. That's why an increasing number of businesses are outsourcing to experts in the field to ensure they can access top resources at lower costs. Benefits include:
Better customer service: outsourcing CX provides businesses with access to people and systems that can handle queries and resolve issues on-time and with maximum efficiency. Rather than debating which limited customer support channels to focus on, businesses have the ability to expand their offerings via cost savings and offer a more personalized and empowered experience within their brand.
Improved efficiency and productivity: utilizing multiple channels such as SMS, email, live chat, social media and chatbots is a certain way to increase customer satisfaction. Outsourcing firms that specialize in omnichannel support offer a suite of platforms and technology that improve efficiency and boost productivity, with many designed to handle more complex issues and bring additional value to an organisation.
Flexibility: the ability to extend hours for customer support is one of the key benefits of outsourcing, with remote teams able to take calls and reply to enquiries across the day and night. Slow response times is one of the pet hates of customers and the flexibility that comes with cost-effective and hard-working outsourced operations is a huge bonus for businesses.
Scalability: outsourcing is particularly beneficial for organizations that require the ability to scale their resources up and down depending on demand. Additional support during peak periods is always at hand, while there is also the chance to scale back or even wind up a contract when business slows down.
Some examples of roles to outsource
Customer Support Representatives: the importance of the first few moments of a customer's enquiry cannot be understated. Go well and it can signal the start of a positive brand relationship. Handled poorly and a golden opportunity is missed forever. That's why you need the right people for the job and quality outsourcing firms have access to some of the best. The likes of Filipinos naturally excel at customer service, with a cultural heritage based on hospitality, kindness and respect. Likewise, their fluent English skills make them ideal for English-speaking businesses.
Data Entry Specialist

/

Admin Assistant: when it comes to providing the best omnichannel experience, it's not only about what leads up to a purchase but also about 'what happens next'. There is no point investing in top notch customer service or marketing if inventory is not being managed or orders are not being fulfilled. Investing in a high quality administrator or data entry specialist in the Philippines to help you with a variety of tasks from stock control to order fulfillment could be the final piece on the omnichannel success puzzle.
Social Media Marketers: whether researching and implementing social media programs, coordinating social media activities or compiling content calendars, outsourcing companies have realized the need to provide clients with access to quality social media marketers. Known to be 'a hungry beast', social media requires a 24/7 approach to ensure customers receive the fast response times they expect and every opportunity is taken to leverage wins. Outsourcing such roles ensures exceptional service, quality staff and attention to detail even outside regular business hours.

Web Developer

: a foundation of any successful omnichannel strategy is a professional and seamless online presence. Websites and apps are the new shopfronts of many businesses and while they may look simple to the untrained eye, creating them from scratch can be hugely expensive or painful for those with little to no web development skills. Outsourcing such projects to cost-effective locations such as the Philippines allows businesses to tap into the talents of highly qualified web developers who can build new sites and apps or improve and maintain existing ones for a fraction of the cost.
A smarter approach to omnichannel strategies is within reach. It's just a matter of knowing where to turn. Read this case study to get an insight into how one company achieved 24/7 customer support via offshoring.