Skip straight to the statistics summary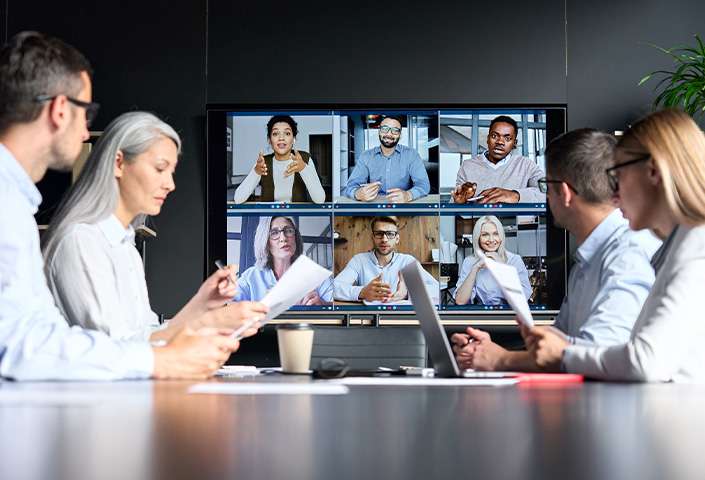 A successful HR department can be summed up in one word: adaptable. A HR function that can show resilience and creativity amidst economic and market changes is essential to the success of any organization. A way in which organizational leaders have started to show support for the HR departments is by investing in outsourcing solutions.
Human resource outsourcing (HRO) is the process of sending tasks related to HR to an organization outside of your own to complete. These teams offer the necessary support your onshore HR team requires to elevate their capabilities and positively influence your bottom line.
This blog will take an in-depth look into the state of the global HR outsourcing market and help you identify the HR functions that you can offshore today to foster business efficiencies.
The HRO market: how is it looking?
In 2020, the global HRO market was valued at U.S. $32.8 billion1. The same report estimates its value to reach U.S. $45.8 billion by the end of 2027. With a compound annual growth rate of 4.9% during this time period, its growth will be attributed to the adoption of recruitment analytics and digitization within the industry.
So what do the facts have to say? If you're considering investing in an outsourced HR team, here's what the statistics have to say:
A Deloitte survey found that 78% of respondents

2

stated their HRO provider either met or exceeded objectives related to cost
Around 45% of businesses spend almost an entire day a week

3

or more on administrative HR issues
47% of human resource departments

4

state employee turnover and retention as their biggest challenge

83% of businesses believe retaining and attracting talent is becoming increasingly difficult

51% of employees

5

say they would change jobs for one that offers flexible working
Turnover costs alone amount to $223 billion

6

when linked to workplace culture over the past five years
The average annual salary of a HR professional in America is U.S. $66,668

7

, in Australia, it's AU $97,516

8

and in the United Kingdom, £44,759

9

35% of businesses

10

with fewer than 1,000 employees outsource one or more HR functions
The two most commonly outsourced HR functions include employee training initiatives (58%) and the recruitment function (38%)

11

Of all reasons why employees leave or quit their jobs, 78% of them could be prevented by their employer

12

.
In a report by Deloitte, executives from 25 different industries were asked how outsourcing benefits their organization13. These were the findings: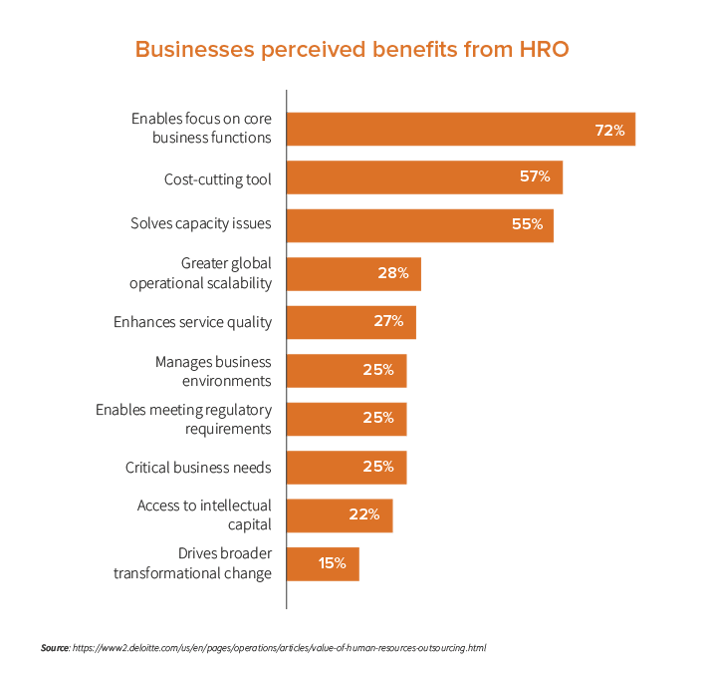 According to PrismHR's 2019 Human Resource Outsourcing (HRO) Trends Report14, the top five services offered by HR outsourcing organizations were:
HR consulting: 45%
Benefits administration: 36%
Time tracking: 24%
Insurance services: 19%
Performance management: 10%.
Outsourcing can provide your HR function with access to quality global talent, all while saving on employment costs and overheads. These statistics showcase how outsourcing can help your business reassess its HR tasks and enable a more productive way of operating.
The benefits of human resource outsourcing
Here are the benefits your organization could receive by investing in outsourced HR teams:
Reduced costs
HR outsourcing could save your organization up to 70% on employment costs alone. Depending on where your outsourcing provider is located, you can take advantage of lower living costs in countries like the Philippines where the cost to hire say, a recruitment officer, is generally much lower than hiring one locally. These cost savings can then be reinvested into areas of your organisation to foster business growth and scalability.
Spend more time on what really matters
Get your leaders to do an in-depth analysis of how your HR function's time is spent. How much time goes into nurturing employee experiences and improving engagement initiatives versus payroll administration? Or how much time is spent developing strategies versus placing job advertisements and reviewing candidate pools.
Did you know that 85% of executive teams spend less than one hour per month15 discussing their department's strategy, with an even more staggering 50% spending little to no time on it at all? Updating policies and keeping track of employee records could require a team of HR officers to monitor. Add creating or updating employee contracts and managing payroll concerns requires even more resources. Outsourcing these types of functions that take away from strategy-focused activities could be a solution.
Foster business efficiencies
How long does it take to update employee handbooks or create job advertisements? What about communicating professional development opportunities? How do you maintain your internal communications system, or do you not have one at all? Organizations that have multiple departments, usually have different standards, ways of working and hiring managers. This could translate into independent training modules and guidelines for each that are required to keep work practices uniform and up-to-date.
A human resource outsourcing provider can help you develop these policies and procedures tailored to your organization's requirements. They are experts at liaising and drawing on information from leaders to create these documents and can even monitor when policies need updating or changes.
Provide the necessary HR support
Thanks to the effects of COVID-19 and trends such as 'The Great Resignation', 'The Great Re-evaluation and 'The Great Reshuffle', labor laws and regulations are constantly changing and evolving with today's workforce. Regardless of the size of your business, ensuring compliance with superannuation, employee overtime and union requirements is crucial. If careful attention isn't given to these areas, the consequences can be dire.
Human resource outsourcing can provide the additional hands you need to help support your onshore team with monitoring these changes and re-writing policies and procedures. This extra support can work under the direction of your HR leaders to keep your business compliant with federal, state and local laws as necessary.
What HR tasks are commonly outsourced?
If you are interested in creating an outsourced HR team, here are some tasks that you might consider sending offshore:
Recruitment consultation and strategy
Recruitment process optimization
Talent pipeline development
Screening and interviewing
Post-offer management
Onboarding and post-hire
Payroll and compensation management
Staff training and evaluation
Employee benefits and service
Recruitment and onboarding
Performance management.
What is the difference between HRO and RPO?
Human resource outsourcing sees a third party employed to perform some or all of a company's HR functions. Then there is RPO or recruitment process outsourcing. As the name suggests, RPO involves a business transferring all or part of its recruitment processes to an external service provider. While some organizations may have their recruitment functions absorbed into their department, there can be varying benefits associated with HRO and RPO.
Reference:
1 https://www.prnewswire.com/news-releases/global-human-resource-outsourcing-hro-industry-301125370.html
2 https://www2.deloitte.com/us/en/pages/operations/articles/value-of-human-resources-outsourcing.html
3 https://www.prnewswire.com/news-releases/small-business-owners-spend-at-least-one-day-a-week-managing-people-paperwork-study-finds-300798125.html
4 https://www.workhuman.com/press-releases/globoforce-shrm-human/
5 https://www.hrdive.com/news/survey-applicant-quality-continues-to-plague-employers/423310/
6 https://www.shrm.org/about-shrm/press-room/press-releases/pages/shrm-reports-toxic-workplace-cultures-cost-billions.aspx#:~:text=NEW%20YORK%20%E2%80%94%20One%20in%20five,%E2%80%9CBillions%20of%20wasted%20dollars.
7 https://www.ziprecruiter.com/Salaries/Human-Resources-Professional-Salary
8 https://au.talent.com/salary?job=human+resources
9 https://www.glassdoor.co.uk/Salaries/human-resources-professional-salary-SRCH_KO0,28.htm
10 https://www.researchgate.net/publication/235293205_Outsourcing_HR_services_The_role_of_human_resource_intermediaries
11 https://www.researchgate.net/publication/235293205_Outsourcing_HR_services_The_role_of_human_resource_intermediaries
12 https://info.workinstitute.com/hubfs/2020%20Retention%20Report/Work%20Institutes%202020%20Retention%20Report.pdf
13 https://www2.deloitte.com/us/en/pages/operations/articles/value-of-human-resources-outsourcing.html
14 https://humanresources.report/whitepapers/2019-human-resource-outsourcing-hro-trends-report
15 https://hbr.org/2005/10/the-office-of-strategy-management