Imagine a world where there was no need for chatbots. A world in which human labor costs so little that businesses can employ people 24/7 to answer the most basic of customer questions. A world in which those people never get tired and deliver the correct answers with unbridled enthusiasm no matter how many times they have been asked to do so. A world where there are enough affordable workers to consistently qualify leads and gather customer insights that will generate even more.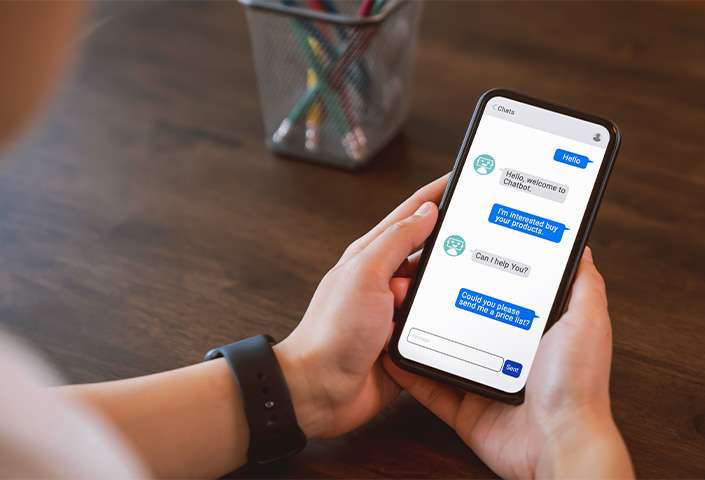 Now let's return to the real world and appreciate how fortunate we are to live in an age where chatbots exist.
And that is because while it would be nice to have a human touch for every customer interaction, the reality is we have never had more online connectedness and people expect to be able to chat directly with a business no matter where they are or the hour of the day (or night). They want to engage on the platform of their choice at the time of their liking and will take their money elsewhere if businesses are not waiting to do so.
This brings us to lead qualification and the role of chatbots in optimizing results. Deciding which potential customers are most likely to make a purchase is a crucial part of the sales funnel, which frequently gathers leads but only converts a fraction of them. Businesses cannot afford to waste resources on prospects who will never make a purchase, hence why qualifying leads requires a strategy all of its own – and chatbots need to be part of that strategy.
How do chatbots qualify leads?
Befitting a world where people are increasingly comfortable engaging with machines, the use of chatbots has exploded in recent years. The global chatbot market is expected to almost quadruple from $2.6 billion in 2019 to $9.4 billion in 20241, with one study showing 40% of shoppers no longer care2 if they are helped by an AI tool or a human as long as they receive the support they want or need.
While live customer service agents will always have a role to play in determining whether a person is ready to move further down the shopping funnel, chatbots are an essential addition to any lead qualification strategy for a variety of reasons.
Around-the-clock qualifying: modern consumers do not care for traditional business hours and pity the business that refuses to cater to that. While there is a huge financial toll in employing live agents to engage with customers 24 hours a day, 365 days a year, chatbots are a cost-effective means to qualify potential leads around the clock. The presence of chatbots means there is no reason for businesses to ever put up a 'Closed' sign on their customer service desk.
Conversational insights: qualifying leads is all about asking the right questions of customers to understand their preferences and needs. Chatbot lead generation achieves this and so much more, helping businesses gain key insights that allow them to engage prospects more effectively. Along with providing customers with suggestions and recommendations based on their responses, they allow businesses to analyze previous conversations to better cater to decision-making patterns.
Increasing engagement: enticing customers to fill out forms about their purchasing habits is a tough challenge. You can embed them in electronic newsletters or offer freebies to encourage people to complete them but many people will still be reluctant to take the time to share their thoughts. Conversational chatbots are a great way to reach such customers as they can ask direct questions in a fast and engaging format. Rather than requiring them to fill in a tedious and daunting form, chatbots can ask them to share their personal details and insights as simply as responding to a text or online prompt and then processing them for future reference.
Automated interactions: one of the unsung benefits of chatbots is their ability to automate how potential leads interact online. From booking meetings and answering FAQs to helping identify low-intent users, they can help target and engage with a business's ideal customers. For example, if a chatbot is 'chatting' with a customer, it can send a prompt asking if they would like to book a meeting. High-intent customers are likely to click 'Yes' and automation can immediately send a calendar appointment. Not only does the number of meetings increase, but so does the quality of the leads going into the calendar.
Targeted marketing: there are few greater drains on resources than needing to analyze each and every visitor to a website. AI chatbots help identify those who are nearer to making a purchase or studying products or services more closely and then use targeted marketing to send them further down the sales funnel. By breaking customers into segments and targeting them as leads, businesses can pitch them ideas via different social media platforms or other channels.
What are the leading chatbot platforms?
Befitting a sector on the rise, there are countless options for businesses searching for the best chatbot software to generate leads, improve customer experience and increase sales. They include:
Tidio3 – features include free chatbot templates, multilingual translations and advanced NLP (natural language processing) technology
Tars4 – features include high conversation rates, bot design customization and unique chatbot URLs
ManyChat5 – features include drag-and-drop bot builder, automation of Messenger marketing and easy to build automated sequences.
Chatbots as part of your communication strategy
Chatbots are too effective at helping generate leads to ignore. People visit websites every day without the intention of making a purchase but that does not mean businesses should ignore the chance to engage with them. Inviting people to ask questions or offering them more information about products or services can turn passive online visits into leads and sales opportunities. AI chatbots allow businesses to do just that by engaging potential customers in a cost-effective manner and then using the insights they find to better understand their preferences and ultimately turn them into future customers.
In a world where 86% of corporate executives6, educators and employees cite ineffective communication as a reason for failure in the workplace, developing a quality communication strategy should be a priority for every business. From defining your goals and knowing your audience to looking for support from outsourcing providers, discover the five steps for developing an effective communication strategy.
Reference:
1 https://markets.businessinsider.com/news/stocks/global-chatbot-market-anticipated-to-reach-9-4-billion-by-2024-robust-opportunities-to-arise-in-retail-ecommerce-1028759508
2 https://www.hubspot.com/stories/artificial-intelligence
3 https://www.tidio.com/
4 https://hellotars.com/
5 https://manychat.com/
6 https://www.expertmarket.com/phone-systems/workplace-communication-statistics