The accounting profession is on the cusp of a revolution. Once an obvious job choice for anyone with a good head for numbers and a fancy calculator, factors such as new technology and ever-increasing red tape mean the days of being able to easily recruit in-house accountants and bookkeepers are fast coming to an end. While the need for skilled accountants is greater than ever, the number of companies and small businesses able to afford the high salaries demanded by experienced practitioners is shrinking by the day.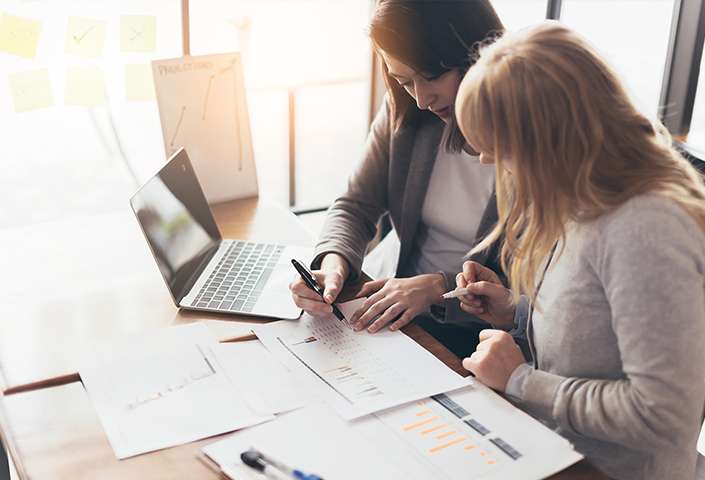 Fortunately, accounting outsourcing providers are stepping up to fill the void. The practice of engaging third-party organizations to perform tasks traditionally done in-house has exploded in recent years and it is no different in the accounting and bookkeeping sector. With the financial services market expected to reach $28.5 trillion by 2025, studies have shown that accounting is the most outsourced industry with 37% of small businesses turning to external providers to manage their accounting and finance needs.
The reason so many organizations are opting to outsource accounting services is simple – it works. One of the most attractive benefits is it reduces costs without reducing quality. With offshore labor costs often a fraction of those in-country, outsourcing providers can offer their services at lower cost rates, not to mention eliminate the time and expense of drawn-out hiring processes. Outsourcing also means businesses can easily scale their accounting needs up and down depending on demand (e.g. tax season) and dedicate more time, energy and resources to growing their operations rather than focusing on tedious administrative tasks like bookkeeping and accounting.
Accounting roles you can outsource
As one of the fastest and most effective ways to drive profits and accelerate growth, it is little wonder businesses are turning to outsourcing providers to fill roles such as:
Accounting outsourcing trends
Befitting a profession that prides itself on evolution, the accounting sector is continually adapting to the ever-changing landscape, with current trends to watch including:
Cloud-based accounting: bookkeepers and accountants are not alone in having embraced cloud-based solutions in recent years but their enthusiasm for the technology knows no bounds. The shift to cloud-based accounting is allowing them to access and share financial data whenever and wherever they want, with emerging software and systems offering additional benefits such as cost savings and enhanced user experience.
Updated skills: with executives under increasing pressure to turn visions into profits, there is a growing expectation for their accountants to not simply 'do the numbers' but act as financial consultants. This means they require a full understanding of laws regarding accounts and finances, along with the ability to communicate with authority and confidence both in-person and online. Given their investment in the sector, outsourcing providers are leading the way in sourcing practitioners who boast the latest skills and qualifications to do just that.
Automation: the rise of machine learning and artificial intelligence is leading to more automation in the accounting sector and, in turn, allowing accountants and bookkeepers to focus more time on higher-value activities. With manual tasks such as invoice capture, data entry and reconciliation increasingly being automated, outsourcing providers can guarantee greater accuracy and faster services and spend more time advising their clients on all matters financial.
The top accounting outsourcing destinations
From humble beginnings, the global outsourcing market has grown at a rapid rate as governments realize the economic benefits of providing services for other nations. This is particularly so in the accounting and bookkeeping sector, with several countries particularly invested in nurturing such talent.
India: a global powerhouse of the outsourcing industry, India is high on the list of nations that companies consider when the conversation turns to sending certain tasks offshore. As the world's most populated country after China, there is no shortage of talent and the local infrastructure continues to improve. While English is widely spoken, difficulties related to the language barrier can be a turn-off for some Western businesses and rising wages are starting to put pressure on cost advantages.
Brazil: the South American nation is a rising star on the outsourcing scene and particularly appealing for U.S. companies given it is in the same time zone. Brazilians offer a multitude of technical expertise in understanding the mechanics of business and accountancy, while the nation itself has made enormous strides when it comes to infrastructure and communication on the back of hosting the 2016 Olympic Games. Some business owners continue to be concerned about potential bureaucracy issues, along with the language barrier.
Ireland: well-established in the European Union, Ireland offers an education system and technology culture that is among the best in the world. Another obvious benefit is boasting English as their native language, while a reputation as friendly, hard-working employees is appealing for businesses looking to outsource accounting services. There is a reason few developed countries are on this list though and that is their services come with a higher price tag. A smaller population base also means Ireland produces less accounting graduates than the likes of India and the Philippines.
The Philippines: backed by a government fully committed to supporting its outsourcing industry, The Philippines has emerged as one of the hottest offshore destinations on the planet. This is all the more so for the accounting sector, with the country home to more than 175,000 Certified Public Accountants (CPA) and almost another 8,000 joining the workforce every year after passing their board exams. Throw in the fact The Philippines is home to at least as many non-CPA accountants and it is clear why so many in-country businesses are benefiting from its services.
Those benefits include labor cost savings of up to 70%, an increase in efficiency and quality, and the chance for in-house teams to swap tedious and repetitive accounting tasks for higher-value advisory activities that boost their businesses' bottom lines. As one of the most dynamic economies in the East Asia region, The Philippines also operates in a fiscal and financial system almost identical to conditions in Western nations.
Summary
For businesses yet to explore outsourcing accounting tasks, it is no longer a matter of debating whether the concept works but why they are yet to take advantage of it. The ability to access professional accountants and bookkeepers to tackle the complex and often time-consuming activities at a fraction of the onshore cost is a one-way ticket to growing one's business at a time when doing so has never been more important.
Learn more reasons why your business should consider outsourcing bookkeeping and accounting services.