Global outsourcing versus outsourcing. Is there really a difference? That depends. The answer is not a simple 'yes' or 'no'. Outsourcing is defined as "a business practice in which a company hires a third-party to perform tasks1, handle operations or provide services for the company" that would otherwise be performed in-house. This could mean you could outsource a task, job role or entire team to a business down the road or you could outsource to a third party on the other side of the country. Global outsourcing is a term reserved for outsourcing to a third party based outside of your country and is often commonly referred to as offshoring.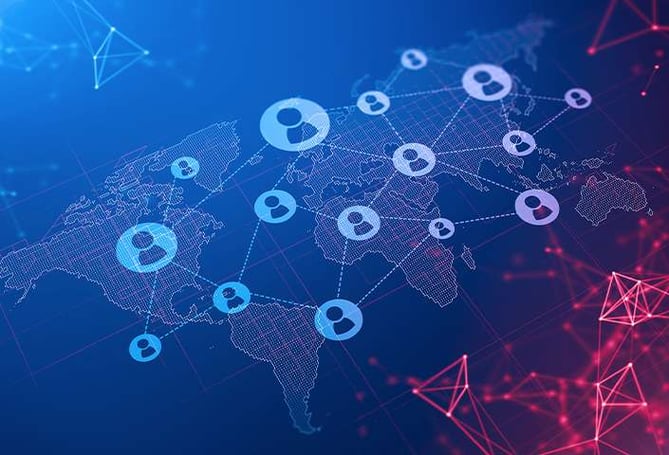 This blog will address the top reasons organizations turn to global outsourcing as well as the advantages and disadvantages.
What is global outsourcing?
Global outsourcing refers to the practice of hiring external companies or individuals to perform business functions in a different country. This practice is typically used to reduce costs, access specialized skills or technology and increase efficiency.
Global outsourcing can involve various types of work, such as manufacturing, software development, customer service and administrative tasks to name a few. It has become increasingly popular in recent years, thanks to advancements in technology that have made it easier to communicate and collaborate across borders.
What are the top reasons for global outsourcing?
The global business process outsourcing (BPO) industry was valued at $251.1 billion in 2022 and is expected to grow to $435.89 billion by 2028, with a compound annual growth rate (CAGR) of 8.5%.
It's no surprise that 84% of executives state cost reduction2 to be their top objective for outsourcing. According to Deloitte's 2021 Global Outsourcing Survey, 88% of organisations have achieved their cost reduction objective. If there is no positive cost case, it will not happen. It is always about cost." Many smaller businesses may not have the financial capacity or operational need to hire a team or outsource locally.
The ability to scale up or down quickly also makes global outsourcing or offshoring to a lower-cost economy so attractive, with 40% or executives stating flexibility as a top reason. In addition to reduced costs, a Clutch study found that 24% of small businesses seek global outsourcing services to improve their work efficiency with a further 18% using it for expert advice3.
From an IT business perspective, digital transformation has become a fast-evolving trend thanks to the impacts of the pandemic in recent years. With this has come the need for better cybersecurity measures and additional capacity to keep up with Industry 4.0 advancements. In fact, 83% of leading IT organizations4 are considering partnering with global outsourcing services to handle any digital threats that may come along with this unexpected shift.
There is also a recent overarching "umbrella" issue impacting organizations across all industries: a global talent shortage. 69% of businesses5 are struggling to source and retain quality talent, resulting in around U.S. $8.5 trillion in unrealized annual revenues6. So by investing in global outsourcing strategies instead of just trying to attract the local market, organizations can open up to a high-quality, global talent pool.
What are the advantages, or benefits, of global outsourcing?
Now that you understand the reason "why" organizations turn to global outsourcing, let's address a few of the key benefits of engaging with offshoring or business process outsourcing (BPO) providers.
Cost savings
Global outsourcing can save on costs for your organization by having day-to-day tasks completed in a lower-cost economy, such as the Philippines, where employment costs are up to 70% less. Hiring new staff is an expensive process. Many overhead costs come alongside hiring a new offshore team. Now, there are several global outsourcing models you can choose from, and it's always important to choose the one that works for you.
A popular offshoring model is the "managed operations" model where a third-party provider takes care of recruitment, human resources, new office equipment, superannuation, payroll tax, workers compensation, IT and overall management supervision. Apart from the engagement costs, you would only need to sacrifice time to train new offshore employees in this model, which is a long-term investment for your business.
Improved efficiencies, quality and staff satisfaction
Global outsourcing allows you to allocate time-consuming and repetitive tasks to an offshore employee instead of your onshore team. That way, your local team can focus on what they do best and what motivates them, while your offshore team appreciates the opportunity to support your business.
This combination improves productivity across the board. In the long run, global outsourcing also helps increase efficiency and job satisfaction for employees.
Outsourcing can also enhance customer satisfaction by improving the quality of your interactions, increasing your availability to customers and providing your customers access to expert services at their convenience. Businesses can even set up a 24/7 customer support line to allow their onshore team to focus their energy on nurturing relationships while your outsourced team expertly handles customer service queries.
Scalability and business growth
A main reason organizations struggle to grow is a lack of funds to invest in additional resources to support growth objectives. Businesses often don't have the time to recruit a new employee to leverage potential growth opportunities. Some global outsourcing providers can have your outsourced team set up in as little as six to eight weeks. That way, you're able to free up funds that can be used to reinvest back into the growth of your business. With the additional support of a globally outsourced team, you can increase the capacity for your organization to take on more work.
What are the perceived disadvantages of global outsourcing?
It's important to note, to avoid any mishaps or miscommunications, organizations need to do their due diligence and research potential outsourcing providers and locations.
Here are three key areas that can be limiting factors if care isn't taken in selecting the right outsourcing provider for your organization:
Language barriers
When outsourcing globally many providers operate in low-cost economies. This can directly impact the level of English language proficiency of your outsourced team as English may not be their first language.
However, countries like the Philippines have English as one of their official languages and use it for both verbal and written communication in their educational systems. It's important to conduct your own research when deciding which offshoring location you will choose to offshore your business needs to ensure that language does not prevent you from reaping the benefits of global outsourcing.
Social and cultural issues
What may be custom in one country may not be in the next. This rings true to both cultural and social customs. For example, some cultures may be more reserved and may not be as straightforward or open to feedback as you may be used to with your local team. To avoid misunderstandings, it's important to establish efficient ways of communicating deadlines, KPIs or any concerns you may have.
Data security
You will likely be sending confidential company data to your globally outsourced team to perform their role efficiently. This can introduce data security risks and needs to be managed accordingly. Ensuring that your offshoring provider has cybersecurity protocols and management plans in place to lower any potential data security risks.
Who benefits from global outsourcing and is it ethical?
Short answer: everyone and yes.
From CEOs and local staff to consumers and your offshore team, global outsourcing, if done right, can benefit everyone involved.
For organizations, it can help increase efficiencies as well as providing flexibility to scale and grow - allowing many to invest back into other areas of the business.
For your local team, outsourcing just one administrative task frees up time for them to take on other, more high-level tasks. This could be nurturing customer relationships or starting planning on a project that may have been pushed back a few months due to administrative overload. This then has a domino "efficiency effect" down the line, meaning more can be done onshore that isn't time-consuming and more business growth oriented.
"Is outsourcing ethical? '' is one key question many organizations ask before engaging an offshore provider. As mentioned above, the short answer is 'yes'. You're providing jobs and work opportunities to people in foreign countries with competitive wages. Take the Philippines for example. The Philippines outsourcing industry has had a significant impact on the local economy, employing approximately 1.2 million people in the Philippines7, becoming one of the country's biggest sources of employment. Wages paid to Filipinos in the outsourcing sector are competitive internationally, sitting at the lower end of the scale. However, staff in the industry are typically paid more than double the national average and are often provided the added benefit of membership with a Health Maintenance Organization (HMO). To protect the interests of private employees, companies seeking to hire outsourced staff often have to comply with country labor laws which are strictly enforced, further protecting offshore employees. The key to getting it right is engaging the right offshoring provider.
Want to know more about the world of global outsourcing?
Consider completing our comprehensive, free eCourse designed for organizations of all sizes interested in offshoring solutions, with information created by global outsourcing specialists. In the form of 12 in-depth educational modules delivered straight to your inbox, you can learn how global outsourcing can offer the support you might need to start achieving those long-term business goals. But most importantly, by the end of the eCourse, you'll know whether global outsourcing is right for your business.
Reference:
1 https://www.techtarget.com/searchcio/definition/outsourcing
2 https://www.prnewswire.com/news-releases/deloittes-2021-global-shared-services-and-outsourcing-survey-shared-services-centers-focus-on-strategic-investments-to-drive-value-301298145.html
3 https://clutch.co/bpo/virtual-assistants/resources/small-business-outsourcing-statistics
4 https://www.globenewswire.com/news-release/2021/01/26/2164219/0/en/Syntax-s-2021-IT-Trends-Report-Uncovers-the-Pandemic-s-Lasting-Impact-on-IT-and-Security-Investments.html
5 https://go.manpowergroup.com/hubfs/Talent%20Shortage%202021/MPG_2021_Outlook_Survey-Global.pdf
6 https://www.kornferry.com/insights/this-week-in-leadership/talent-crunch-future-of-work
7 https://www.entrepreneur.com/article/327758