In today's world, reliable technical support is a vital part of any business, large or small. Even the most painstakingly designed apps will go awry sometimes, systems crash, incompatibilities arise from updates in associated programs, and glitches undiscovered in testing can go on to wreak havoc for your clients.
Running a business without having someone to call for backup when things go wrong is unthinkable. It takes time to get to the bottom of technical problems, while also soothing distressed customers, and you can't shut everything else down while that's happening.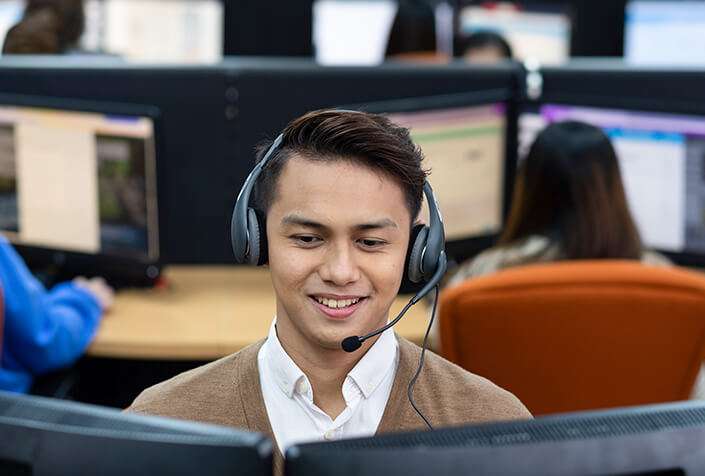 Without reliable tech support professionals you won't be able to grow your business significantly — let alone quickly enough to beat the competition, and a reputation for failing to resolve technical complaints can have devastating, long-term effects on your sales and credibility.
'Tech support' is a broad term. It can cover both internal roles (maintaining servers, diagnosing faults, etc.) and external roles (e.g. after-sales support for software or equipment). Depending on the size of the business, tech support teams can have multiple tiers — from entry-level help desk staff to system-specific gurus who can solve the most complex IT issues.
In any case, hiring technical support personnel is a significant investment. And in most Western countries you get what you pay for. But whatever the role, those personnel will need significant training.
And that doesn't come cheap.
Which is why technical support is often one of the first departments businesses outsource to offshore hubs.
There are plenty of articles on the advantages and disadvantages of technical support outsourcing. But with cloud computing, ever-improving communications software, and the growing popularity of global workforces, the list of cons is rapidly shrinking.
Should I or shouldn't I?
Here are some of the reasons (besides reduced costs) why more and more businesses are choosing tech support process outsourcing.
Talent — IT education standards in countries such as the Philippines and India are very high. And these professionals tend to gravitate towards outsourcing hubs, providing a larger pool of skilled candidates than you'd find at home.
Easy transition — Most tech support work (internal and external) is already provided remotely via sophisticated networking platforms and cloud computing. Even in-house, 'normal-hire' tech support teams work remotely.
Bonus expertise — Due to the wide range of clients they work for, people who work in outsourced tech support must stay up to date with the latest technologies. And they can use that knowledge to help small companies make their applications or processes more efficient.
Organizational structure — People have grown used to IT and tech support teams separating themselves from the rest of the company and communicating largely by phone and email. So taking them one step further away won't be much of a cultural shift for your current employees.
So how do you set up a tech support process outsourcing team?
Assembling a team is a bit like baking a cake. If you try doing it ad hoc, then chances are you'll end up with something that's inedible. And if you follow the same recipe as everyone else the results may so underwhelming that you end up spending even more on a mercy dash to Pierre's Patisserie.
Just as your technical support needs will be different to everyone else's, so too will the process for setting up your support team. And it's worth getting some help along the way, just as you might get help from Auntie Flo or the latest food blogger with a special dessert to impress your guests.
Established business outsourcing companies are available to help you design your optimal, business-boosting offshore technical support team. They'll take you through every step — from planning to interviewing and training — and provide modern office spaces and hardware for your team to work in. The Philippines is one of the most popular outsourcing destinations, with well-established companies, modern infrastructure and a high quality talent pool with excellent English skills.
Step by step
Here are some simple steps for setting up an outsourced technical support team in the Philippines or elsewhere.
Assess your needs
The first thing you need to do is analyze your business to decide what kind of tech support you need. Depending on your business, you may need:
day-to-day maintenance and help desk service for your networks and enterprise applications

different experts for different software products

a large team split between inward- and outward-facing roles.
And don't forget to ask your employees. They may be aware of IT-related issues you know nothing about that your new outsourced technical support team could address.
Once you've finished brainstorming and diagramming, and assessing the advantages and disadvantages of technical support outsourcing for your circumstances, come up with a wish list and devise a business plan that shows how everything will fit together.
Set goals
Moving from the practical to the aspirational, start working with key stakeholders to develop clear goals for your tech support outsourcing project. Where are you currently falling short? How can you create an outsourced technical support team that evolves with your changing needs? Are you in a position to create specific target KPIs from the beginning?
Some common outsourcing goals might include:
Cutting costs

Improving response times

Making the most of state-of-the-art tech support tools with lower outlay

Offloading the burden of keeping abreast of tech support trends.
Choose the right outsourcing company
While more and more tech support outsourcing companies are popping up, they're not all created equal.
Do your research. Make sure your shortlisted providers are proven, well-established companies with strong, transparent track records. Ideally, they will:
be able to point to current clients with similar needs to yours,

have extensive pools of screened talent

be able to advise you on how to structure your team.
Choosing a managed operations outsourcing model means you can benefit from the company's well-equipped venues and resources but still maintain control of your team, who will effectively function as your employees.
Make sure they can provide:
disaster-recovery services

A reliable internet connection

backup generators in case of weather emergencies

automated backups

the capacity for round-the-clock rostering.
If you can, visit their offices so you can meet the management staff on the ground and gauge the quality of their hubs for yourself.
Hire staff
After carefully strategizing and wisely choosing an outsourcing partner, hiring your outsourced technical support staff will be relatively easy. A reputable tech support process outsourcing company will be able to suggest appropriate candidates from their pool of pre vetted talent.
Make sure you've set out the list of skills and qualifications you want for each role ahead of time, and try to meet the candidates yourself. Some characteristics to look for are:
demonstrated problem-solving skills

good time management

near-native English language skills

a polite, engaging manner.
But trying to do this without help from someone who has knowledge of both the home and offshored countries is risky.
Train your staff
Training for both your new outsourced tech support team and your current employees needs to be thorough. It also needs to be appropriate to the workflow changes for the new setup. While you can get ahead of the game by hiring workers with experience in your industry or the applications you use, you need to provide clear protocols for call handling and problem solving. There also needs to be thorough instructions for your databases, your systems infrastructure, and when and how to refer issues upwards through the support hierarchy.
For an outward-facing tech support team, they need access to a comprehensive set of manuals that include:
the details of all your products

a database of past issues

A good model for communicating with your general customer support team.
It's a good idea to create an online troubleshooting manual, or 'knowledge book' that can be updated when needed. It should include where these resources can be located, as well as any potential problems that might arise and suggestions for how to deal with them.
It would also include instructions on how to refer customers or colleagues to online FAQ pages, forums or video support if appropriate.
Provide the best systems
As the saying goes, a workman is only as good as his tools. And it's even more applicable in the digital age. Cloud computing has created a boom in online help desk tools that allow agents to respond to calls for help via phone, email, social media, chat and messaging without missing a beat.
This is fantastic for companies that outsource their tech support, as it makes it easier and more efficient than ever. But it also means there are a lot of products to wade through — Zendesk, Freshdesk, Slack, Salesforce, Zoho Desk and Live Agent just to name a few.
A company specializing in outsourced tech support will have top of the range customer service software set up and ready to go as part of your contract. Research the platforms to make sure they integrate smoothly with your current IT infrastructure, and get advice on how to upgrade if necessary.
Integrate the new team into your company
Whether they're part of your business' customer support or IT gurus for your other employees, your new outsourced tech support team will play an integral role in your company. And they will thrive on being included and feeling there's a sense of community in their workplace.
Starting with open communications when you've made the decision to outsource, include your current staff when setting your new team up. And send warm 'virtual introductions' via email or intranet once they're established.
Creating a culture of friendliness will:
lay the groundwork for a more productive relationship between teams

reduce the possibility for distrust or resentment at home

help offshore tech support officers identify with your mission and your brand.
If you outsource to the Philippines, this process will be easier thanks to the excellent English standard and cultural similarities of the people who live there.
Ideally, you'd appoint an onshore 'champion' for your outsourced tech support team who would be responsible for:
overseeing their training and ongoing support

integrating them into the broader team.
This is usually a manager with both personal experience in developing or maintaining IT systems and strong customer support skills.
Use the same onboarding programs you use with your local staff with your new team members, (tweaked to account for their situations).
Track progress and get feedback
Once your outsourced tech support team is up and running, track their performance to make sure your new arrangement is meeting your goals. Whatever software the team uses for their support jobs will automatically log calls and problem resolutions, so success rates and speed should be easy to compare.
You should check the figures at regular intervals. You should also survey local staff on their impressions and collate any customer feedback.
Conduct regular meetings with your tech support team in person (the airfares will be a fraction of what you'd pay to set a quality team up at home) to address any glitches, celebrate successes, and work together to streamline your outsource tech support operations.
And don't forget to follow up with your offshore team members to make sure they have what they need and to get their feedback on how things are going.
The bottom line
These suggestions will help you start your journey into tech support process outsourcing. But you should fine tune them to suit your circumstances.
Do your homework, lay your groundwork, and start reaping the rewards of outsourced technical support. If you're unsure which outsourcing location is best suited for your business, why not consider the Philippines? Read this blog to find out why the Philippines has become a top offshoring destination.