The numbers tell the story. In 2020, as a global pandemic changed the way we live, work and shop, worldwide sales attributed to eCommerce hit a peak of $4.28 trillion[i]. Now, within a relatively short few years, that number is expected to soar to $6.3 trillion by 2024. To reinforce the scale of that growth, remember that $1 trillion is one thousand times more than $1 billion – a number with as many zeroes as Jesus had apostles (that would be 12).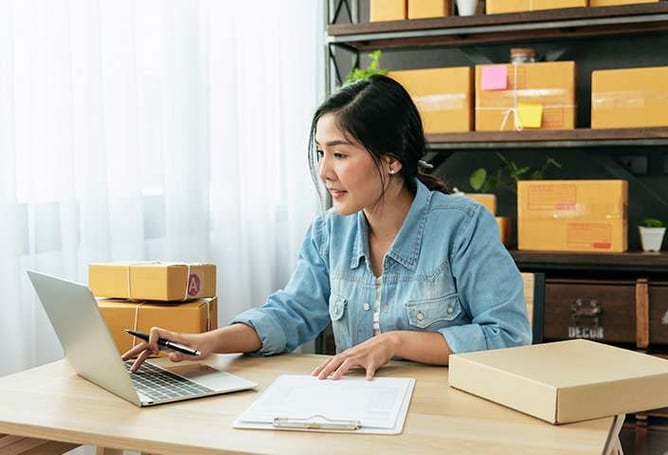 The rise of eCommerce is arguably the biggest retail story of the past decade, with more and more shoppers being won over by the convenience that comes from being able to purchase almost anything they want from anywhere as long as they have a credit card, an internet connection and a shipping address. Crucially, it has also opened a world of opportunity for entrepreneurs attracted to the ability to launch and operate successful businesses from the comfort of their homes or even their favorite coffee shops.
On the back of once unheard-of concepts such as eBay, social media and Click-and-Collect, the retail space is evolving faster than ever but one thing that will never change is the importance of quality customer service. While a friendly smile from a cashier may have once symbolized an organization's commitment to exceptional customer experience (CX), the modern eCommerce venture has a myriad of ways to both enhance and negate their reputations for going above and beyond.
Studies have shown the most important attributes people desire when shopping online include fast and reliable delivery (41%), good returns policies (31%), great site navigation (30%) and availability of online customer reviews (26%). It is all about giving shoppers the best experience possible and having an ironclad commitment to continually address their concerns.
It is one thing to want to deliver great CX. However, it is another to have the resources to do so, especially in an economic climate where budgets are getting tighter and recruitment pools are starting to dry up. Soaring inflation and global labor shortages are making it increasingly difficult for eCommerce ventures to source the right people for the right roles to ensure customers receive the level of service they deserve.
But all is not lost as there is an alternative option. It is called eCommerce customer service outsourcing and it is changing the game for online entrepreneurs, their staff and the people they serve.
What is outsourced eCommerce customer service?
Think of all the ways customers might choose to communicate with an eCommerce operation. From technical and marketing-related communications to product inquiries, general feedback and specific complaints, they have the option of using channels including email, social media, instant messaging, live chat and phone. Now imagine if all those customer service functions were managed by a third-party provider at a cost-effective rate.
This is the world of eCommerce customer service outsourcing, with expert providers using a blend of human agents and cutting-edge technology to save their clients' money, increase efficiencies, reduce in-house workloads and help create happier customers.
Why should you outsource eCommerce customer service?
While outsourcing can benefit countless business units and departments, there are many reasons to consider using it to enhance customer service.
How to outsource eCommerce customer service?
If outsourcing customer service sounds like it could be the answer to your eCommerce prayers, it is now time to explore a few handy hints for making it a reality.
Know what you want:

it is inevitable that some outsourcing providers will try to upsell you on what they can deliver so before starting your search for an offshore partner, take the time to reflect on exactly what you want. Is it a mix of outsourced and in-house staff? What role will automation play? What communication channels do you want to outsource? How quickly will you need to scale up and down depending on demand? And the most important question of all – what is your budget? Knowing the answers to these questions will make for a much more productive conversation.

Do your research:

as much as you will be paying for their services, the best outsourcing relationships are those based on a partnership and that means ensuring an offshore provider aligns with your customer service philosophies and principles. Seek case studies, performance data and definitive examples that showcase not only what they have achieved but how they did so. While not essential, it can be beneficial to work with organizations that have previously partnered with eCommerce operations similar to your own or at least in the same industry. Don't be afraid to ask difficult questions because when challenges arise, you want to know your outsourcing provider is ready to tackle them.

Work with tech leaders:

modern customer service is about great technology as much as great people. Today's consumers want an omnichannel experience where they can initiate enquiries and conversations on the platform or device of their choice and then seamlessly move between them as they desire. Look to work with outsourcing providers that have the expertise to develop and deploy digital solutions that provide customers with a consistent level of quality across various channels, be it voice, email or live chat. Likewise, they should have systems in place that easily track and monitor jobs and provide easy communication with in-house colleagues.

Seek security guarantees:

cloud technology means outsourcing providers can easily store and access customer data and information but it is essential you ensure there is no chance of such information being compromised by security concerns. There is no faster way to damage your brand's reputation than to suffer a data breach and quality providers will have strict security protocols such as password protection, user access limits and data encryption to prevent sensitive customer material from being compromised.
Summary
Running an eCommerce business is no walk in the park. Identifying a need or want and creating a product can often be the easy part, with factors such as web functionality, marketing, shipping and delivery often being the greater cause for concern. Rather than adding customer service to that list of potential headaches, it makes far greater sense to tap into the power of outsourcing and its ability to increase CX, inspire customer loyalty and drive growth for your business.
While people who enter a traditional brick-and-mortar store are typically met by friendly and knowledgeable staff, online shoppers are often left to click here and there before leaving without making a purchase. Discover how conversational AI is changing the game by allowing eCommerce chatbots to guide people towards products, services and, ultimately, the shopping cart.
Reference:
[i] https://firstsiteguide.com/how-many-websites