It is difficult to know which statistic is more jaw-dropping. On one hand, a recent analysis of the online world revealed there are almost two billion websites1 across the internet. On the other, a separate investigation has revealed 252,000 new websites are created every day2. Throw in the fact that more than 7 million apps are now available3 across iOS and Android platforms and it is clear the digital environment is busier than Times Square on New Year's Eve.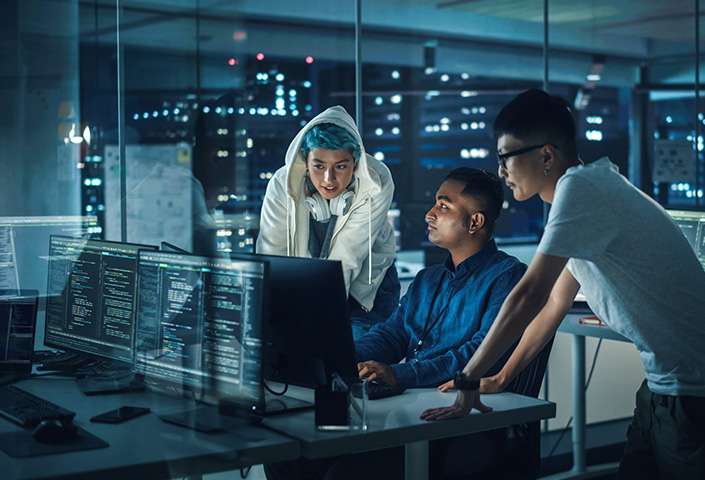 That means two things for businesses looking to enhance their web presence - standing out online has never been harder and selecting the right web development strategy has never been more important. Having a strong online presence is a must for modern organizations and that means tapping into the skills and creativity of an experienced web developer.
The only problem is finding one. A global shortage of talented web developers means many jobs are going unfilled and driving up the cost of labor for companies that are fortunate enough to recruit them. It has been reported that about 40 million technical jobs remain vacant due to a lack of skilled talent, while the U.S. Labor Department estimates the global shortage of software engineers may reach 85.2 million by 20304.
Amid such uncertainty, many businesses are turning to a proven resource for meeting their web development needs. Outsourcing has long been a cost-effective strategy for increasing efficiencies and driving business growth. Fortune 500 companies such as Apple and American Express5 are among the thousands of businesses that outsource web development and that is because they appreciate the enormous benefits that stem from doing so.
What is outsourcing web development?
Web development outsourcing sees businesses partner with external providers or contractors to manage all or various aspects of their online needs including website creation, launches, updates, migrations and redesigns. Quality outsourcing providers can provide entire teams or specific roles such as web developers, software developers or SEO specialists. Web development particularly lends itself to offshore support as it can be done remotely, thus avoiding the need for staff to be in the same physical space as their in-house colleagues.
What are the benefits of outsourcing web development?
While reducing costs is undoubtedly one of the main reasons to outsource web development, there are many other factors that make it an appealing option for large and small businesses.
Access to talent: at a time when labor shortages are making it increasingly difficult and expensive to recruit in-house web developers, it is reassuring to know quality offshore providers are investing in assembling extensive talent pools. Being able to recruit globally increases the chance of finding staff with the specific skills and attributes needed and at a competitive price. Outsourcing destinations such as the Philippines are home to well-educated and highly passionate web developers who are up to date with all the latest online trends, technologies and techniques.
Seamless scaling: many organizations find their web development needs are fluid, with the need to develop, deploy or update websites, apps or other online tools ever evolving. Rather than building a team that may not be needed in a few months, savvy businesses prefer the flexibility that comes with outsourcing web projects on a case-by-case basis. Partnering with an outsourcing provider allows them to scale their web development support up or down without the logistical and financial headaches associated with recruiting – and letting go - in-house employees.
24/7 support: websites and apps need to be open for business around the clock, with customers more than happy to look elsewhere if they cannot access what they want when they want. Using an outsourcing provider in a different time zone is a great way to increase a team's capacity to deliver support 24 hours a day, seven days a week, especially when their country's normal business hours complement those of the in-house team.
Quick to deploy: the online environment is all about speed and there are few things more annoying for a business than being forced to delay a website launch or update due to a lack of developers. Outsourcing web development allows companies to access highly skilled talent much faster than via a traditional recruitment process, meaning a quicker resolution for projects to be implemented, bugs to be fixed and websites to be improved.
Reduced costs: no story about outsourcing is complete without highlighting the significant financial benefits on offer. With first-rate web developers in high demand, they are currently able to demand top rates and then there are the extra costs associated with recruitment, onboarding and training. Alternatively, outsourcing web development allows businesses to make a positive investment in nations where the lower cost of living means lower wages. For example, organizations that partner with outsourcing providers in the Philippines often save up to 70% on labor costs.
How to outsource web development
Making the decision to outsource web development is relatively simple. Choosing the right offshore partner requires a little more work.
Define your goals: having a clear vision of what one wants to achieve is crucial to realizing a great result. Write down every detail of what you want to achieve with your online project to ensure you have a definitive goal and can easily communicate it with an outsourcing provider. What style of website do you want? Who is your target audience? What analytics and data do you need to access? Taking the time to do this can save a lot of money and headaches later.
Outline a timeframe and budget: if time is money and money matters, this is one step you do not want to skip. Before approaching an offshore provider, ensure you have crunched the numbers and know how much you are willing to spend on a web development project. While you need to be open to negotiating, it is essential to have a realistic budget in mind. Likewise, having a general estimate of when the work needs to be delivered will allow you to identify potential providers.
Do your homework: there are thousands of outsourcing providers operating in the web development field, which can be both a blessing and a curse. The good news is there are many that deliver exceptional service. The not-so-good news is the temptation to be overwhelmed and sign on with the first one that comes your way. Make the effort to research their experience, technical capabilities and internal processes. Reviews and testimonials can also provide great insights, while an excellent tip is to look for providers that have completed web projects in your field (eg: medical, retail).
Summary
Partnering with a quality outsourcing provider can be game-changing for an organization's online presence. At a time of economic uncertainty, rising wages and labor shortages, it is allowing businesses to not only deliver the websites, apps and online projects they need sooner but, also save valuable time and resources that can be allocated to other areas.
Technologies such as artificial intelligence (AI) have shown great potential to improve customer experience and engagement. Learn how AI is impacting different business sectors, what the future of work looks like and how your business can embrace AI to enhance operations.
Reference:
1 https://firstsiteguide.com/how-many-websites
2 https://siteefy.com/how-many-websites-are-there
3 https://www.businessofapps.com/data/app-statistics/
4 https://codesubmit.io/blog/shortage-of-developers/
5 http://www.uplers.com/blog/web-development-outsourcing-problems-solutions/