Google has long been considered a company that cares about its people. A perennial name on annual 'Best Companies To Work For' lists, the global behemoth has earned a reputation for its strong corporate culture, with employees enamoured by the flexibility they are afforded, the creative freedom they are gifted and the fact a vast majority of them believe the work they are doing is making the world a better place. According to Forbes Technology Council member Frank Palermo, you've also got to love a company that encourages you to bring your dog to work.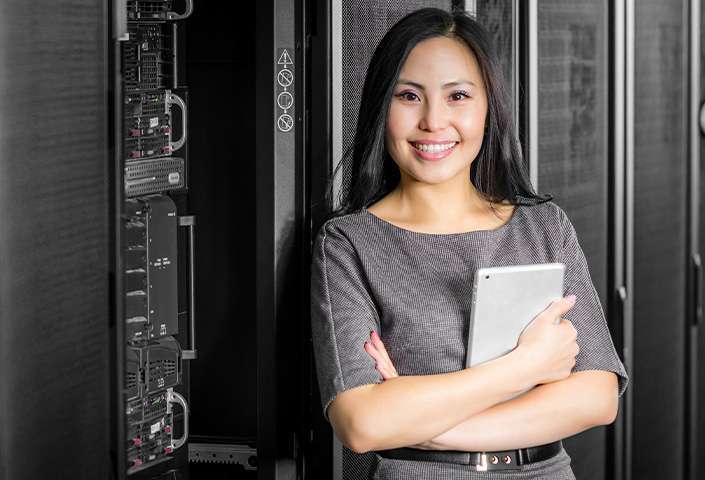 "In the employee code of conduct, Google has written an entire section on dogs," he wrote in 2018. "Any company focused on the finer details that blur the distinction between the home and work environments is bound to get high marks on culture."
Amid all the back-slapping and praise for its in-house culture though, it's easy for people to forget Google is also a huge fan of outsourcing.
While the tech giant employs tens of thousands of in-house staff across the world, many of them at its Googleplex headquarters in Mountain View, California, it has increasingly turned to outsourced workers to help maintain its status as one of the world's most innovative and profitable companies. From virtual assistants and email support to IT specialists and web developers, Google has an array of valuable partnerships with IT outsourcing companies whose highly qualified and committed staff play a vital role on the various projects it is continuously deploying.
It's all about working smarter in a competitive world and while Google may have a more famous name than many organisations, they all have the same ultimate goal - to do the best they can with the resources they have. That is especially the case when it comes to technology and if one of the world's biggest tech companies can see the upside in outsourcing its IT needs, it seems obvious others should consider following suit.
What is IT outsourcing?
At its most basic, IT outsourcing is the practice of using external resources to undertake some or all of the information technology functions required by a business. Rather than using in-house employees to tackle such tasks, it's a case of identifying the right people outside one's own four walls to deliver the goods, be it infrastructure, software development, maintenance or running service desks. While onshore (same country) and nearshore (nearby countries) outsourcing are options, most people tend to associate outsourcing with offshoring and the opportunity to look further afield for the highly skilled workers who can offer the biggest economic benefits.
And while there is no doubt money plays a role in any outsourcing decision – it is a business decision after all - it would be a mistake to only look at IT outsourcing through a financial lens. As we will outline later, there are many reasons organisations choose to establish an outsourced workforce. Indeed, research from IBM has revealed only 27% of companies outsource to cut costs, while 36% are innovators and 37% are growth-seekers who use the practice as a tool to optimise their businesses.
Frequently outsourced IT functions
One only has to look at the number of IT functions that are frequently outsourced to appreciate the various ways companies are broadening their resource horizons by looking outward rather inward.
Hardware, systems and network support
These are the people companies turn to for IT support. As valued professionals, they design, build and maintain data communication systems and provide hardware and telephony assistance. Need help resetting your password? Look no further. Along with keeping the network healthy, they also streamline the system with tech fixes. Key roles include IT Systems Manager, Software Developer, IT Network Administrator, Desktop Support Specialist, IT Helpdesk Specialist, IT Support Specialist, Technical Support Engineer, Technical Support Specialist and Web Developer.
Database administration
British mathematician Clive Humby's 2006 statement that 'data is the new oil' looks more prophetic by the day, with even The Economist magazine declaring in recent years that data is the world's most valuable resource. Given its importance, database administration teams play a crucial role in storing and organising data for companies, especially those that have a large database of customer information. Along with ensuring compliance with privacy requirements, they keep things running smoothly for organisations dealing in bulk with their customer base. Key roles include Database Support Specialist, Database Support Manager and Database Administrator.
Software development and support
IT is nothing without specialists who can create the magic in the first place. These are the experts who talk in languages such as Java, PHP, Python and VB.NET to build, design and maintain software systems and applications. Whether it's streamlining, improving or driving innovation, they write the code, test it for smooth integration, fix any bugs and maintain it to ensure it remains trouble-free. Key roles include Application Developer, Applications Engineer, Programmer, Java Developer, Software Developer, Software Engineer, .NET Developer, Quality Assurance Analyst, Systems Software Engineer and Lead Software Developer.
Web development and support
If businesses are looking to keep their online presence operating smoothly and professionally, this is the team to talk to. This team creates, designs and maintains websites, portals and eCommerce platforms, with key roles including Front End Developer, Back End Developer, Web Administrator, Web Developer, Webmaster, Web Support Specialist and Lead Web Developer.
Information security
No need for a lengthy explanation here – these are the data bodyguards, pure and simple. They protect computers, networks and data centres against security breaches, viruses or attacks by cyber-criminals and, just like fire insurance, they are never more highly valued than when they are needed. Key roles include Information Security Analyst/Specialist, IT Security Specialist and Information Security Manager.
Benefits of outsourcing IT support
One of the great myths about outsourcing is it's all about reducing costs. For some, the concept of assigning tasks to people in countries that offer better economic value can only be about boosting profits but little do they realise outsourcing is a strategic decision to use better resources and ensure business efficiencies. Deloitte Consulting was on the money in 2005 when it predicted that companies would eventually stop outsourcing for the sake of cost-savings and instead incorporate the concept into their business development plans. That day has come to pass, with the benefits of outsourcing many and varied.
Cost savings
Yes, we know we've just highlighted that outsourcing is not all about saving money but there is no doubt outsourcing makes great financial sense. Outsourcing an IT team to a country such as the Philippines can immediately offer savings of up to 70% on wages due to the huge disparity with IT salaries in countries like the U.S. and Australia. Lower labor costs, cheaper infrastructure and advantageous tax systems combine to create an attractive option for companies wanting to assemble a skilled and committed IT team without breaking their budget.
Scalability
If the past year or so has taught the business world anything it is the importance of being able to scale operations as the times dictate. The COVID-19 pandemic has created uncertainty for multiple industries across the globe and the ability for managers to grow or downsize their teams quickly has never been more of a blessing. An outsourced workforce allows them to do just that and not just in unprecedented economic times but also to suit busy and quieter periods.
Access to talent
With IT teams typically one of the fastest-developing units of a business, the battle to recruit home-grown talent has never been more fierce. Stories abound of skills shortages on domestic shores, with an obvious flow-on being increased wages for those in demand. No wonder executives are increasingly being drawn to outsourcing hotspots such as the Philippines, which has about 71,000 IT specialists already in the workforce.
Business development
IT is a complex and ever-evolving field but it's also a reality that some crucial roles within a successful team require repetitive, step-by-step actions. Outsourcing roles such as Technical and Desktop Support Specialists allows onshore staff the chance to grow the business by dedicating more time to higher-value work, which in turn has been shown to boost employee satisfaction through the removal of tedious and time-consuming technical support tasks.
Flexibility
The very nature of technology means 24/7 support is increasingly essential and that's one area where IT outsourcing services truly shine. Providing around-the-clock service comes with the territory for outsourced IT teams and the fact they can offer that support at economical rates is an added bonus for executives committed to delivering improved customer service experiences and maintaining high standards of security.
Recruitment and training
One of the hidden joys of outsourcing IT teams is companies also get to outsource the business of managing the team. Be it the interviewing process, onboarding or ongoing training, it is the IT outsourcing company that commits the many hours that go into assembling and overseeing a successful team. As trained professionals who work in the field every day, they also have a rare skill for identifying the best IT talent for their clients.
Improved quality
While some businesses shy away from outsourcing due to concerns about a potential impact on quality, little do they realise they risk missing out on an opportunity to tap into hotbeds of IT talent such as the Philippines. Hard-working, highly skilled and well trained are just some of the words attributed to the growing number of emerging and experienced IT candidates working with onshore organisations, with their clients having also reported associated rises in accuracy and quality.
Frequently outsourced roles
No role is too big or small for an outsourced IT team. While the industry was once known for assembling call centres and providing basic administration support, these days IT outsourcing companies are able to access talented, motivated and highly qualified staff who can troubleshoot, diagnose and program with the best of their in-house colleagues. Better still, modern technology and communication tools have mitigated any issues related to geographic boundaries.
IT Systems Manager
Performs all the necessary maintenance, support, design and modifications to keep networks, software and other virtual environment infrastructures functional and up to date. They communicate and delegate tasks to IT developers and provide detailed plans to accomplish goals.
Creates software on their own or with others, usually managing the project or handling the main tasks. While a programmer generally only writes code, software developers typically work out the requirements to use the software, develop prototypes and work on budgets and finances.
Database Administrator
The information technician responsible for directing or performing all activities related to maintaining a successful database environment and ensuring the database and its related applications operate functionally and efficiently.
Programmer
An individual who writes or creates computer software or applications by giving the computer specific programming instructions. Most programmers have a broad computing and coding background across multiple programming languages and platforms including PHP, HTML and Java.
A programmer who codes and creates the visual front-end elements of a software, application or website – that is everything the users see on their end.
Back End Developer
A programmer who creates the logical back-end and core computational logic of a website, software or information system – that is what happens behind the scenes.
Provides general assistance to businesses or consumers that are experiencing technical, hardware or software issues such as slow performance, connection problems or inability to access data. Most of this support is provided over the phone or via email.
Highly skilled in fixing specific technical problems including network configuration and account setup. Along with possessing excellent analytical and problem-solving skills, they have a reputation for working calmly under pressure.
Helpdesk Specialist
Generally an entry point for clients or customers seeking incident resolution and service requests. They ensure all queries or issues are captured, validated and triaged for further processing.
Information Security Manager
Responsible for protecting an organisation's computers, networks and data against threats such as security breaches, viruses or attacks by cybercriminals. Depending on the size of the company, they may be small teams or responsible for managing a number of Information Security experts.
There is a reason the outsourced IT support industry continues to grow at an exponential rate – it delivers. For further proof of that, download this case study to discover how a high-tech IT startup used outsourcing to aggressively expand its operations and produce more than 10 times the output.