There are over a billion company websites. Having a website that helps your business stand out is one way to get a head start. This makes building a strong online presence more important than ever. The first step to establishing an appealing and engaging website to raise brand awareness and drive customer traffic to your business is to hire an experienced and qualified web developer.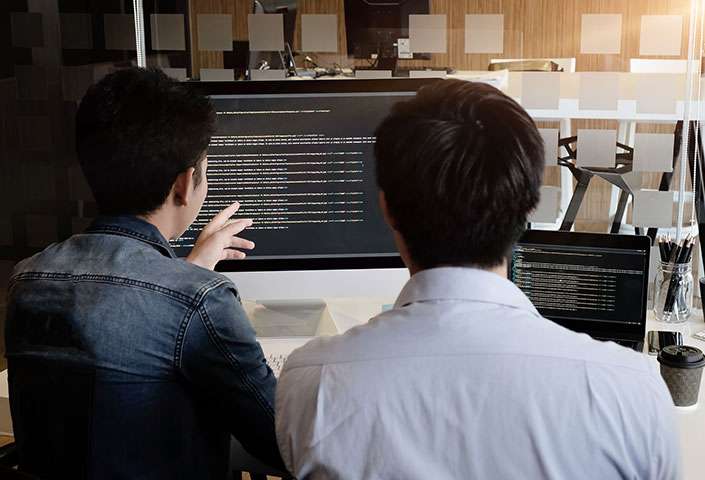 However, this realization of creating attractive websites and optimising user and client experiences to harness the 'power of the internet' and its effects on consumers is general knowledge. As a result, there is a high demand and global shortage for quality web developers, subsequently increasing labor costs. More specifically, an increase in the price of locally-sourced labor. Thanks to outsourcing, businesses can meet their web development needs because of the cost-attractive solution of a global talent pool.
This blog will help you understand what outsourcing web development means, how to achieve it and how it can help businesses.
The web development market today
The pandemic has done little to stifle the rapidly growing web development industry. In fact, as a result of eCommerce markets exploding, the demand for web developers has increased. With businesses making the transition to online operations, the reliance on digitization and online tools has also risen to support remote operations. Web developers play a crucial role in allowing these businesses to adapt to this new "socially distant" standard.
The U.S. Bureau of Labor Statistics anticipates that the employment of digital designers and web developers will grow by 8% between 2019 and 2029. Australia showcases similar results historically, with the number of web developers in Australia growing from 7,100 in 2011 to 8,600 in 2016. These figures say it all; web development has become one of the most in-demand jobs globally, yet, businesses continue to struggle to find quality web developers.
What is web development outsourcing?
Web developers build, create and customize online stores, news portals, blogs, informational websites and gaming sites. They are responsible for maintaining social media platforms, developing content management systems and even mobile applications.
Web development outsourcing involves a business engaging a third party outsourcing provider to complete web development functions outside of the business. This third party can be located anywhere, overseas or even down the road from where the business is located.
As web development focuses on creating, editing and monitoring websites, it is well suited to the remote working nature of outsourcing, like most other IT roles. In fact, IT outsourcing is so common that the annual global revenue from it was around $US 66.5 billion back in 2019.
Why outsource web development services?
Reducing costs is just one of the many reasons why businesses consider outsourcing their web development services. From streamlining business operations to enabling access to performance capabilities, outsourcing opens up businesses to benefits that were otherwise previously not available internally.
Having onshore teams focus on core business tasks, increasing the scalability of their business and accessing varied skill sets are just some of the other reasons businesses embrace web development outsourcing.
Here is more on the benefits to outsourcing web development services.
Reduce costs

The increased demand for top-quality web developers translates to higher employment costs. Not to mention the added costs for recruitment, onboarding, software and hardware required to employ a web developer. In-house web development teams also benefit from continuous improvement and training to ensure they are up-to-date with industry developments - another added expense.

In comparison, an outsourced web development team means hiring an outsourced employee that is top-notch, qualified and ready to go, all while saving your business up to 70% on employment costs.

Expanded talent pool access

Outsourcing means your business now has access to a much larger talent pool than if you were considering hiring locally. You can source your web development team from anywhere in the world. This, in turn, increases the chances of finding the right web developers with the right skill sets, qualifications and experience for your business.

Development time decreased

Hiring an experienced web development team, with the right skills for the job means project deadlines and stakeholder expectations will be met. A dedicated outsourced web development team means they are fully committed to your projects and business needs, meaning they can get the job done more efficiently.

Round the clock support

Should your business require it, you can hire outsourced web development teams to be available 24/7. Outsourced teams are able to meet your business needs, and with some located in different time zones, your business will be able to operate and be contactable outside of usual business hours.

Increased scalability and flexibility

Outsourcing means added flexibility to meet deadlines and project requirements. Suppose you need a web developer for the initial website build phase but require a database administrator post-completion. In that case, outsourcing can allow you to freely adjust your web development team needs depending on the skills required.

Improved security

Having to share confidential company or customer data can be a concern for businesses considering outsourcing. However, with the right outsourcing provider, you might find that data security is actually much higher than onshore.

Popular offshoring destinations like the Philippines provide businesses with easily accessible services matched by first-class security protocols and infrastructure. Top-tier outsourcing providers are able to offer high-level cyber security management and data security software to ensure client confidentiality is a priority.

In comparison, hiring a team of freelancers or staff who work remotely can increase data security risks and can be hard to manage due to the lack of operating space control and what systems or hardware they use.
Which web development roles can be outsourced?
Almost all web development-based roles can be outsourced as the majority of the tasks are online-based. You can outsource one or all of these roles to free up your onshore web development teams' time to focus on higher value tasks.
Web development roles that can be easily outsourced include:
.Net developers

: NET developers are responsible for creating, developing and implementing software applications for an organisation's project and internal requirements. They also look after system analysis and develop appropriate system responses to troubleshoot and fix issues.

Database administrator

: Responsible for the overall maintenance and control of a business's database management systems (DMS), they design, develop and plan DMS to meet user requirements.

Java developers

: They design, implement and manage Java-based programs and applications by collaborating with web development teams to incorporate Java into business software and websites.

PHP developers

: PHP developers are similar to software developers in the way they design software and write server-side web application logic specific to the PHP programming language.

Web designers

: Web designers to just that; design the usability, visual appearance and layout of a website. They can be responsible for elements from graphic design through to user interface (UI) design.
: They develop websites and web applications and, put simply, are software developers who specialize in web-based content development.

WordPress developers

: WordPress developers look after the front-end and back-end development of WordPress. They handle everything from the creation of custom plugins to modules for the system as required.

How to choose the right outsourcing provider
It's important to define and understand what you want to achieve for your web development projects. From that, create job descriptions that support the overall business and technical objectives of the project. Then, decide on a budget and compile a list of questions to ask prospective outsourcing providers.
When comparing providers, keep an eye out for information about their web development talent's experience, tech qualifications and previous client reviews. Ask them what internal software development processes they have in place, such as quality assurance, bug fixing procedures, request code and design samples.
If you establish a solid line of communication between your outsourcing team and your onshore business, then you are one step closer to making your outsourcing journey a success. That is why it is important to ensure your outsourcing provider can offer that streamline of communication. Ask about the expected frequency of communication, their response times and how easy those teams will be to contact.
Another key tip is finding an outsourcing partner who meets or understands your business's values, ethics and culture. The better aligned, the easier it will be to integrate your new outsourced web development team with your in-house team.
Interested in learning more about choosing the right outsourcing provider for your web development team? Download our free eBook, 'Everything you need to know about offshoring part 2'.