Recruitment can be a tricky business in any industry but there are several factors that make life particularly challenging for managers and HR leaders in construction and engineering services. For starters, a significant amount of the work they deliver is project-based so their workloads – and, in turn, their workforces - are constantly evolving. From the number of staff needed to the skill sets required, it is rarely a case of one size fits all.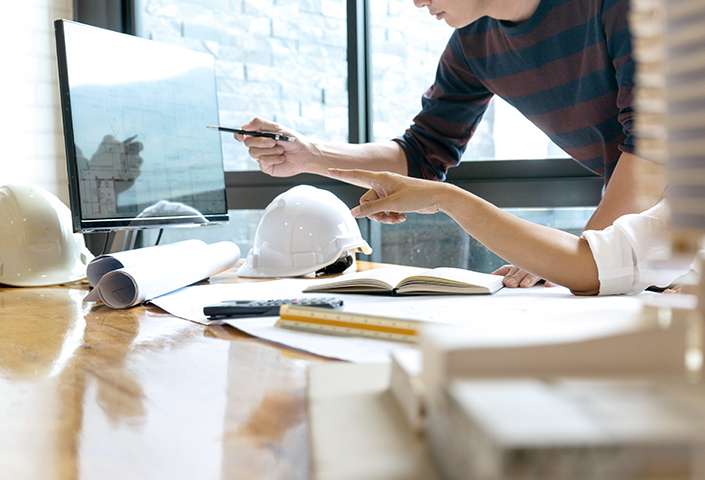 Then there is the added complexity of being awarded tenders. While companies in other sectors often have the luxury of consistent work, many construction and engineering ventures bid for projects and when they win, they need to immediately scale their teams to meet their new workloads. Then, once a project has been completed, staff numbers need to be reduced as quickly, efficiently and cost-effectively as possible.
It is also no secret the sector is facing a significant workforce shortage. On the back of an aging population, lack of training programs and low take-up among younger generations, one study has found the United States construction industry faces a shortfall of 560,000 workers in 20231.
Needless to say, such factors are combining to create a sizable headache for construction and engineering managers but fortunately, help is at hand in the form of outsourcing.
What is outsourcing?
Outsourcing is the practice of partnering with a third party that recruits and manages staff to perform tasks, handle operations or provide services on an organization's behalf. Various outsourcing models exist but one of the most popular is offshoring, which sees individual staff or entire teams create an extension of one's business in another country.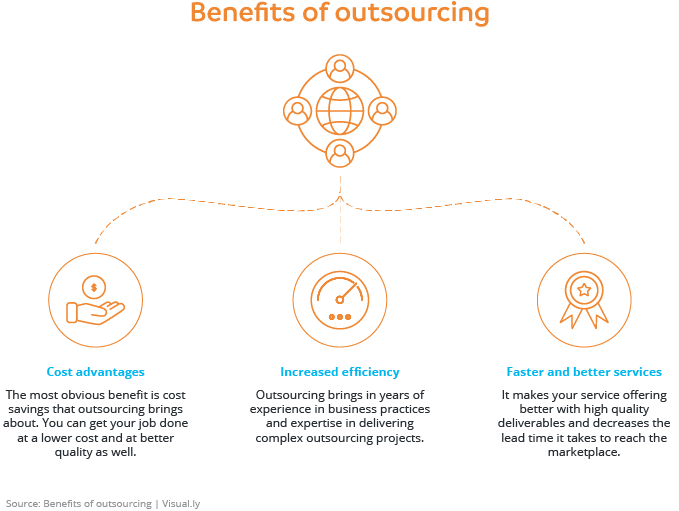 What are the benefits of outsourcing in construction and engineering services?
Reduced costs: in an industry where profit margins can be extremely tight, outsourcing provides construction and engineering businesses with a golden opportunity to ease pressure on their budgets. Studies have found 59% of companies outsource to cut costs2, with the lower cost of living in offshoring hot spots allowing them to access highly skilled talent at labor savings of up to 70%. There is also the chance to avoid costs associated with infrastructure such as office, equipment and technology.
Scalability: as previously mentioned, the construction and engineering industry is built around project demands that require different resources at different times. Outsourcing allows organizations to seamlessly scale staff numbers up or down depending on those demands, avoiding the financial and logistical challenges that come with recruiting and retaining permanent employees. It is also great to be able to complement onshore team members with offshore support when facing a tight deadline.
Access to specialists: sometimes a project can benefit from a specific skill set that simply is not required on an ongoing basis. When such moments arise, there is no better feeling for construction and engineering managers than to utilize outsourced expertise on a short-term basis rather than be forced to invest in a full-time team member. Not only do offshore providers have access to highly skilled, experienced talent, they can provide them at much lower costs than the onshore alternative.
Technological support: outsourcing does not just provide construction and engineering companies with access to talent but the solutions and tools they use. With many projects requiring technology that may not be available in-house (e.g. 3D animation), a smart option is to avoid paying big dollars for items that may only be used a handful of times and instead partner with an offshore provider that can provide both the talent and tech one needs.
24/7 support: when aiming to meet a tight deadline or exceed a client's expectations, there are few better feelings than knowing your team is working around the clock. The very nature of offshoring means staff are typically located across multiple time zones, which is a valuable resource that leads to faster turnaround times and completion dates.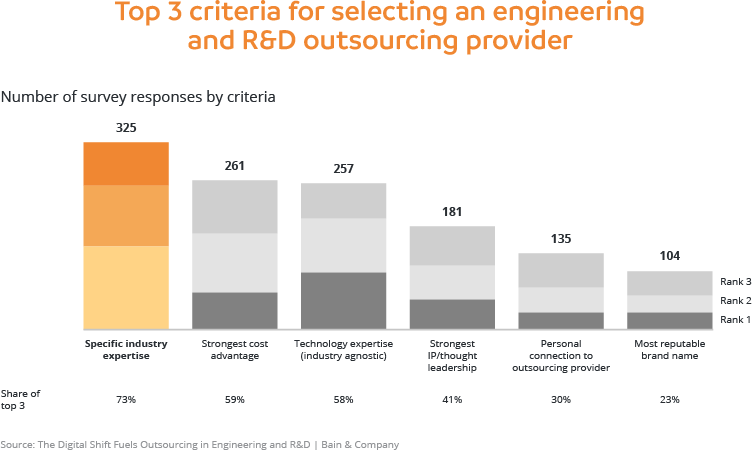 How do you know if outsourcing construction and engineering services is right for you?
Outsourcing is a proven resourcing strategy but, as every construction and engineering manager knows, due diligence is imperative when making any business decision. Here are several signs that it makes sense to outsource.
A project requires non-core skills: while a firm may be an expert in its own field, complex projects often need specialist staff to manage work that falls outside its non-core focus. Outsourcing provides access to those unique skill sets more quickly and cost-effectively than undertaking a traditional recruitment campaign.
Budgets need to be managed: growing a team to meet project deliverables is not a cheap exercise, with a significant capital investment typically needed even before the real work begins. Recruitment, onboarding, securing office space – it all costs money, which is why many construction and engineering firms relish the savings that come when such costs are absorbed by offshore providers.
A project is at risk of falling over: it happens. You commit to a project, and do your best to deliver but one day realize your existing team simply cannot meet the deadline. Outsourcing is one of the most efficient and cost-effective ways to scale quickly, with quality providers having helped spare many construction and engineering firms from corporate blushes.
It makes sense to outsource: anyone who has been involved in a construction or engineering project knows just how complex they are. That said, there are always tasks that are relatively simple, repetitive or simply need to be checked off. Outsourcing such activities to an offshore provider means in-house staff can focus on more valuable work.
What construction and engineering services roles can be outsourced?
At a time when the construction and engineering industry is battling significant labor shortages3, offshoring is providing companies with much-needed access to global talent pools across a huge variety of roles including:
A commonality of the above roles is the fact they all perform tasks that, due to technological advances in recent years, can be delivered remotely. For example, a site estimator has the ability to analyze overhead, building and manufacturing costs via the cloud before preparing estimates and budgets using software such as Excel. Meanwhile, CAD operators
Due to technological advances in recent years, the above roles all consist of tasks that can be achieved remotely. For example, a site estimator would prepare estimates and budgets regarding the overhead, building, and manufacturing costs of projects on programs or software like Excel. CAD operators use computer drafting systems to revise and draw the layout of exterior and interior models and so on.
Why outsource construction and engineering roles to the Philippines?
Offshoring is clearly an attractive option for construction and engineering companies wanting to reduce costs, improve efficiencies and increasingly focus on core tasks but a word of warning – not all countries are equally suitable. There are many factors that need to be considered when choosing an offshoring destination and the Philippines has earned a reputation for ticking all the boxes.
Industry expertise: the Philippines produces more than 50,000 engineering graduates each year4 and that is unlikely to change any time soon given a recent Google study revealed it is the country's most searched college degree5. That is good news for construction and engineering firms that want access to a ready-made workforce for completing both complex and entry-level tasks.
Tools and systems: the rise of 3D modeling and online drafting tools has created a global language where educated Filipinos are able to tackle drafting, designing and estimating services from offshore hubs or home offices for a fraction of the cost of onshore colleagues.
Communication: English is an official language of the Philippines, which makes onboarding team members, and discussing project specifications and industry terminology a seamless process. The nation's workers are also renowned as hard workers, which is crucial in a sector where meeting project deadlines and timelines is crucial.
Government support: in a country where more than 1.3 million people work in the outsourcing sector and the industry contributes nearly $30 billion to the economy each year6, it is no surprise the government actively invests in infrastructure and technology to support its success. Such backing is another confidence booster for construction and engineering firms looking to the nation's outsourcing providers.
Summary
In many ways, this is just the beginning for outsourcing in the construction and engineering sector. As technologies improve and competition grows, handing specific tasks or entire portions of a large project to a quality offshore partner will become even more common for the simplest of reasons – it makes good business sense. Define what roles can be outsourced, identify the outsourcing partner that works best for you and unlock the short- and long-term benefits that are on offer.
Still on the fence about whether offshoring is right for your business? Find the facts and figures you are looking for in our ultimate list of outsourcing statistics.