Outsourcing is nothing new in the insurance industry. In fact, insurance has led the way in many respects, adopting outsourcing to address a wide variety of business tasks and processes over the past 20 years or more. And the reality is that the industry is facing some rough times ahead.
No matter where in the world you operate, everyone in the insurance business is painfully aware that the industry's profits plummeted between mid-2019 and mid-2020. According to KPMG Australia, insurance profits in that country dropped by 48.3%.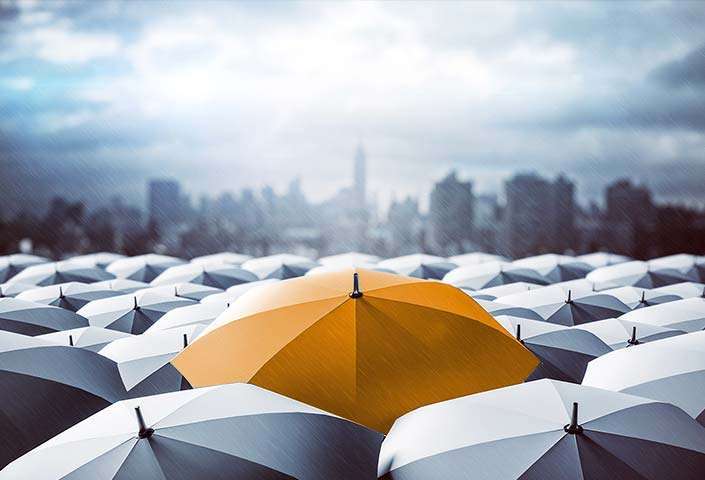 But it's not all bad news. There are options available to insurance businesses to address the changing economic environment, safeguard the bank balance and build efficiencies and internal capability to better weather the storm. One option is business process outsourcing.
Mordor Intelligence projects providers of outsourced insurance processes will see an average CAGR of 5.4% between 2020 and 2025. This reflects the steadily increasing global shift to outsourcing throughout the insurance industry.
The stakes have never been higher
Insurance organizations need every advantage they can get to make a successful comeback and move into what Deloitte calls the thrive stage. "By leveraging the potential of business process outsourcing (BPO)," says Mordor, "insurance companies have drastically minimized operating expenditures along with streamlining back-office operations."
With that in mind, here is what you need to know now, in 2021, about outsourcing for insurance companies.
Where things stand: a snapshot
KPMG Australia identified major trends affecting the Australian insurance industry, among them:
Simplification and cost optimization
Changing customer expectations
Technology modernization
Competition between traditional and digitally-based insurtech companies
Regulatory and compliance transformation.
In the U.S./North America, Deloitte's 2021 Insurance Industry Outlook reveals top concerns to be:
Technology
Underwriting
Expense management
Claims
Compliance
Talent.
Aside from some minor regional differences, these lists illustrate the similarity of key challenges experienced by the insurance industry globally.
The COVID-19 pandemic has thrown a few curve balls at the insurance industry and called into question traditional assumptions about operational best practice. The industry hasn't escaped the impacts of the pandemic and individual businesses have had to demonstrate agility when it comes to adapting to the changing landscape. One example of this has been to enable digital transformation from within to cater for remote workers and introduce cloud based systems and paperless workplaces.
The silver lining? Businesses have to undergo these changes to survive in the modern world anyway and it sets them up to take advantage of a global talent pool and the benefits of outsourcing non-core work.
What you need to know: you can outsource almost everything
In simple terms, outsourcing best-practice is to keep your core business in house to free up your local team's time so they can focus on what they are good at, while outsourcing the non-core tasks to an expert provider who can assist you to build efficiencies; which will ultimately improve customer experience and your bottom line.
Common tasks typically outsourced by insurance companies include:
Accountants and bookkeepers
Accounts payable and receivable
Payroll
Claims processing and analysis
Insurance agents and brokers
Underwriting
Policy management
Full range of IT positions from systems design to data entry and management.
Outsourcing providers can supply highly qualified, English speaking and experienced staff for the full range of support positions commonly required by insurance agencies.
What you need to know: insurance outsourcing can certainly save money
Deloitte reports that 61% of respondents to their 2021 Insurance Outlook survey plan to cut costs by 11% - 20% over the next 12-18 months. Asia-Pacific insurance firms, especially in Australia and Japan, plan deeper cuts (more than 20%) compared to most of their counterparts in Europe and North America.
Because outsourcing can reduce operational costs, it offers companies a chance to do more with their budgets.
Technology savings
Legacy systems are increasingly expensive to maintain. As they age, they no longer support cutting-edge upgrades or integration. They promote siloed processes and data that frustrate customers and can sometimes result in sluggish decision-making. Outsourcing can put the latest tech tools at your fingertips; in turn, eliminating capital costs for infrastructure upgrades or replacement as well as the cost ongoing maintenance.
Skilled IT personnel are in short supply, and wages are high, especially in the US. Outsourcing to an offshore location such as the Philippines puts highly-qualified tech talent in your team at a fraction of the cost – as much as 70% less.
Overhead savings
Facilities management expenses can be quite high for insurance companies with large numbers of employees located in headquarters and satellite offices. Businesses across all industries are now reassessing the office itself – the need to reallocate space to accommodate social distancing and the question of how to do this cost-effectively.
Outsourcing can support cost-saving decisions to close offices or dramatically reduce physical space while maintaining and improving operations and customer experience. Outsourced teams function just like remote-working direct employees, and the two can easily be integrated.
What you need to know: insurance outsourcing opens doors
Outsourcing offshore allows you to grow and scale your business in ways that simply would not have been otherwise possible. By building an outsourced team in a country like the Philippines you benefit from doing business in a low cost economy. This means your outsourced staff have very different living costs to your local staff and therefore have lower salaries. Which results in opportunities to test and trial new initiatives to improve customer service and experience, find and act on efficiency gains e.g. improved financial management and revenue collection, and also enable your business to test and trial innovative ideas and new projects without worrying as much about the financial implications.
Greater flexibility
Outsourcing is scalable and completely customizable. The right outsourcing providers specialize in fast recruitment and management of new staff. Therefore, you can build outsourcing into a long-term business strategy to improve agility; quickly ramping up or down to handle unusual or unforeseen circumstances seamlessly.
For example, a wildly successful marketing promotion generates overwhelming sales interest. No prospect is overlooked. Or a natural disaster strikes, initiating a deluge of claims. Worried customers are calmed by your quick response. Outsourcing can provide businesses with the capability to resource quickly to meet business needs.
Technology
Partnering with a specialist outsourcing provider can not only assist your business in recruiting, managing and retaining highly skilled offshore staff. The right partner can give you advice on the latest technology and trends in the insurance industry. They will have insights available to them that you may not. When it comes to identifying the nexus between people, process and technology then outsourcing providers are on the cusp as they see this everyday and are always working closely with clients to implement world's best practice tech and systems. Whether it is understanding the best CRMs and marketing platforms for your business, how to best monitor your team's productivity, or what voice systems will ensure the best call quality, your outsourcing provider will have recommendations that you should ask for.
Talent
The deeper the talent pool, the more successful you can be in pulling together exceptional teams. Especially in the US, there simply aren't enough top-tier candidates available to fill certain positions. Outsourcing providers have the contacts and candidates you want because they can draw from a far larger, global pool – talent that is digital-savvy, well-trained, experienced and reliable. That includes specialists in the most complex aspects of insurance such as regulation and compliance.
Outsourcing also eliminates tremendous time and expense usually devoted to hiring, onboarding and training. Providers handle all the recruitment steps to secure the best talent for your team, based on your criteria and expectations. Providers look after payroll, office space, desks, computers, industrial relations requirements, employment contracts, performance monitoring and most other things your team needs to be successful and productive.
Companies are reassessing the workplace, having now learned from the pandemic that remote work is far more doable than they believed. Many are reassessing compensation and related costs as well. Outsourcing presents an attractive option to address the multi-discipline talent shortage and significantly reduce both HR and payroll costs.
Customer experience
This is the bottom line, because insurance organizations cannot survive without both new and repeat customers. The insurance industry is so competitive that customers commonly change providers based on cost and service standards. Outsourcing can:
Speed up customer-facing processes such as underwriting and claims
Boost personalized service by gathering deeper actionable data about customers
Reduce costs.
Better business outcomes
Outsourcing frees up human and other resources so they can be directed toward what matters most:
Sharpening focus on product development and delivery
Boosting speed to market, to bring new revenue streams online sooner
Renewing emphasis on building customer relationships and lifetime value.
In their 2021 Insurance Outlook, Deloitte concludes, "Finance leaders continue to reevaluate processes and investments to optimize agility, assets, and growth heading into 2021." They note that in North America, the number one target for this review is compensation and headcount, whereas in Europe and the Asia-Pacific region, technology implementation and greater efficiency top the list. But even more compelling, is that approximately a third of insurance organizations identify operations outsourcing as a key factor in driving financial stability through 2021. These actions and others are listed in the below chart from Deloitte.
https://www2.deloitte.com/content/dam/insights/us/articles/6827_CFS_insurance-industry-outlook/figures/6827_figure14.png
What you need to know: offshoring makes more sense than ever
It's a global world, and offshore outsourcing allows you to take full advantage of that, especially when it comes to talent acquisition and cost savings.
The Philippines is one of the most popular outsourcing locations in the world. The country's outsourcing industry is the second largest contributor to GDP and is growing at a phenomenal rate. The benefits of outsourcing in the Philippines are clear:
English is the official language in the Philippines. This means that Filipinos are educated in English and speak English in the workplace. In fact, over the years, the Philippines has been voted as being the best in business English globally.
Filipinos have access to a fantastic tertiary education sector and well over 95% of staff have one or more tertiary qualifications.
Because the outsourcing industry contributes so much to the Philippines' economy the government has invested significantly into it. This means the technology, telecommunications and travel infrastructure is world class and designed specifically to support the industry.
Depending on where you are located in the world the time difference is completely acceptable. However, at the same time, the outsourcing industry has been around since the mid 1990s and staff are used to working odd hours around the clock to service western customers.
Outsourcing could be a solution for you
Outsourcing is an incredibly viable option for businesses within the insurance industry. Although, the cost-savings are often what first entices organizations to try it out, it is always the efficiency gains and business transformation benefits that turn those same organizations into advocates of the model. And when it comes to the insurance industry, it's shrinking profits and often slow rate of digital transformation then outsourcing could be the most important project businesses take on in 2021.
At the same time, the Philippines is positioned as an obvious location for insurance companies to consider for outsourcing. The proposition of highly qualified, highly educated, experienced, English-speaking staff at a cost-effective rate should be highly attractive to Western businesses looking to create efficiencies, improve margins and streamline operations.
Discover how one national insurance brokerage used offshoring in the Philippines to increase productivity by 34%. Download How to improve quality & increase efficiencies through offshoring: an insurance case study today to find out more.