When it comes to sectors feeling the strain of financial pressure, spare a thought for the men and women charged with overseeing our healthcare services. As life expectancy climbs and demand for treatment of chronic diseases and illnesses continues to soar, hospital executives have known for a long time that their cost structures have become unsustainable. A 2018 survey found the average hospital needed to reduce its costs by 24% by 2022 just to break even, with the flow of income from governments, patients and health insurance providers not enough to meet the shortfall.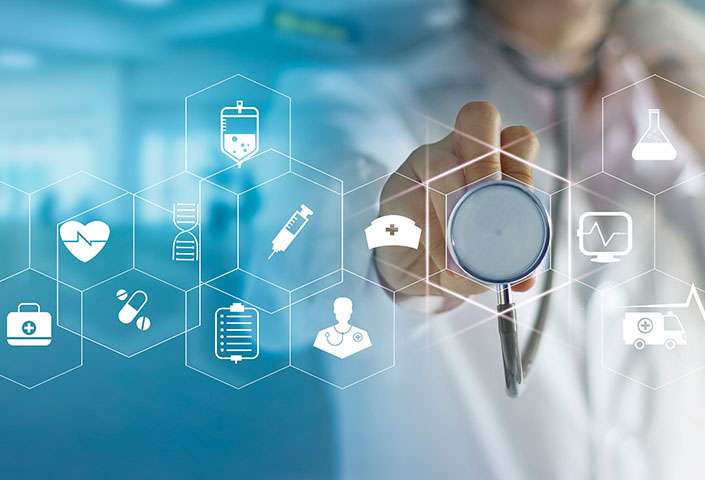 And the concerning thing? These studies were conducted before the world had even heard of COVID-19.
While the global pandemic has taken a devastating human toll, it is also proving to be a financial nightmare for an already stretched healthcare system. Respected management consultant McKinsey & Co has reported the U.S. health system is incurring about $5.3 billion in direct cost for every million people that seek treatment for COVID-19. Then there are the additional layers of delayed or indirect impact, which the firm says could cost the U.S. health system $125 billion to $200 billion each year.
With global healthcare spending projected to reach more than $10 trillion by 2022, the challenges facing the industry are immense. The battle for the healthcare dollar has never been more fierce as non-traditional players enter the market. Antiquated technology systems also continue to be a drain on resources, with one report saying they result in U.S. hospitals absorbing at least $8.3 billion each year.
The expectations of patients are changing too. Consumers want the capacity to book appointments and make inquiries outside office hours, while greater access to information and choice is creating an environment where they demand more when it comes to service delivery and cost. Labor costs are also increasing, not to mention digital innovation creating a need to recruit healthcare staff that possess skill sets in areas such as medical billing, data management, bookings and compliance.
In addition to these challenges, nearly 69% of organizations are having difficulty sourcing and retaining skilled talent thanks to the current global talent shortage, resulting in about U.S. $8.5 trillion in unrealized annual revenues. With the pandemic pushing global unemployment over the 200 million mark, it would be fair to assume that employers might 'have their pick' from a large pool of quality, skilled workers who were impacted by sudden employment losses or financial turmoil during this time. However, there is research to suggest that applicants are now in control, wanting more value-based benefits from potential employers rather than just financial gain. Considering alternative resourcing strategies, like outsourcing or offshoring for healthcare organizations, is a way to open up access to a global pool of quality talent while reducing employment costs by up to 70% in the process.
It is no surprise to learn hospitals are turning to top healthcare outsourcing companies to reduce costs and maintain excellent patient care. Despite being one of the biggest industries in the world, healthcare has until recently lagged behind others in its adoption of outsourcing but, like so many business leaders before them, hospital executives are realizing the positive impacts of outsourcing are too great to ignore.
For proof, look no further than the Black Book survey of leaders from 545 hospitals and inpatient organizations that found 90% were considering outsourcing clinical and non-clinical functions to achieve cost effectiveness and succeed in value-based care models. And while most share a common motivation for doing so, there are various reasons why healthcare outsourcing appeals to the modern hospital executive.
Cost savings

Just as healthcare saves lives, outsourcing saves money and that is unashamedly appealing for today's hospital leaders. Whereas

11% of hospital executives surveyed

by Black Book in 2009 chose 'cost savings/avoidance' as a reason for outsourcing clinical services, the number had soared to 85% a decade later. It is a similar story across the globe, with

a survey of 60 hospitals in Greece

finding more than half indicated cost savings as one of the most important factors to outsource. Non-clinical roles such as Medical Coders, Clinical Data Coordinators and Medical Transcriptionists do not have to be performed on-site and offshore hubs like the Philippines are able to draw from a well-educated talent pool at labor cost savings of up to 70%.

Improved patient care

A hospital's prime focus should always be providing services that help improve – and often save – the lives of patients. Repetitive, time-consuming tasks such as patient data entry, claims processing and filing applications can be a drain not only on resources but overworked clinical staff whose time would be better spent providing excellent care to patients. Outsourcing such administrative and management processes to experts in the field allows clinical experts to dedicate more of their energy to their primary task – patient care.

Optimized data management

Few sectors rely more on the safe, secure and accurate collation of data than healthcare. From test results and medical records to processing insurance applications, countless documents and files containing sensitive information are collected and archived every day. It is crucial work that is too often left to under-resourced and overworked staff to manage. Staff shortages in such departments can lead to overwhelmed workers and, in turn, careless errors that impact patient satisfaction and revenue. Top healthcare outsourcing companies appreciate the need for security, accuracy and speed when managing information, with cutting-edge technology also enabling them to streamline back-end processes such as data entry and document processing.

Best-practice technology solutions

Technology has established itself as one of healthcare's most commonly outsourced areas, with the global IT healthcare market projected to reach

$61 billion by 2023

. It was not long ago that health records were predominantly localized and physical in nature, with mountains of often illegible cards and forms stored in cabinets and photocopied and faxed as needed. Now, with the rise of electronic health records, hospitals realize the importance of boasting best-practice systems and processes for managing health data for the benefit of both patients and providers. Demand for offshore IT support is tipped to rise even further as hospitals explore how to reduce in-house expenses and outsourcing providers offer up more technology solutions.

Revenue cycle management

Healthcare providers have never been under more pressure to ensure a swift and error-free process for tracking revenue. From first appointment to final payment, there are a variety of administrative procedures required to ensure collection of revenue for services delivered. The entire system is built on the correct data being processed and common billing errors such as failing to verify insurance, filing incomplete forms, coding errors and missing deadlines can delay payments or, worse, ensure failure to pay at all. Outsourcing such tasks to teams that are fully invested in their success delivers improved rates of success for hospitals, while automation technology is also helping extract, organize and file accurate data.
Outsourced roles in healthcare
Outsourcing hubs such as the Philippines can offer hospitals access to quality candidates to fill various roles across the healthcare spectrum, allowing medical professionals to focus more time on providing care for their patients. For further insights, here are examples of roles which can be easily outsourced in the healthcare sector:
a decade ago the Philippines experienced a local oversupply of medical professionals that is continuing to prove beneficial for Western hospitals seeking highly qualified and

affordable offshore medical coders. Taking m

edical reports from doctors, which may include patient conditions, diagnoses and prescriptions, and turning them into a set of codes

requires an expert touch and all Filipino medical coders come from a medical background, usually nursing, before

completing additional training. It is one thing to save money by outsourcing but it is another to have such important work performed by staff with comparable qualifications to onshore teams.

while the demand for legal and general business transcriptionists has soared in recent years, hospitals and healthcare services were among the first to tap into the benefits of outsourcing transcription to nations such as the Philippines. For several decades, savvy hospital executives have been achieving great results by outsourcing the transcription of medical documents such as referral letters, patient summaries, progress notes and other reports. Audio and video transcription of medical events and conferences has also proved popular, with outsourcing companies recruiting candidates such as nurses or physical therapists who can correctly transcribe medical terminology due to their backgrounds in healthcare.

Medical Billing Specialists:

given the financial pressures already outlined, it has never been more crucial for hospitals to be on top of bill processing. Unfortunately, the challenges to do so have also never been more immense. Between poor information infrastructure, a shortage of workers well-trained in coding and ever-increasing workloads, many hospitals routinely put themselves at risk of billing errors, oversights or shortfalls. Outsourcing such work to Medical Billing Specialists is a cost-effective way to streamline processes,

maximize

revenue and enhance consistency, with offshore staff well-versed in the systems and technology needed to deliver clean billing. Little wonder that experts are forecast

ing

the medical billing outsourcing market will reach

$8 billion by 2026

.
From humble beginnings, there is little doubt that attitudes towards outsourcing in the hospital sector have shifted. The aforementioned Black Book survey found that barely 2% of hospital and inpatient leaders believe outsourcing is an "unthinkable option" because of the expected reaction of staff, physicians and the community. The benefits of easing the load on busy in-house staff and allowing them more time to focus on their primary role – patient care - are simply too great to ignore.
The global pandemic has highlighted the financial, operational and safety challenges that have impacted the healthcare industry for decades. With more change on the way, learn about the top trends that have been accelerated due to COVID-19.