Running an effective HR department involves a lot of admin work. Usually, more than a business owner or manager has time to handle, alone.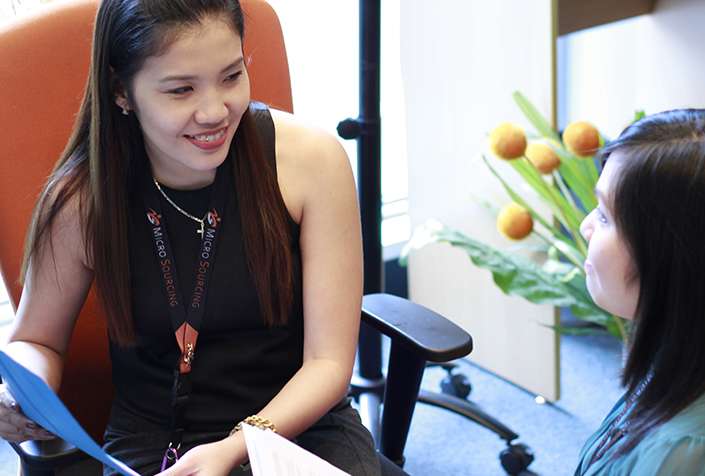 As a way to increase productivity, many modern companies are beginning to outsource or offshore these functions. When offshored, they're handled by experienced HR professionals, located in another country.
Getting these tasks off your plate gives you breathing room, so you and your onshore team can focus on core aims and delivering a better service. The end result: you remain competitive in the global market, but your staff are still taken care of, your business is HR-compliant, and payroll is handled efficiently and accurately.
While these are pretty attractive benefits, they're not the only ones. Read on for more 'plus points', as well as a few pitfalls to avoid (and tips for avoiding them).
Top 5 advantages when outsourcing HR
Legal support

Employment law is always changing. Not remaining compliant when labor or tax laws alter could land a company in very hot (and very expensive) water.

Businesses that outsource will have their service provider's HR legal experts at their disposal. These trained professionals are hired to make sure that, where HR functions are concerned, the business' policies and processes remain within the law. This can cover:

workplace pensions
minimum wages
variable pay
payroll management
employee benefits
workers' compensation

Perhaps the biggest benefit when it comes to HR and legals is the protection offered during disputes between organizations and employees.

When an employee sues a company, brings a case of wrongful termination or makes complaints about discrimination, your outsourced HR team can support the business and guide them towards the best outcome possible.

Handling employee development

A motivated workforce, is a happy workforce. And part of an individual employee's motivation can come from goal-setting and the opportunity to have regular performance reviews.

Conducting reviews every three, six or 12 months is time consuming. But because employee training and development is a central function of HR, when you have an offshore HR team, this can all be delegated.

Not only does this free up managerial time, but once all interviews and reviews are completed, the HR team provides feedback to management, identifying business employee wins and offering ideas on where improvements could be made.

Attractive employee benefits

Everyone loves job perks. Whether it's health and dental insurance, a great retirement plan, discounted gym memberships, or industry training and career progression — offering attractive incentives will encourage top talent to join your company, and keep existing staff happy and cared for.

Good offshore HR providers typically have ready-made benefit programs that they're very used to running. And because they do it all the time (for other clients too), they benefit from economies of scale, and can secure much more affordable deals with suppliers (e.g. gyms) than your internal HR department could.

In fact, some small business owners say the employee benefit packages they offer as a result of outsourcing their HR is the joker in their pack when competing with Fortune 500 companies.

Information is easily accessible

Some businesses are hesitant to outsource their HR because they fear being at arm's length from the HR function will lead to difficulties accessing employee information when they need it. But the fact is, so long as you engage a reputable supplier, the opposite is true. Because they're HR specialists, and they do it day in and day out, they have strict procedures and tried and tested processes for ensuring availability of information. It's critical to their business continuity. Usually they handle this with cloud technologies. This not only helps with storage (no need for lots of filing cabinets), but also makes it easier to access your employee's profile at the touch of a button.

An uninterrupted service

Last, but not least, is the confidence of knowing someone will always be on hand supporting your HR functions.

Unless you're a very large organization, your HR department is probably small. It may even be just a single HR manager. This is fine, until said HR manager takes a holiday. Or is off with flu on payroll days and no one else in the office knows how to do it.

Outsourcing HR eliminates that risk, because there's a much larger team behind you, so assistance is always available.
The 3 disadvantages of HR outsourcing
Handing over responsibilities

When you've spent money and time building up a business, and you're used to managing the majority of it yourself, handing over some or all responsibilities to an external team can seem scary. Feeling this way is natural. But outsourcing for the purpose of scaling is common business practice. And the HR outsourcing sector is one of the most established.

Minimize concerns about your offshore HR handover by finding a HR provider that will work closely with you throughout the transition. This will help you see how they perform in the role and create that trust you need to let them take it over completely.

Fears of disconnect

When your outsourcing provider supports multiple clients and works offsite, it's easy to feel you have less managerial control. Or that your employees will feel neglected because they don't see their HR representatives around the office every day.

This sort of disconnect is definitely possible, but a good HR provider will ensure there's consistent contact between management, employees and the offshore team. It can be as simple as scheduling regular meetings to discuss expectations and resolve any potential queries between the onshore and offshore team, before they become problems.

Hidden charges

Unfortunately, there is an ugly side to outsourcing. A small minority of providers add unexpected charges when invoicing business clients. You may see this referred to as "non-disclosure charges". A provider might add a non-disclosure charge because they hope to pocket the extra from local tax breaks or rewards.

Carefully researching an offshoring provider before partnering with them will help you avoid being stung by non-disclosure charges. Look for a provider that's well established and can provide evidence of their performance.
The key to offshore HR success
Outsourcing your business HR functions will give you and your managerial staff more time to focus on core business goals, while ensuring you're able to offer the best employee care and benefits for attracting new talent and progressing the careers of your existing staff.
The key to successfully offshoring your HR function is choosing a service provider that's right for you — one that lets you be as hands-on or as hands-off as you'd like to be. Take the time to work this out and you'll avoid the pitfalls while reaping the benefits.
Outsourcing success is just around the corner
As you can see, the pros of outsourcing your HR department far outweigh the cons. Another benefit of outsourcing your HR department is increased efficiency and quality. You can read more on this here.