The future has arrived – remote working is now the norm rather than the exception.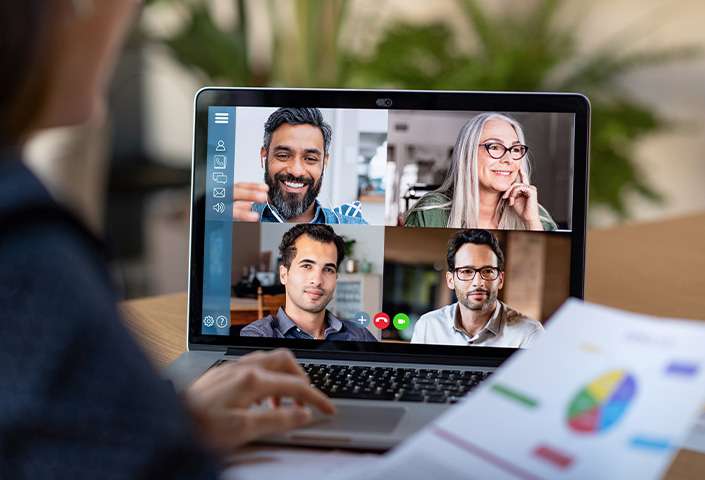 Historically a request to be raised with trepidation and often dismissed, working from home or telecommuting was, in recent years, slowly but surely becoming a more accepted aspect of the modern business world. Technology was improving. Attitudes towards work/life balance were changing. Managers with rusted-on views were retiring.
Then came a global pandemic and remote working was no longer a luxury for the lucky few but a necessity. According to the 2019 National Compensation Survey, only 7% of workers in the United States had access to a 'flexible workplace' benefit, which equated to about 9.8 million of the nation's 140 million civilian workers. As COVID-19 took hold and 'social distancing' became the new buzzword of 2020, that number soared. Analytics company Gallup found 70% of U.S. workers were working remotely all or part of the time in April 2020 and while that number was always destined to fall, 56% continued to do so almost a year later. Crucially, that figure has remained steady, statistically similar to the 58% recorded in each of the prior four months.
With the pandemic meaning remote working was either required or encouraged, business owners, managers and employees were gifted a unique opportunity to discover the benefits that can flow on from flexible working arrangements. Judging by recent events, it is clear many liked what they found. The New York Times has reported that major corporations including Ford in Michigan and Target in Minnesota are giving up significant office space because of their changing workplace practices. Spotify, whose staff previously filled 16 floors of a towering office building in Lower Manhattan, has told employees they can now work anywhere, even in another state. Such scenarios would have been unfathomable prior to the events of 2020 but extraordinary times often deliver extraordinary change.
Remote working facts
For companies still uncertain about exploring or embracing the benefits of remote working, take heed of the following statistics that emerged from a survey of 1,200 people who started working from home following the rise of COVID-19:
84% enjoy working from home
92% would opt to do so regularly if given the opportunity
45% believe the experience has been better than they expected
65% would consider working remotely on a permanent basis.
As for what they enjoy most about the concept? It will come as no surprise the lack of commuting topped the list (56%) followed by flexibility (37%) and time saved (32%). Such findings reinforce that remote working is set to become an employee expectation and businesses that fail to deliver such opportunities risk seeing talented staff abscond to more flexible organizations.
Various studies have also highlighted the positives that remote working can deliver for businesses themselves. Community platform Airtasker surveyed more than 1,000 full-time U.S. employees – half of whom worked remotely – and found the remote workers were more productive than those who toiled in an office. Key findings included:
Remote employees work 1.4 more days per month than in-office employees, which is nearly 17 additional workdays a year
Office workers are unproductive for an average 37 minutes per day (not including lunch or breaks) compared to remote employees who are unproductive for only 27 minutes
15% of remote workers said their boss distracted them from work, far less than the 22% of office-based employees who raised the same concern.
A McKinsey consumer survey conducted a few months into the COVID-19 crisis revealed similar findings, with 41% of employees saying they were more productive working remotely than in an office.
Job satisfaction and retention rates can also increase due to remote working. The Airtasker survey found long commutes have caused one in four respondents to quit a job, while Owl Labs' 2019 State of Remote Work Report revealed workers who operate remotely are 13% more likely to stay in their role for about five years compared to on-site workers. About 55% of remote workers also said they would look for another job if the option was taken away from them, an insight that carries even more weight today given how many people have had a COVID-inspired taste of the concept since the survey was conducted.
The industries best suited to remote working
While remote working would undoubtedly appeal to many people, the reality is not all industries or occupations are suited to the concept. Some jobs require specialized machinery (factory workers), others must be done on location (medics) and mobility is the very essence of many roles (couriers). Additionally, some tasks are simply more effective when done in person.
With that in mind, consulting firm McKinsey & Co analyzed more than 2,000 activities in more than 800 occupations across nine countries to identify which activities and occupations have the greatest potential for remote work post-COVID. Using two unique metrics to calculate remote work potential (maximum potential including all activities that theoretically can be performed remotely; and effective potential excluding activities that have a clear benefit from being done in person), the top-ranked industries were:
Management
Professional, scientific and technical services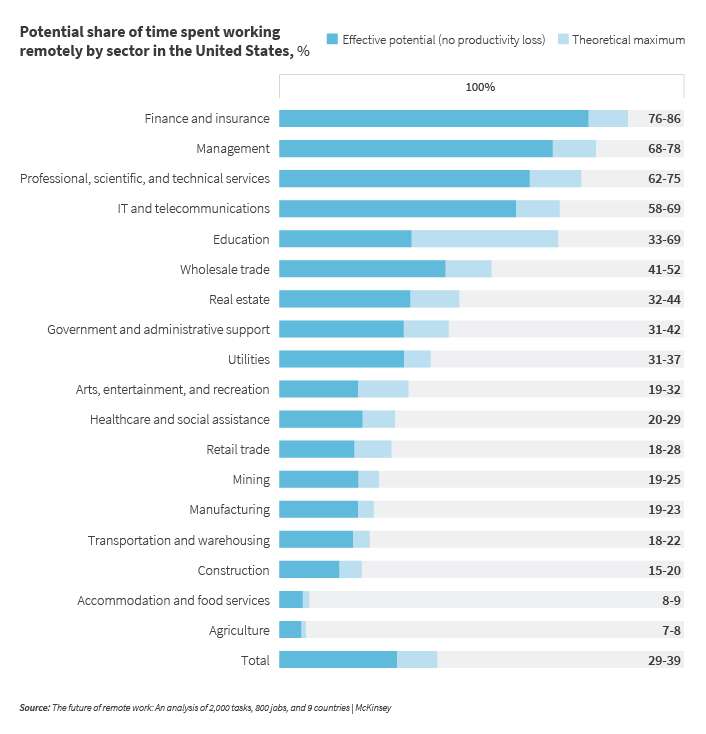 Generally speaking, these industries share the commonality of employing 'knowledge workers' who do most of their work on computers. With technology making the world ever smaller, such workers are increasingly able to perform their duties regardless of their physical location. On a similar note, opportunities also exist for people working in customer service, marketing and administration.
Remote working benefits
As shown by the research highlighted earlier, many employees relish remote working, be it a few days each week or full-time. For those people still trying to convince their managers that it is not only a viable option but an increasingly strategic one, sharing the following benefits of remote working would likely help their cause.
Improved productivity: while some employers fear a drop in productivity if they allow their staff to work remotely, the majority discover the opposite to be true. Multiple studies – including the earlier Airtasker survey – have shown remote workers are often more productive than their onsite colleagues, with fewer distractions, more opportunities to take breaks exactly when needed and less chances to engage in needless office politics.
Lower costs: buying or leasing office space is a huge expense for businesses of all sizes so it is little wonder many employers soon learn to appreciate remote working. Along with reducing or even eliminating the cost of fitting out workplaces with furniture, supplies and equipment, there is also no longer need to fret about huge utility bills. In the long-term, there is also potential to save money on salaries or wages, with a

global workplace analytics study

finding 36% of employees would choose remote working over a payrise.
Better work/life balance: it may seem strange that literally bringing work home can make for a better work/life balance but in the majority of cases that proves to be the case. Remote working tends to allow people to get more work done quickly and better juggle their professional tasks and family or social commitments. Businesses have typically found that working remotely also leads to fewer staff absences as the increased flexibility allows employees to make personal appointments without taking an entire day off. And we are yet to even mention arguably the greatest work/life benefit of all – no more commuting or at least a lot less of it.
Improved communication: technology has been the driving force behind the rise in remote working and enhancements and new platforms are now taking it to the next level. Cloud-based technology has revolutionized the storage and sharing of documents and files, while communication tools such as Zoom and Skype allow colleagues to engage seamlessly despite sometimes being oceans apart. Many companies also report their meetings are more effective now as calendar bookings are more intentional and agendas increasingly defined to ensure minimal wastage of time.
Implementing remote working
Whether considering rolling out remote working or keen to enhance systems already in place, there are various ways businesses can better leverage the concept:
The cloud: companies that are yet to make the switch to cloud computing are doing themselves a disservice. One of the most important aspects of a successful remote working environment, cloud computing means less money needs to be spent on equipment and infrastructure, reduces the burden on IT staff, allows services to be added or removed as needed and ensures easy collaboration and file sharing.
Automation: remote workers can sometimes feel disconnected working outside the office and business automation is a great way to tackle this issue. More than ever, employers want their team members to focus on high-value tasks and automation software can reduce the need for them to complete routine jobs such as building invoices and compiling timesheets. Automated processes can also ensure roles and responsibilities are clearly defined, making staff more accountable to their colleagues and customers even though they do not share the same physical space.
Collaboration tools: if the age of COVID-19 has taught us anything, it is that an array of collaboration tools were waiting for a moment just like this to shine. From Slack and Monday.com to Google Drive and Trello, businesses were able to turn to countless tools when they had to quickly stand up remote workforces and as the pandemic continues to roll on, each of them are upping the ante when it comes to features, design and accessibility.
Communication: ditto the above but swap the names for Zoom, Skype, Microsoft Teams and Google Meet. While such products have long been available, COVID-19 cemented their place as standard workplace tools and removed one of the main barriers to remote working becoming a standard workplace concept.
Human resources: amid all the talk of tools and technology, it is easy to forget the vital role HR teams have to play in the evolving world of remote working. Managing people from a distance is undoubtedly a challenge, particularly given the relative infancy of mass remote working, and that is why it is essential HR managers set clear ground rules, communicate well, provide off-site training, assist managers with performance management and be well aware of the risk of issues such as isolation.
Resourcing strategies
To make the most out of a remote working model, various resourcing strategies can be implemented to help businesses grow and thrive:
Talent: removing traditional barriers around work life (think 9-to-5 work days and bricks-and-mortar offices) can open up a global talent pool to employers. No longer restricted by geography, there is the potential to tap into an abundance of highly qualified and skilled workers, many from lower-cost economies.
24/7 support: exceptional customer service is the key to any successful business and in a modern world where consumers and clients hope for – if not expect - around-the-clock attention, remote working is helping meet the need. Outsourcing can particularly assist in this area, with global time differences and lower wage costs allowing many businesses to deliver 24/7 support that they would otherwise have put in the too-hard basket.
Security: amid all the benefits of remote working, businesses need to be conscious of the potential cybersecurity headaches posed by a sizeable amount of employees suddenly working off-site. From authentication and authorization to staff using their own devices for work, it is essential that organizations eliminate security gaps and continually monitor their cyber strategies. On this front, outsourcing IT services has proven extremely effective for many businesses.
Common remote working roles
The rise of remote working has increasingly highlighted the potential for organizations to utilise outsourcing to employ specific staff or assemble teams to oversee entire functions or services. Roles that can be easily outsourced to countries such as the Philippines include:
While COVID-19 has changed the business landscape, getting the most out of one's resources remains the key goal for most organizations. Remote working offers unbridled opportunities to do just that and the rise of working from home has led to productivity gains and costs savings in many cases.
To further explore how technology and remote working have helped businesses through the pandemic, download the free eBook Business efficiency: lessons from the pandemic.