Over the past few years, the eCommerce industry has gone 'on a wild ride'. It was one of the most significantly impacted industries as a result of the pandemic. With expectations for the global eCommerce market to hit $5.55 trillion1 by the end of 2022, there is no anticipation that this will slow down. This borderless eCommerce revolution has introduced new ways for retailers to be more profitable and service more customers. In order to maintain this competitive advantage, there are a few key trends eCommerce markets need to keep an eye out for.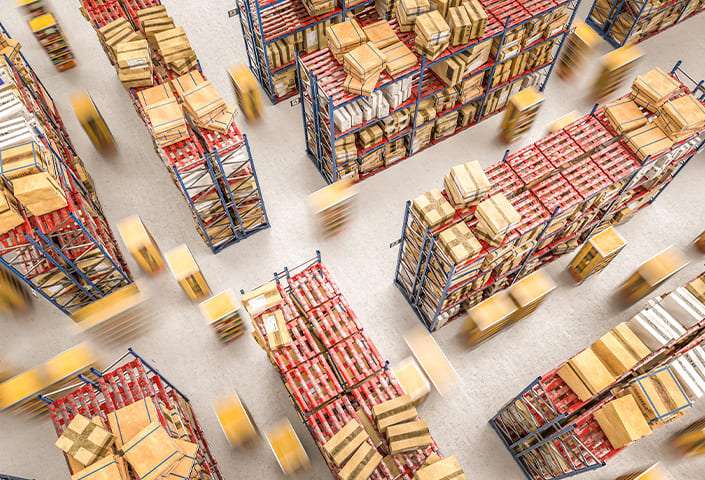 In this blog, we will address the current state of the eCommerce market, emerging trends for 2022 - and how a major eCommerce trend, outsourcing, can benefit your bottom line.
The state of the eCommerce market
In 2019, online purchases accounted for only 17.8%2 of global sales. In 2022, that percentage is expected to hit 21%. By 2025, retail eCommerce sales worldwide are expected to reach $7.39 trillion3.
2020. Let's take a step back and look at where we started at the beginning of this pandemic. Even though 2020 was a tough year, in eMarketer's report which measured 32 of the top performing global eCommerce markets in 2020, all 32 ended up with at the very least, double-digit growth4 in eCommerce.
2021. This 'growth' trend for the eCommerce market continued:
2022. In short, there is no expectation for this growth to stop or slow down. eMarketer9 even mentions that the top five eCommerce markets, China, the U.S., the United Kingdom and Japan, haven't changed since 2018 and will remain the top five through until 2025.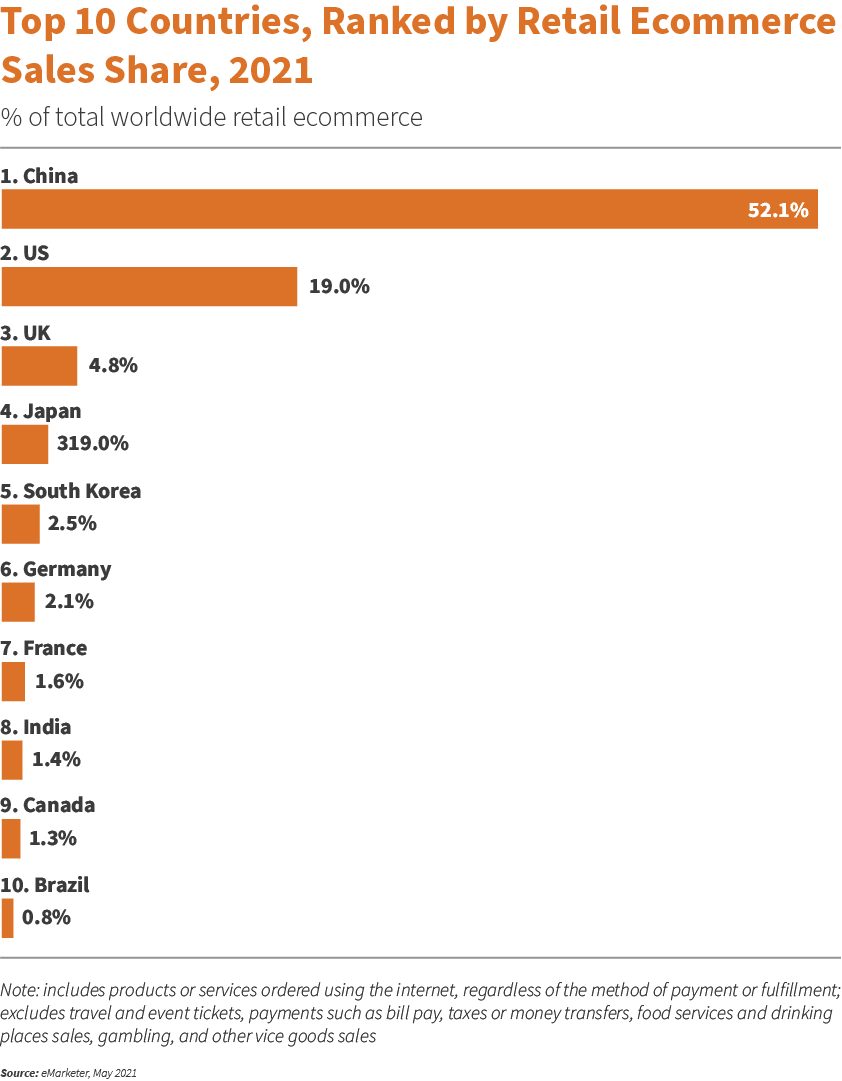 Emerging eCommerce trends for 2022
So with all this anticipated growth across the globe, how can businesses get in on this profit-prospering action? The answer lies in these emerging eCommerce trends for 2022.
Mobile shopping
Consumers will quite simply expect that they can shop on their phone just as easily as they can via a desktop. Mobile sales are currently less than half that of desktops and it seems that frustration with the speed of loading is the main reason for this.
As a result, many online retailers are moving to progressive web applications (PWAs) which load faster, have the ability to work offline and give shoppers an app style experience. PWAs can also be coupled with headless commerce which separates the engine room of the online store from the user interface, allowing the interface to be better tailored to suit the device and user experience. Alternatively PWAs can also be partnered with Accelerated Mobile Pages (AMPs) which are stripped down copies of web pages that load instantly.
Revenue from mobile commerce sales in 2021 were 3.5 times10 more than they were in 2016, this is a trend that's still very much on the rise with 2022 forecasts to pass $432 billion11 for reference, mobile commerce sales in 2018 hit only $148 billion.
Voice commerce
Shopping via voice commands and smart speakers statistics are showing that in the U.S., voice shopping is estimated to reach US$40 billion12 by 2022 alone with more than 30% of U.S. internet users having used a voice assistant to look for product information or purchase products. David Zimmerman13, Director of eCommerce solutions for Kensium states "more involvement of voice-enabled solutions in the commerce space with Amazon Alexa and Google Home" can be expected. It may not be feasible for many online merchants but it's worth developing a strategy and considering it within all future web and SEO developments.
Artificial intelligence and machine learning
Artificial intelligence (AI) has been on the radar for a while now and has slowly worked its way into many aspects of online retail operations, and it continues to grow. It's often viewed as an online version of the in-store shop assistant: personalizing the shopping experience and recommending options or products that will suit the buyer.
It requires a fundamental focus by eCommerce merchants to work with the data they have available on individual purchasers and then use that data in a broader way to predict behavior and desires in other similar buyers. Think of the online listings that gently suggest "if you like this product, then you'll love that one". But it doesn't stop there. AI is also an important aspect of marketing and allows the merchant to retarget site visitors through digital and social advertising - utilizing search history to remind customers of their website and products.
Chatbots are another form of AI that's become an integral part of many eCommerce sites - without consumers even realizing. Utilizing natural language recognition, chatbots are able to answer customer queries and play an important customer service role that operates 24/7. Some of these features may seem out of reach for a start-up eCommerce store, but the best part of being online is that there are options to outsource these developments to web designers, data analysts and digital marketers anywhere in the world and at a fraction of the cost. The big players are certainly doing the same.
Direct to consumer
With the relative accessibility of online retail, many manufacturers and big brands are bypassing the usual distribution channels and are selling directly to consumers. This trend has been on the rise for some years now, but if anything has been accelerated by the global conditions of a pandemic.
While in-store sales are slowly making a comeback, manufacturers are able to create new direct markets where they now own the customer relationship rather than relying on a third party and can potentially increase their profit margins in the process. What's more, it provides an opportunity to compete with start-ups who are already digitally native.
Customers are buying more and more things online and are buying fewer goods from traditional physical retailers as a result of habits developed during the pandemic - the ease and simplicity of online buying. This hurts legacy brands whose primary channel of selling products has been through department stores and should consider this trend to rectify lost sales or opportunities.
Virtual or augmented reality
Nothing can quite replace the touch and feel of the in-store shopping experience, but augmented reality is coming close to closing that gap. It allows shoppers to visualize the product in their life by either 'trying it on' or seeing how it will look in their home. 3D photos or models of products are placed within the customer's photos to give a more realistic impression of the product.
Augmented reality assists in building trust with potential shoppers and ultimately assists in decision making and sales conversions. It's also yet another way online retailers can personalize the customer experience and once you've got the technology, there's potential to use it for fun, promotional purposes that can assist in building brand ambassadors and strong social followings.
Omnichannel
From social media and online marketplaces through to websites and bricks and mortar stores, there is no longer a single, linear path to purchase for consumers. As a result, you need to have the infrastructure to sell across a multitude of platforms and ensure consistent pricing, product availability and experience. It's about meeting the customer where and how they want to shop rather than telling them what to do.
Many eCommerce platforms have plug-ins and inventory management systems to work with all the channels that you want to have a presence on but it can still be a time consuming task to manage. Outsourcing these types of tasks to an offshore team can be a cost effective way to stay on top of your sales channels whilst focusing your local team's efforts towards growing your business.
Social commerce
In a study conducted by Forbes14, they found that around two-thirds of shoppers today use social media as part of their shopping strategy. Over the years, social platforms have rolled out more robust integrations including features such as embedded links, clickable products in posts and paid advertising, although shoppers would still need to be directed to the business' eCommerce website. However 'Checkout' on Instagram and Facebook, as an example, ensures users need never leave their app, completing the entire purchase within their social media account. The key for eCommerce will be to convert those social shoppers to brand loyal customers who purchase directly from the website in future transactions.
Subscription services
Everyone loves a surprise package in the mail and this is a desire that subscription services successfully tap into. Whether it's a selection of fine wines, a self care package or even toilet paper, shoppers can have a monthly delivery dropped at their door. It provides the consumer with a service they can trust that will always be up to the same high standards and experience.
The contents can even be curated to suit the recipient and this offers a great deal of value to the customer as well as the convenience and monetary savings. From a business perspective, it's a no-brainer - high quality loyal customers, a reliable income base and even streamlining opportunities in processes and transactions.
Personalization
There's been a common theme through many of the previous eCommerce trends around personalizing the shopping experience. This is key to a successful business in any field but even more so online. Shoppers like to feel recognised and valued by the companies they deal with and the types of interactions can range from the way a chatbot communicates through to product suggestions, account settings and email communications.
Personalization plays an important role in paid digital advertising and retargeting but when it comes to email marketing it's even more important. Research indicates that personalized campaigns deliver up to 6 times higher transaction rates15 than mass emails. Messaging can be based around demographics and previous buying behavior or make assumptions based on their purchases compared to other shoppers. Email communications during dispatch and delivery are also vital to ensuring the customer feels that they're being kept up to date on their order. And if they abandon their shopping cart part way through purchase, a subtle reminder email never goes astray.
In fact, Kibo16 found that marketers saw an average increase of 20% in sales when using personalized experiences. From the customer perspective, it saves them time but also feels like a tailor-made experience where the more they see the more they like.
Sustainability
While environmental consciousness and sustainability has been on the radar for a while, it's really only reached trend status for the broader eCommerce industry in more recent times. Certain retailers have always had a sustainable ethos at the core of their business, but customer demand is now forcing organizations to change the way they do business. From carbon neutral shipping and zero-waste packaging to eco-friendly supply chains and humane manufacturing practices, being a good global citizen is now a basic expectation. Retailers who don't get on board are likely to be left behind in the competition for consumer dollars.
Talent shortages
Nearly 69% of organizations17 are having difficulty sourcing and retaining skilled talent thanks to the current global talent shortage, resulting in about U.S. $8.5 trillion in unrealized annual revenues18 With the pandemic pushing global unemployment over the 200 million mark19, it would be fair to assume that employers might 'have their pick' from a large pool of quality, skilled workers who suffered because of sudden employment losses or financial turmoil during this time. However, there is research to suggest that applicants are now in control20, wanting more value-based benefits from potential employers rather than just financial gain.
Considering alternative resourcing strategies, like offshoring, is a way organizations can open up to a global pool of quality talent while reducing employment costs by up to 70% in the process.
How does eCommerce and outsourcing work?
eCommerce offshoring or outsourcing is the process of sending certain eCommerce tasks to an organization outside of your own to complete. This could mean hiring individual employees in these outsourcing organizations to complete these tasks or even a team of eCommerce-focused offshore staff. The great thing about eCommerce offshoring, and if you choose the right provider, is that it is flexible and can adjust to the needs and changes within your business.
You need more resources to help with a spike in sales and well-established offshore providers can get this sorted for you. Are you going into a eCommerce "lull" and need to cut back on offshore assistance for a bit, your offshore partner can provide you with advice on next steps.
What eCommerce roles can organizations outsource?
Some of the more frequently outsourced eCommerce roles include, but are not limited to:
What are the benefits and challenges of outsourcing for eCommerce?
eCommerce is clearly here to stay and while the upside of the sector is immense, so too are the potential headaches for organizations wanting to keep pace or simply get a foot in the door.
To assist companies on that journey, we've compiled a list of challenges and benefits businesses of all sizes need to be conscious of when navigating the landscape and how eCommerce outsourcing can play a vital role in easing such burdens.
Reference:
1 https://www.statista.com/statistics/379046/worldwide-retail-e-commerce-sales/
2 https://www.emarketer.com/content/global-ecommerce-forecast-2021
3 https://www.statista.com/statistics/379046/worldwide-retail-e-commerce-sales/
4 https://www.emarketer.com/content/global-ecommerce-update-2021
5 https://www.emarketer.com/content/canada-ecommerce-forecast-2021#:~:text=How%20much%20will%20consumers%20in,following%202020's%20whopping%2075.0%25%20growth.
6 https://www.cmo.com.au/article/692518/report-australian-ecommerce-hits-record-breaking-heights/#:~:text=The%20latest%20GlobalData%20report%20into,(%2460.6bn)%20in%202021.
7 https://www.census.gov/retail/mrts/www/data/pdf/ec_current.pdf
8 https://www.vouchercodes.co.uk/savings-guides/guides-reports/life-after-covid-prospects#online-retailing
9 https://www.emarketer.com/content/top-global-ecommerce-markets
10 https://au.oberlo.com/statistics/mobile-commerce-sales
11 https://www.statista.com/statistics/276636/smartphones-us-retail-m-commerce-sales/
12 https://www.invespcro.com/blog/voice-shopping/
13 https://www.kensiumsolutions.com/blog/ecommerce-conversion-rate-optimization-2019-best-practices#gref
14 https://www.forbes.com/sites/forbesagencycouncil/2021/08/27/how-shoppers-are-using-social-media/?sh=393ca4ce72eb
15 https://martech.org/study-70-brands-personalizing-emails-missing-higher-transaction-rates-revenue/
16 https://kibocommerce.com/personalization-software/?utm_campaign=monetate_redirectblog/the-tipping-point-for-personalized-website-experiences/
17 https://go.manpowergroup.com/hubfs/Talent%20Shortage%202021/MPG_2021_Outlook_Survey-Global.pdf
18 https://www.kornferry.com/content/dam/kornferry/docs/pdfs/KF-Future-of-Work-Talent-Crunch-Report.pdf
19 https://news.un.org/en/story/2021/06/1093182
20 https://www.mckinsey.com/business-functions/people-and-organizational-performance/our-insights/covid-19-and-the-employee-experience-how-leaders-can-seize-the-moment