Order processing is the business workflow that stems from a customer placing an order through to delivery. It involves high-level data-entry skills, a problem-solving mentality to track order inaccuracies and an ability to handle stressful situations while remaining calm and professional. Businesses should invest in developing their order processing team otherwise risk significant repercussions from a client satisfaction perspective.
Order processing is also known as order management. The global order processing market is anticipated to grow from USD 1.46 billion in 2018 to USD 2.44 billion by 2023, with a compound annual growth rate (CAGR) of 10.8%1. This is attributed to digital transformation and the increase in smartphones and website ordering.
To keep up with this anticipated growth, data management companies need to identify ways to hire quality order processing specialists who are up-to-date with recent order processing tools and have the necessary people skills to uphold company credibility, all while keeping employment costs low. A solution; outsourcing.
Many order processing tasks can be completed digitally, which makes them well-suited to being performed in an offshore environment. As long as your business is offshore ready, outsourcing order processing tasks to the Philippines is cost-effective and straightforward.
Book a Free Consultation
Want a healthcare specialist – or a Health Information Management team – in the Philippines?
---
What are the benefits of outsourcing order processing tasks?
Cost Savings: As the Philippines' cost of living is lower than most western countries, your business can outsource repetitive and time-consuming order processing tasks for a fraction of the price it would cost to hire specialists locally; up to 70% in some cases.

Increase in output efficiency and quality levels: Sending routine order processing tasks to an offshore team in the Philippines means your onshore team will have more time, budget and project scope to take on higher-value work. Your business will notice a drastic increase in productivity levels within your data management services.

Business growth and scaling opportunities: When you send your time-consuming tasks to an offshore order processing team in the Philippines, your local team will have more time to focus on increasing profits, business growth and development opportunities. Your onshore team's additional capacity gets from your offshore team's support means you can grow your business sustainably.
What are examples of outsourced order processing roles?
Depending on what outsourced provider you choose to engage, the following roles are well-suited to outsourcing:
Order Processing Specialists
Order Entry Clerks
Order Fulfillment Specialists
Return Support Specialists
Order Management System Engineers.
Order processing falls under the data management function of your organisation and works closely with data cleansing, data visualization and data analysis teams.
Sample order processing team structure
Depending on order volumes, order processing teams are typically formed in the following ratios: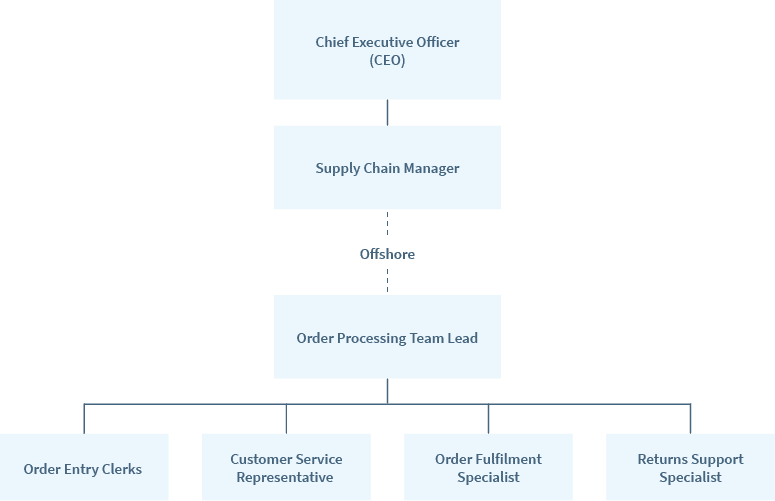 Challenges that outsourced order processing teams in the Philippines can face
As your business grows, it's essential to keep developing and updating your order processing team on anticipated order volumes and consider expanding your offshore order processing team. Without clear communication throughout the year, you risk your offshore team being overwhelmed with data-entry tasks or even customer service issues.
Reference:
1 Multichannel Order Management Market by Solution (Software & Services), Deployment Type (Cloud & On-Premises), Organization Size, Industry Vertical (Retail, Ecommerce, and Wholesale, Manufacturing, & Healthcare), and Region - Global Forecast to 2023
Interested in recruiting team(s) in the Philippines?
Since our inception in 2006, MicroSourcing has become one of the biggest providers of offshoring solutions in the Philippines. We can help you build a dedicated team in the Philippines, regardless of the roles and level of specialization you require. MicroSourcing is backed by our parent company, Probe CX, one of Australia's fastest-growing offshoring solution and customer engagement firms. So, it's safe to say we're experts in outsourcing to the Philippines.
Call +1 888-731-0023 today or send us an email to discuss your company's offshoring needs.