Data cleansing is the process of correcting, removing, detecting and modifying inaccurate or corrupt data from a business's database or systems. The data "cleansed" often gets rid of unnecessary or malicious material limiting strategic data interpretations and efficient data planning for the business.
Data cleansing is also known as data preparation and is used by organizations to have "better" data for "better" decision-making. Data cleansing involves:
Developing a data quality plan
Correcting incorrect data at the source
Measuring data accuracy
Managing duplicate data
Defining and completing any missing data or information.
Data management functions need to identify ways to hire quality data cleansing specialists who are up-to-date with recent data cleansing tools and have the necessary data interpretation skills while keeping employment costs low. A solution; outsourcing.
Many data cleansing tasks can be completed digitally, which makes them well-suited to being performed in an offshore environment. As long as your business is offshore ready, outsourcing data cleansing tasks to the Philippines is cost-effective and straightforward.
Book a Free Consultation
Want a healthcare specialist – or a Health Information Management team – in the Philippines?
---
What are the benefits of outsourcing data cleansing services?
Cost Savings:As the Philippines' cost of living is lower than most western countries, your business can outsource repetitive and time-consuming data cleansing tasks for a fraction of the price it would cost to hire specialists locally; up to 70% in some cases.

Increase in output efficiency and quality levels: Sending routine data cleansing tasks to an offshore team in the Philippines means your onshore team will have more time, budget and project scope to take on higher-value work. Your business will notice a drastic increase in productivity levels within your data management services

Business growth and scaling opportunities: When you send your time-consuming tasks to an offshore data cleansing team in the Philippines, your local team will have more time to focus on increasing profits, business growth and development opportunities. Your onshore team's additional capacity gets from your offshore team's support means you can grow your business sustainably.
What are examples of outsourced data cleansing roles?
Depending on what outsourced provider you choose to engage, the following roles are well-suited to outsourcing:
Data Cleansing Specialist
Data Cleansing Analyst
Data Scientist
Data Intelligence Analyst
Data Migration Project Manager
Data Quality Manager.
Data cleansing falls under the data management function of your organisation and works closely with data visualization, order processing and data analysis teams.
Sample data cleansing team structure
Depending on the volume and type of data to be cleansed, data cleansing teams are typically formed in the following ratios: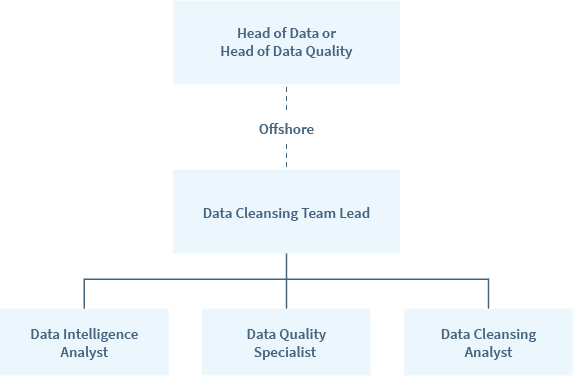 Challenges that outsourced data cleansing teams in the Philippines can face
Data is not static; it is continuously changing. Therefore, whether it's project-based or not, you need to ensure that the information being handled by your data cleansing team is up-to-date and any changes to the data is communicated. This further emphasizes why outsourced teams heavily rely on cloud-based sharing systems as it provides a continuous flow of updated data at all times, no matter who changes what on each side.
Data cleansing is quite tedious and repetitive, so it's important to keep your data cleansing team feeling like they are a part of the "big picture" and communicate exactly what effects their data cleansing will have on the project as a whole.
Interested in recruiting team(s) in the Philippines?
Since our inception in 2006, MicroSourcing has become one of the biggest providers of offshoring solutions in the Philippines. We can help you build a dedicated team in the Philippines, regardless of the roles and level of specialization you require. MicroSourcing is backed by our parent company, Probe CX, one of Australia's fastest-growing offshoring solution and customer engagement firms. So, it's safe to say we're experts in outsourcing to the Philippines.
Call +1 888-731-0023 today or send us an email to discuss your company's offshoring needs.