The fourth industrial revolution, also known as Industry 4.0, is rapidly transforming the information technology (IT) industry through smart, globally connected technologies. As this revolution gains momentum, more businesses are turning to IT outsourcing services to keep pace with the increasing complexity of cloud integration, AI processing, blockchain technology and big-data analytics.

In particular, businesses in Western nations are looking to outsource IT services to the Philippines as a cost-effective way to boost competitiveness and reduce high labor costs. With global IT spending expected to reach U.S.$4.5 trillion in 20231 it's becoming increasingly difficult for businesses to recruit and retain professional IT staff onshore.

The introduction of remote and hybrid work has further increased the demand for specialized talent in data security, web development and team conferencing platforms. To retain existing employees, organizations need to offer competitive salaries and additional benefits, but even then, staff turnover remains a challenge.

This is why many organizations are turning to managed IT services, also known as tech outsourcing, in the Philippines. Outsourcing IT specialists and staff to the Philippines is a reliable and cost-effective way to develop bespoke tech capabilities in the face of ever-increasing costs and complexity.
Book a Free Consultation
Want an IT professional – or a team of IT professionals – in the Philippines?
What are the benefits of managed offshore IT services?
Cost saving: as the Philippines' cost of living is lower than most western countries, your business can outsource IT tasks for a fraction of the price it would cost to hire specialists locally;

up to 70%

in some cases.
Access to a larger talent pool: the Philippines has a huge talent pool of IT specialists with approximately 71,000 IT specialists already in the workforce.
Increase in output efficiency and quality levels

:

sending routine technical support specialists tasks to an offshore team in the Philippines means your onshore team will have more time to take on higher value, strategic work. Your business will notice a drastic increase in productivity levels across your department.
Business growth and scaling opportunities: when you send your time-consuming tasks to an offshore IT team in the Philippines, your local team will have more time to focus on increasing profits, business growth and development opportunities. Your onshore team's additional capacity gets from your offshore team's support means you can grow your business sustainably.
What's more, as a profession, IT relies on fast-changing and complex technical competencies. This means job roles have fragmented into myriad individual specialties. It takes a team of specialist professionals.
---
What tech functions can be outsourced to a managed IT services provider?
Here are some examples of IT roles and functions that your organization can outsource to the Philippines, broken down by field of expertise and type of support being provided:
Hardware, systems and network support
These professionals design, build and maintain data communication systems and provide hardware and telephony assistance. They are the IT support division of your organization, helping people reset their passwords, keeping the network healthy and streamlining the system with tech fixes.
Job titles can vary, but roles within this team could include:
IT Systems Manager
IT Network Administrator
Desktop Support Specialist
Help Desk Specialist
IT Support Specialist
Database administration
This IT team stores and organizes data for your organization, especially when you have a large database of customer information. They ensure compliance with privacy requirements and keep things running smoothly when you're dealing in bulk with your precious customer base.
Job titles can vary, but roles within this team could include:
Database Support Specialist
Database Support Manager
Database Administrator.
Software development and support
These specialists build, design and maintain software systems and applications. When you need a specific fix to streamline, improve or drive innovation, these guys put on their thinking caps. They write the code (whether it's in Java, PHP, Python, VB.NET or other languages), test it to ensure it integrates smoothly with your customers and other systems, fix the bugs, and maintain it to ensure it remains trouble-free.
Job titles can vary, but roles within this team could include:
Application Developer
Applications Engineer
Programmer
Developer
Java Developer
Software Developer
Software Engineer
.NET Developer
Quality Assurance Analyst
Systems Software Engineer
Lead Software Developer.
Web development and support
This team creates, designs and maintains your online presence, including websites, portals and eCommerce platforms. Teams include professional specialists in both front and back-end development, web administration and web support, to keep your online presence operating smoothly and professionally.
Job titles can vary, but roles within this team could include:
Front End Developer
Back End Developer
Web Administrator
Web Developer
Webmaster
Web Support Specialist
Lead Web Developer.
Information security
Your data bodyguards, this team protects your computers, networks and data center against security breaches, viruses or attacks by cyber-criminals.
Job titles can vary, but roles within this team could include:
Information Security Analyst/ Specialist
IT Security Specialist
Information Security Manager.
---
Sample IT team structure
Most organizations outsourcing their IT team in the Philippines start with a core team which eventually scales to support more internal units or customer groups, as the team gets to know the requirements of the organization and the potential for technological expansion. Employers provide mentoring and technical upskill training for candidates ready to move to the next level.
The below graph illustrates how an organization could outsource multiple IT functions. It is also possible to outsource more or fewer roles while still allowing control to stem from your onshore team.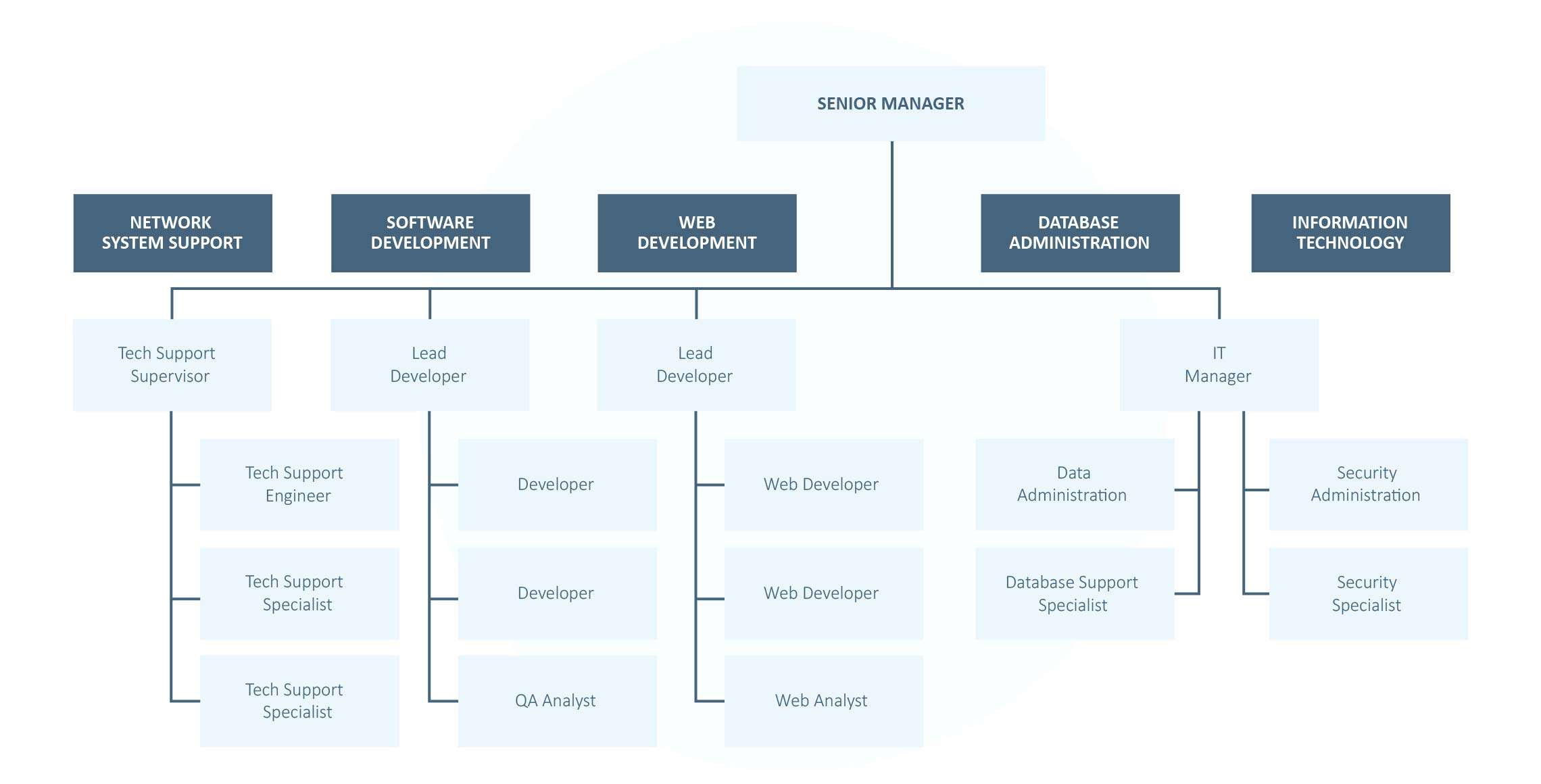 ---
Reference:
1 https://www.gartner.com/en/newsroom/press-releases/2023-01-18-gartner-forecasts-worldwide-it-spending-to-grow-2-percent-in-2023

Frequently Asked Questions
How long does it take to get an offshore IT team up and running in the Philippines?
It is completely dependent on what roles you decide to offshore in your IT team. You could have an IT team up and running in as little as four to ten weeks.
The best way to ensure an efficient recruitment process for our talent acquisition (TA) team in the Philippines is to ensure that, during consultations, you detail the role requirements, skills and ideal candidate as best you can. This will ensure that our TA team in the Philippines has the necessary information to source the perfect candidate for your information technology needs to get your offshore team up and running as soon as possible.
Keep in mind, if you require a larger IT team, then our talent acquisition team may require additional time for the extra recruitment, training and onboarding needed to establish qualified and experienced candidates.
What are the costs of outsourcing to the Philippines?
Outsourcing to the Philippines can result in significant cost savings of up to 70%. Here at MicroSourcing, we offer a monthly fee to help reduce overheads and allow you to focus on scaling and growing your business. Included in the monthly fee is infrastructure, recruitment and training, security, staff benefits and management.
What IT functions can my business outsource to the Philippines?
With MicroSourcing, you can outsource roles within the following functions:

Hardware, systems and network support roles
Database administration
Software development and support
Web development and support
Information security
You can outsource as many roles as you deem necessary to meet your business goals. Here at MicroSourcing, we provide the support and expertise needed to assist you in expanding your offshore team as you scale and grow your business back home.
How can I ensure quality when hiring an offshore IT team in the Philippines?
MicroSourcing's talent acquisition team works just as an in-house recruitment team would. They screen, interview and test candidates to ensure candidates meet the needs and requirements as illustrated in your role briefs. With over 10 years of experience pioneering a new way of offshoring, MicroSourcing's expertise is backed by being one of the largest and most experienced offshoring providers in the Philippines - so quality is not a concern.
With a dedicated management team on the ground, working one-on-one with your employees in the Philippines, MicroSourcing has 192+ talented staff in operations who keep the communication between your business and your offshore team streamlined. We also have operational departments that help your employees function efficiently and productively.
Interested in recruiting team(s) in the Philippines?
Since our inception in 2006, MicroSourcing has become one of the biggest providers of offshoring solutions in the Philippines. We can help you build a dedicated team in the Philippines, regardless of the roles and level of specialization you require. MicroSourcing is backed by our parent company, Probe CX, one of Australia's fastest-growing offshoring solution and customer engagement firms. So, it's safe to say we're experts in outsourcing to the Philippines.
Call +1 888-731-0023 today or send us an email to discuss your company's offshoring needs.