Most of our clients are Australian, American and European companies, but we help businesses from all around the world. The one thing they all have in common is their desire to cut labor costs, scale faster, find specialist skills and improve operational efficiencies. And we help them do just that.
Founded in 2006, we pioneered a new way of offshoring. This model involves setting up an overseas division of your company and getting a local specialist to handle facilities, IT, labor laws, recruitment and HR, while you retain control over quality and productivity. Today, we're still one of the largest and most experienced offshoring providers in the Philippines, with 600+ active clients and 8,000+ employees. We operate within purpose-built, class-A facilities that are strategically located for access to Manila's most talented people. We're backed by our Australian parent company, Probe and we're ISO certified.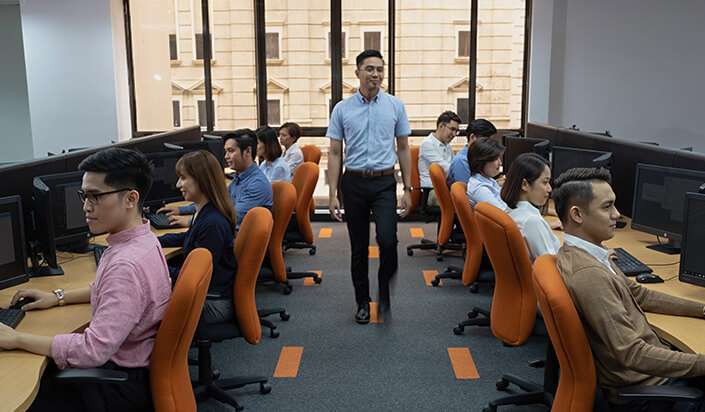 ---
Our difference
Our solution to offshoring is quite unique – in fact, we were the first in the Philippines to offer it. This means we help you build your full-time, dedicated team in the Philippines, taking care of everything on the ground, while you retain full control of your team, including KPIs, quality, workflow and productivity. So not only do you enjoy significant cost savings (up to 70%), but you still get employees who work just for you, in your business, working towards your business-specific goals.
As the biggest and most experienced provider of unique offshoring solutions in the Philippines, we enable you to leverage big-business infrastructure, like:
24 hour/365 days dedicated IT support and robust infrastructure for maximum uptime
Local dedicated talent acquisition to build and scale your team
Fully maintained facilities so you never have to worry about furniture, tech equipment, or maintenance
Professional employee engagement activities
Risk management and disaster recovery plans to keep your team safe and your business running
Professional performance management and discipline framework
MicroSourcing University with dozens of training development programs
---
MicroSourcing's pricing guarantee
Unlock your outsourcing potential - no surprises, just results.

We're the biggest provider of offshoring solutions in the Philippines

70+ experienced local recruiters

We're pioneers in this space, operating since 2006

Serving 600+ active clients


12 state-of-the-art offices in Manila

185+ HR & operations staff to support you
---
Mission, Vision and Values
Mission
Our mission is to help you grow your business with smart and flexible offshoring solutions in the Philippines. While at the same time, making a positive impact in the Philippines.
Vision
Our vision is to become the recognized leader for outsourcing and offshoring solutions in the Philippines.
Values
Our values form the foundation for how we serve our clients. We value integrity, transparency, value creation, professionalism, social responsibility and family.
---
Culture
When you're looking for a managed services provider in the Philippines, culture is an important factor to consider. You want your team working in an environment where they can do their best work and where they want to stay, long-term.
We believe in fostering an open work environment, and invest heavily in employee engagement activities. This means we can attract and retain top talent for your business. And it means your team members feel comfortable and motivated.
So while we're all professionals here, we've got a fun and friendly vibe. We set up your team's workstations so they can freely talk to one another and we don't have strict dress codes (hoodies, t-shirts, jeans, dresses – whatever!).
---